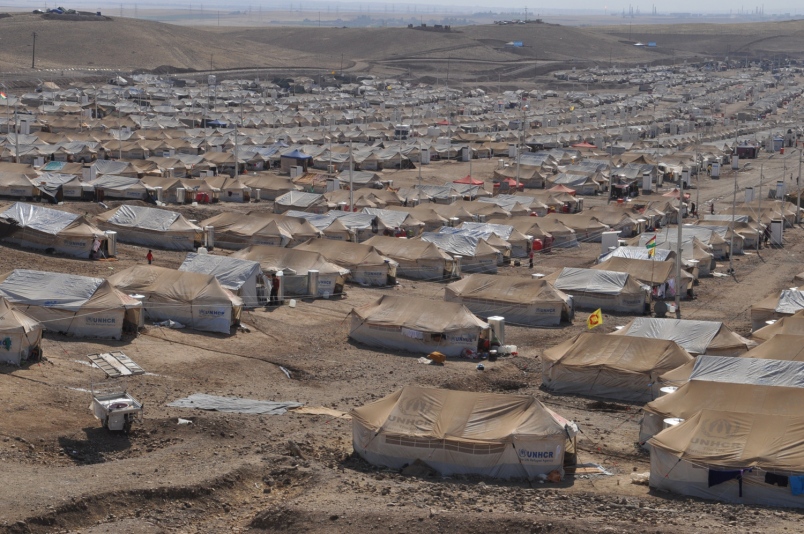 Baghdad, January 25, 2016/ Independent Balkan News Agency
By Spiros Sideris- Olga Mavrou
Iraq, a country vulnerable itself, with more then 4,000,000 citizens of its own that are displaced because of the  internal war that ravages the place, still accepts refugees from Syria. Among them are many of the 1,000,000 Iraqis that had gone to Syria as refugees themselves, before the war in Syria erupted. In the last six years around 250,000 Syrian refugees fled to  Iraq and 97% of them live in the Kurdish Region of Iraq, which is considered safer. But accepting refugees and providing for them is a different story.  Iraq has to come up with at least 250,000,000 dollars that it needs  –initially 300,000,000 dollars were supposed to be raised internationally to fund and support displaced Iraqis and Syrian refugees that try to escape ISIS or ISIL (Islamic State of Iraq and the Levant).  Despite the theoretical international efforts for support, less then 20% of the needs are covered –basic  needs, like safe water supply, food and shelter, not to mention the "luxury" of health issues and schooling for the 58,300 children of the refugees alone.In the mean time:
Conflict in Iraq continues to cause displacement, putting further pressure on asylum space. Further influx of displaced Iraqis impacts the ability to provide assistance to Syrian refugees
Continued conflict in Syria causes a further influx of 30,000 refugees into the Kurdish area each year
Syrians face serious financial burdens. Even those who leave the camps and try to make a living in the cities are faced with debts. Their average debt levels exceed average household incomes across all assessed districts.
About 16% of children work.
Over 45 per cent of households reported that their drinking water was unsafe. Of these, half stated that they did not treat it. Also 20% reported water insufficiency
16% of households in cities reported no source of income
* 12% of households across the Kurdish Region of Iraq reported a lack of food in the seven days prior to a survey by United Nations in the summer of 2015.
Local economy has been increasingly challenged because of the budgetary crisis affecting all of Iraq. The prolonged war in both Syria and Iraq has impacted the attempts to support the displaced people and the efforts to help them restart their lives. Every year some refugees leave the country, but an equal number enters, so Syrians are steadily at 250,000 (around 30, 000 of them moving to some place else every year, but another 30,000 entering to flee war zones). Syrian refugees and Iraqis that fled war zones are estimated to constitute about 25% of the population of Kurdistan.
The massive influx of  internally displaced Iraqis  and Syrian refugees  place additional pressure on basic infrastructure, services and employment capability for all vulnerable populations in the region ( hosting communities were already vulnerable and poor). The situation is expected to further challenge living conditions in already saturated communities and camps.
Among the challenges the priority is on food, water and health, but one can not neglect the fact that war arise from poverty and competition for survival. So it is not exactly a "luxury" to address urgently also the situations that might lead to social conflict –a strife that may arise from the competition for jobs and resources.
Child labour and very early marriages are (negatively) used as coping mechanisms. Those mechanisms often end up in domestic violence against the wives and raise concerns also over child abuse. They  certainly do not provide for the safe and hopeful starting of a new life if there is no job to support neither the husband nor the wife and  the offsprings.  Many of the refugees, adults and children, have already experienced or at least witnessed murders, rapes and tortures and extreme violence. Now that they are supposed to have escaped the war, they face another war: the one for psychological and physical  survival. This is not going to be won if the countries that host refugees are not supported  in cash from wealthier nations.
See also: Syrian refugees in Jordan: fled the war, fighting to survive