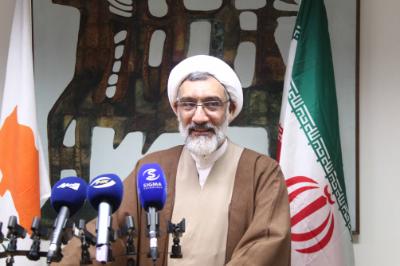 By Kyriacos Kyriacou-Nicosia
Acting President of the Cyprus House of Representatives Sophoclis Fyttis has met with the Iranian Justice Minister Mostafa Pourmohammadi, who is visiting the island at the invitation of Justice Minister Ionas Nicolaou. Cyprus problem and the Turkish provocations in Cyprus` exclusive economic zone (EEZ) were on the agenda of the meeting.
A press release issued Friday by the Parliament says that Fyttis briefed the Iranian Minister on Turkey`s stance in the Cyprus negotiations and condemned the provocations by Ankara in the island`s EEZ.
The Iranian Minister reaffirmed his country`s support as regard the solution of the Cyprus problem, pointing out that Iran firmly supports Cyprus` sovereignty.
He also referred to the agreements his signed earlier with his counterpart Ionas Nicolaou on the extradition of fugitives and the transferring of sentenced persons.
The two men also discussed the developments in the region and agreed to further strengthen the bilateral relations particularly at a parliamentary level.
Cyprus President Nicos Anastasiades decided to suspend his participation in the UN backed negotiations for a solution of the Cyprus problem, after Turkish seismic exploration vessel Barbaros entered last month Cyprus` Exclusive Economic Zone a few days after Turkey had issued an illegal maritime order (NAVTEX) for the area.
The Republic of Cyprus, an EU member state, has been divided since 1974, when Turkish troops invaded and occupied 37% of its territory.