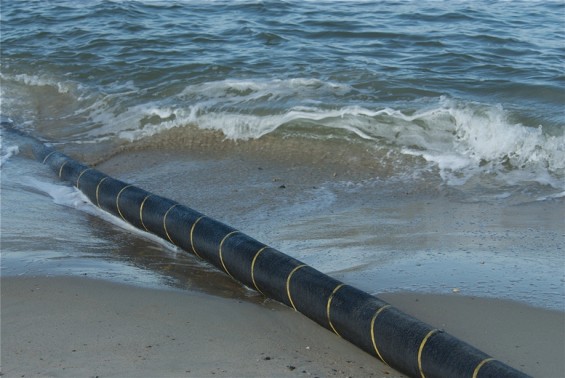 Podgorica, April 1, 2015/ Independent Balkan News Agency
By Adnan Prekic
One of the largest regional electric power projects, the underwater cable between Montenegro and Italy has started to be implemented. A specialized Norwegian company, has set the first 140 kilometers of the underwater cable. Over the next few days is expected to set up another 250 kilometers of cable, which would complete the first phase of the project. The plan is to set up another underwater power cable between Montenegro and Italy next year. With the realisation of this project, the region will have access to the electricity market in Italy and vice versa.
The Norwegian company "Neksans", which is a partner of the Italian "TERNA", has set the first 140 kilometers of underwater electrical cable from Pescara to Montenegro, thus completing the first phase of the installation of the cable, which cost 800 million euros. The Norwegians still need to set up another 250 kilometers of cable. The second cable will be installed and set up by Italian company "Prismian" and that work will begin within a year. Two cables with a diameter of 13 centimeters, will be enough distance between 500 meters. The length of the cable that connects the two banks is 393 kilometers underwater with a total of 415 kilometers. Both cables, therefore, will be 830 kilometers long.
The agreement on underwater cable was signed in November 2010. According to this agreement TERNA is responsible for its construction on the Italian territory, as well as the cable part in the Montenegrin coast. The task of Montenegro is to improve networks within its borders and to strengthen the system to neighboring countries, Serbia and Bosnia & Herzegovina. The underwater power cable between Montenegro and Italy should be ready by 2016.
The contract stipulates that for 40 years from construction of the cable the revenue will be shared, with TERNA getting 80% and the Montenegrin transmission system 20%. The constructor of the cable CGES participates with 20%, provided that the bulk of funds is provided through credit arrangements with the German Development and the European Bank for Reconstruction and Development.
The Italian company TERNA and Montenegrin Transmission System failed to agree with Croatia on the route of undersea power cable between Italy and Montenegro. The Croatian side due to oil and gas exploration will not allow the fitting of the cable based on the original design. Alternate routes will be more expensive, around 70 million euro, and the realisation of the project will be postponed for at least six months.