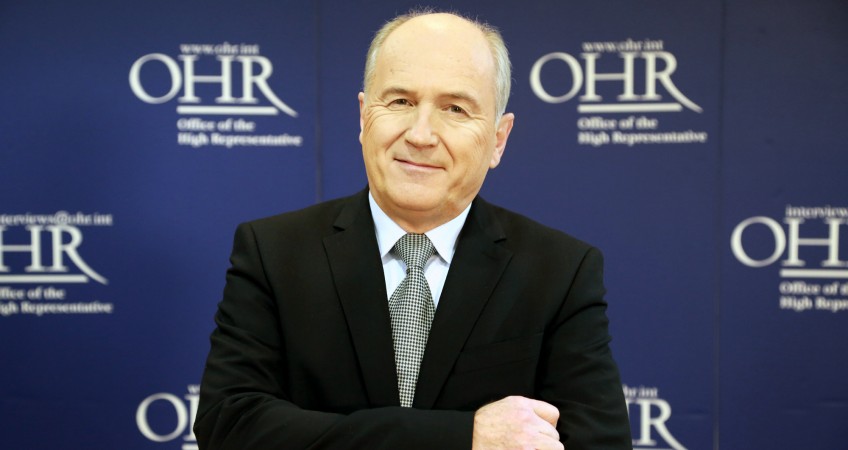 International Community High Representative to BiH, Valentin Inzko, said in an interview for the newspaper Oslobođenje that he believes that further Euro-Atlantic integration will bring significant benefits for the citizens of Bosnia and Herzegovina, although OHR does not have a role in this process; it is up to NATO and BiH to determine the nature of their relationship.
"In this sense, it is clear that the issue of NATO integration of BiH is the competence and strategic foreign policy objective of the state of BiH;  and as such it falls within the state's constitutional responsibilities related to foreign policy. It is within this sphere of state-level constitutional responsibilities that  the formal foreign policy decisions on joining NATO have already been taken: by the BiH Presidency decision of 2009 and subsequent letter to NATO Secretary General, in which then BiH Presidency Chairman Radmanović (SNSD) informed NATO that BiH is eager to join the organisation. As decisions of the BiH Presidency are valid until changed or subsumed, the 2009 Presidency decision is still in force", Inzko said.
He added that the BiH Presidency adopted BiH's foreign policy strategy in March 2018, which also provides for  NATO integration of BiH.  Inzko underlined that Under Article 84 of the Law on Defence (about Activities for Accession to NATO) the Parliamentary Assembly, Council of Ministers of BiH, the Presidency, and all defence authorities within their respective constitutional and legal competencies, shall conduct the required activities for the accession of BiH to NATO.
Answering the question about "flag dispute" in BiH Presidency and the fact that Presidency Chairman, Milorad Dodik, refused to meet members of the Peace Implementation Council for BiH Steering Board, because there was no Republika Srpska flag in the room, Inzko said that the Law on Flag is precize.
"It states that the BiH flag shall be officially displayed on buildings of the Presidency and on all occasions of official international visits, and that no other flag from BiH shall be displayed together with the flag of BiH. The meeting with PIC SB political directors was held in the presence of the BiH flag alone, which is in line with the relevant provisions of the Law on the Flag. After cordially greeting the members of the PIC, the Chair of the Presidency left the meeting, handed over correctly the floor to President Komsic, but it is regrettable that he chose to leave before a substantive discussion with PIC members. The PIC expects that all members of the Presidency – as the highest representative body of the state of BiH – will respect the laws and constitutional and legal framework of BiH", Inzko stressed.
His, as he said, "clear message" to BiH political and institutional leaders is that they must work towards dialogue and cooperation,  to refrain from divisive and irresponsible rhetoric and actions. He also hopes, that all the bickering visible during the elections campaign, the slandering and personal attacks referring to family members will never be repeated and that elected officials will work towards a common goal: a successful BiH whose young generation will build its life here./IBNA