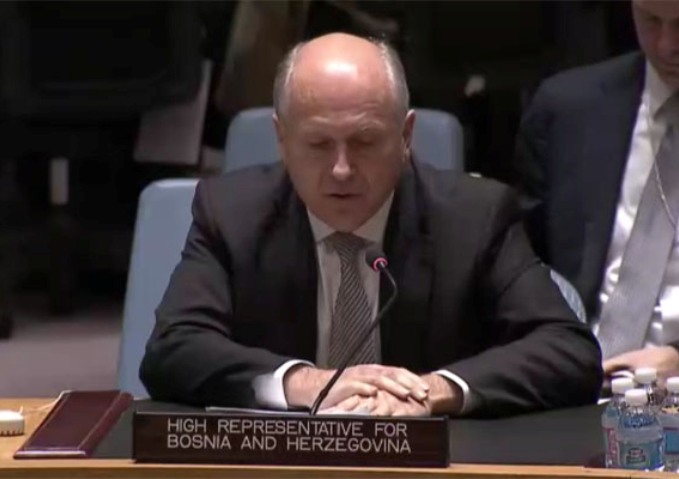 International community High Representative in BiH, Valentin Inzko, will address the UN Security Council on Tuesday to submit report about situation in BiH and progress which country made in last six months.
As he said to media in BiH, his report will cover positive and not so positive aspects of the implementation of Dayton Peace Agreement since last report. On the positive side, as he said, he will report the fact that country recently took a major and most welcome step towards becoming an EU candidate country.
"I will also reflect the progress achieved on economic reforms by the BiH authorities as part of the EU reform agenda", said Inzko.
On the negative side, Inzko said that he need to report on rhetoric and actions taken which lead away from integration with Euro-Atlantic institutions and towards isolation. As the most serious of these steps taken in the last six months, the High Representative consider the holding of a referendum by the authorities in Banja Luka in violation of two decisions of the Constitutional Court of BiH.
"More fundamentally, I plan to highlight the contradiction inherent when, on the one hand, certain political leaders say that they favour integration with Europe, while on the other hand they misrepresent the Dayton Peace Agreement, assert that the rules do not apply to them and seek to reopen the wounds of the past. For example, the RS President often says that Bosnia needs to return to the "original Dayton". I am not sure I understand this distinction, since the Peace Agreement has never changed and provides for the creation of new institutions, which was done through political processes in which the SNSD was involved", Inzko emphasized.
The sentence which will make RS Authorities angry, is Inzko's statement that this entity is established with Dayton Peace Agreement 1995 and it did not exist before that. All politicians in RS are unified about this question saying that RS exists since Serb people in BiH decided to take its destiny in own hands 1992.
Inzko also stressed that he will report about "worrisome trend of glorifying convicted war criminals".
"Besides a student dormitory in Pale which was named after Radovan Karadžić, now we have the shameful move by the RS National Assembly and its Speaker Nedeljko Čubrilović to decorate Biljana Plavšić (who admitted to committing war crimes and was sentenced to 11 years), Momčilo Krajišnik (sentenced to 27 years), and Radovan Karadžić (sentenced to 40 years for genocide in first-instance). These awards were given as part of a ceremony marking the "25th anniversary of the RSNA" which is yet another piece of historical revisionism which I would like to correct. The RS was legally established in 1995 by the Constitution of Bosnia and Herzegovina as set forth in Annex 4 to the General Framework Agreement for Peace (GFAP). If you do the math, it is obvious that the RSNA couldn't have existed before the RS", Inzko said.
Analysts in RS expect reaction from Russian Ambassador in Security Council regarding this denial of RS existence before the Dayton Peace Agreement./IBNA