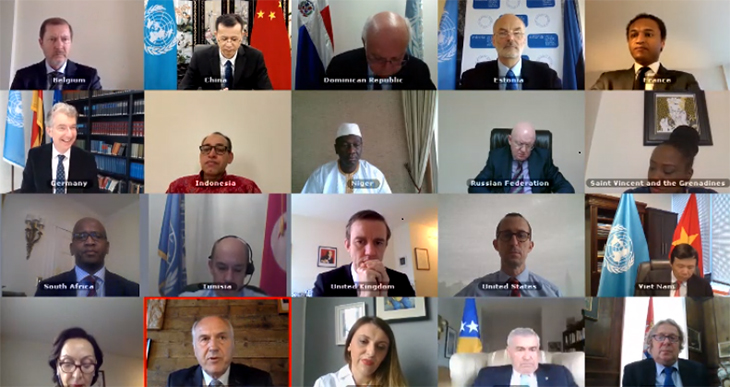 Russia's Permanent Representative to the United Nations accused the international community High Representative in BiH, Valentin Inzko, of "demonising" Serbs after he presented his semi-annual report on Bosnia and Herzegovina to the UN Security Council on Wednesday.
In his report, Inzko strongly criticised the leadership of Republika Srpska (RS).
"During the reporting period, the authorities of the Republika Srpska intensified their rhetoric and resorted to frequent actions targeting the sovereignty and territorial integrity of Bosnia and Herzegovina as well as the State-level competences and institutions," he wrote.
He argued that RS authorities "continued to undermine the State-level institutions, attempting to prove that they were inefficient, ineffective and not in the interests of Republika Srpska".
Russia's representative, Vasily Nebenzya, heavily criticised the report, saying that criticising Serbs in Bosnia has become the norm for the High Representative.
"Instead of blaming, the Office of the High Representative should offer solutions. The people of Bosnia and Herzegovina deserve to choose their own solutions to the problems," he said.
He also criticised Inzko for mentioning BiH's obligations towards NATO in relation to EU integration, arguing that there is no consensus on the issue within the state.
"The obligation of the High Representative is to tend to the civilian implementation of the Peace Agreement," he added, arguing that the Office of the High Representative should be shut down.
Nebenzya said that Inzko "demonises" Serbs and that he is basing his argumentation on rulings by the International Criminal Tribunal for the former Yugoslavia (ICTY).
He went on to argue that documents from the British Archives, which were recently published, reveal important facts about what took place in the eastern Bosnian town of Srebrenica, where the ICTY found that Bosnian Serb forces committed genocide against the Bosniak population in 1995.
He then expressed hope that a commission Republika Srpska had set up to investigate what happened in Srebrenica will determine all the facts.
"We urge all three peoples to find a solution and reach an agreement on any potential disagreements through dialogue", he said./ibna