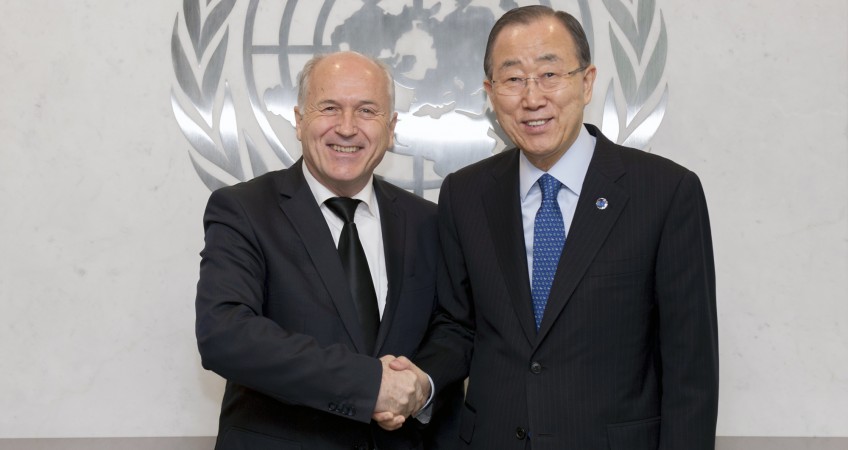 Sarajevo, May 5, 2016/Independent Balkan News Agency
By Mladen Dragojlovic
International community High representative in BiH, Valentin Inzko, said in his report to UN Security Council that BiH has made several notable progress but still faces many challenges.
Inzko submitted the OHR 49 report about the progress of the peace efforts in BiH and emphasized that it covers the period from the October 2015 to middle of April 2016. As a most notable issue Inzko marked the BiH submission of application for membership in EU.
"Other developments include the adoption of entity-level labor laws; first instance verdicts by the International Criminal Tribunal for the former Yugoslavia (ICTY) in the cases against Radovan Karadzic and Vojislav Seselj; and public indications by the Republika Srpska (RS) authorities that the RS referendum on the authority of the BiH state Court and Prosecutor's Office, and on the authorities and decisions of the High Representative, will not go ahead. I take this opportunity to congratulate the citizens of BiH on their country's application to join the EU, and call on domestic leaders to continue and intensify efforts to advance the reforms needed for greater integration, so they can secure the lasting stability and prosperity to which their citizens aspire", Inzko says in his report.
He added that the July 15 decision of the RS National Assembly to hold a referendum directly challenging the General Framework Agreement for Peace (GFAP) was neither published in the RS Official Gazette nor implemented during the reporting period. Inzko welcomes the statements that have been made that the referendum has been put to one side, but also noted that the RS National Assembly's decision has yet to be repealed. The High representative is concerned about the fact that  that statements continue to be made by RS President, Milorad Dodik, suggesting that this or another referendum might still be organized.
Challenges to state-level judicial institutions, Inzko says, have continued during the reporting period, the most notable of which was a statement signed by the leading RS-based political parties refusing to implement the November 26 Decision of the BiH Constitutional Court regarding the unconstitutionality of provisions of the RS Law on Holidays, and threatening to boycott State institutions if legislation concerning the Constitutional Court of BiH is not adopted.
"Given the complex environment that continues to prevail in the country, the presence of the EU military mission in BiH (EUFOR) with an executive mandate remains of vital importance, enabling my Office and others in the international community to fulfill our respective mandates as well as reassuring citizens from all ethnic groups throughout the country of a safe and secure environment", emphasized Inzko in his report.