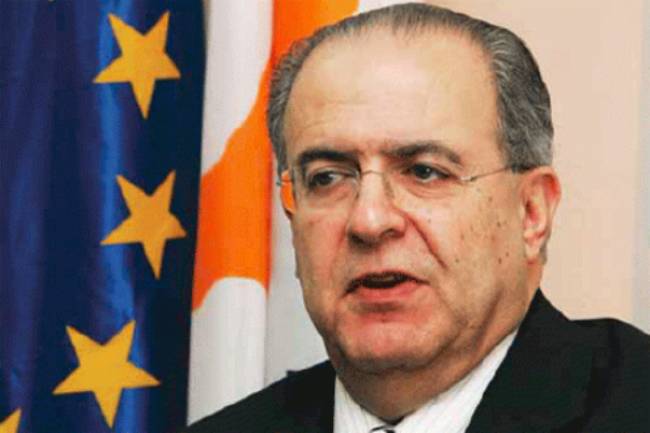 By Thanasis Gavos – London
A visit by the Cyprus Minister of Foreign Affairs Ioannis Kasoulides in London on 17th June, the second after assuming office only around three-and-a-half months ago, indicates that we have entered an advanced stage of preparation in view of the next round of talks over the thorny Cyprus issue. No one knows yet to what extent this new round will pick up from where things were left by ex-president Christofias and Mr Eroglu or whether it will be a completely new "new" round.
In the space of two days in the beginning of June the UK Foreign Minister William Hague saw in London the UN Secretary-General's Special Adviser Alexander Downer and his Greek counterpart Dimitris Avramopoulos.
Mr Downer cuts a controversial figure in Cyprus, considered by some on his last legs as a mediator. Top politicians such as the Speaker of the House of Representatives have clearly stated their will to see Mr Downer replaced.
For the time being though he is the one running the show, or at least the rehearsals. Fresh from the also controversial dinner "date" with President Anastasiades and the Turkish Cypriot leader, the Australian statesman arrived in London and left London without causing much fuss, almost unnoticed. Officially and unofficially Mr Downer's presence and his meeting with Mr Hague aimed at "discussing the state of play", as a Foreign Office official put it.
The British side is following all developments closely but it has no intention of forgoing its fixed official line of facilitating where possible and where asked to do so a process of Cypriot ownership. Should Nicosia try to alter the way negotiations are taking place, by demanding the EU's more active involvement, London will have to adjust its position accordingly, which may mean that it will not change anything at all. It is worth noting that when asked in an election campaign meeting in London what he would tell David Cameron when he would first see him as President of the Republic of Cyprus (something that will probably happen in September), Nicos Anastasiades had replied: "I would tell him that the UK needs to stay away"; a reply that could cause either relief or concern in Westminster.
As for the Greek side, Foreign Ministry sources told IBNA that the most important thing is to keep the Cyprus issue an international one "at all costs". Athens is convinced that if the problem comes to be viewed as a mere bi-communal dispute it will be "consigned ad calendas graecas". But on that side the game is Cyprus's to play.
The recent activity has everyone on their toes. Add to that the speculation over Turkey's political stability following the Taksim square protests and one can surely say that Cyprus will soon again be high on the agenda, only months after the banking crisis.