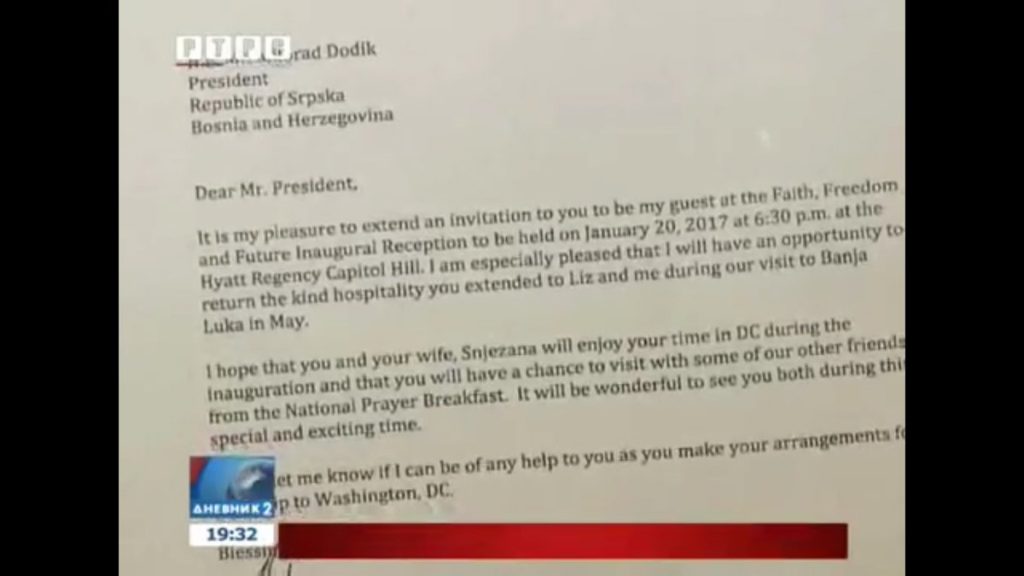 After the US Embassy, a few days ago, refused to issue the diplomatic visa to RS president, Milorad Dodik, he went to Sarajevo on Tuesday to fill the application for visa as a regular citizen of BiH.
Dodik spent the last few days in an attempt to explain to the public that he has an official invitation to attend the inauguration of new US president, Donald Trump, but many of his opponents claimed that it is not true. In fact, the letter he shows on the RS public broadcasting service, is not written on the White House memo and doesn't have any kind of seal. As Dodik applied on the basis of that letter, US Embassy refused to issue diplomatic visa because that invitation is not official and he would not represent the whole country.
"For procedural reasons, I applied for a diplomatic visa at an earlier date, but my application was rejected with the explanation that I didn't represent the bodies of BiH. That was the reason I couldn't get visa, which, by the way, I used to get regularly", Dodik said to reporters in East Sarajevo.
As he said, this time he is sure that the visa will be issued in a day or two and that he will be able to travel to Washington in the second half of January and attend certain ceremonies regarding the inauguration of US President Donald Trump.
"People started speculating about this even before any kind of news about it was confirmed. Those who challenge this are doing it for their own reasons. In any case, I am grateful to my friends who are close to US President Trump for sending me the invitation", Dodik said.
The true is that somebody sent him an invitation to attend one of side ceremonies which will be held in Washington DC in honour of the inauguration. The signature is hidden on the letter he shows and there is no name of the person who sent the invitation. As it is possible to conclude from the letter, it was written by somebody who has a wife named Lisa and visited Banja Luka. It is clear that this person is not Donald Trump, but it was not the obstacle for Dodik to claim that it is official invitation. Also, BiH Foreign Minister, Igor Crnadak, said to the media that the official invitation supposed to come over this Ministry but there is no sign of such a thing as Dodik didn't apply for a diplomatic visa over this Ministry, which would have been the most orthological thing to do.
There are still a lot of unanswered questions in this case but it is obvious that Dodik tried to present a private invitation as an official one, which would mean that US politic toward SNSD and him is changing./IBNA