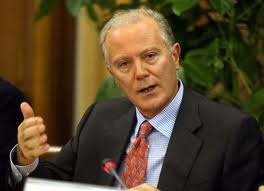 By Lefteris Yallouros – Athens
Greek bankers brought back good news to Athens for the country's banking system on their return from the International Monetary Fund's recent annual meeting in Washington.
Top bankers from Greece's four big lenders along with Central Bank Governor, Giorgos Provopoulos, participated in the IMF and World Bank annual conference in the US and had a chance to hold a series of meeting with potential investors.
In talks with major fund managers, Greek bankers witnessed great interest for investment in the Athens Stock Exchange and especially bank shares.
American fund managers were adamant that the Greek economy is on the recovery track.
Interest has been rising since the Greek Stock Market was downgraded to emerging status. Upon joining the MSCI index November 26, a total of USD 1 billion is expected to be ploughed into the Greek market as investors see major potential in Greek shares.
Speaking to Kathimerini, Bank of Greece Governor Giorgos Provopoulos, National Bank of Greece Chief Executive Alexandros Tourkolias and Piraeus Bank CEO Anthimos Thomopoulos stressed that the mood regarding Greece is changing fast.
Provopoulos said that "everyone recognizes the major progress implemented. Greece is steadily recovering its lost credibility."
Likewise, Tourkolias stated that "there has been a particularly positive response from foreigners and strong investment interest. After a long time, Greece is regaining trust and ever more people are discerning the momentum and the potential of the domestic economy."
"The spectacular improvement in the atmosphere creates a unique opportunity for the country to stage a big push forward," said Thomopoulos, adding, "It is absolutely essential that we manage to turn this major interest abroad into investments whose implementation is of decisive importance for the country's recovery."
Greek bankers from the National Bank of Greece, Piraeus Bank, Geniki Bank and Eurobank met with major funds such as Fortress, Baupost Group, Paulsοn & Co., Sal Oppenheimer, Rockefeller & Co., Capital Group, as well as Third Point, York Capital and Soros Fund Management. Meetings were also held with representatives of Dromeus Capital Fund, Farallon Capital, York Capital Management and QVT Financial.