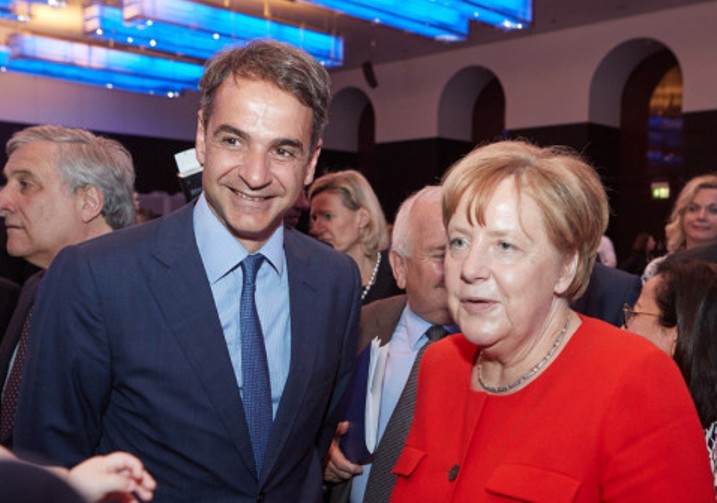 Primary surpluses, German reparations and the Prespa Agreement not on the agenda
After Paris and his meeting with Emmanuel Macron, Prime Minister Kyriakos Mitsotakis has traveled to Berlin tonight (Wednesday) where he will hold the most important – for the Greek economy at least- meetings with Chancellor Angela Merkel, and Deputy Prime Minister and Minister of Finance Olaf Scholz.
The timing is not ideal as Merkel has elections in two states this Sunday and another one in September, with opinion polls in Germany predicting a rise of the far-right Afd. The far-right party is experiencing the largest rise in former East Germany because of the lower standard of living, while a mental and social gap is starting to be form along the borders of the old division. Within this framework it is difficult for the Greek Prime Minister to place focus on the Greek demands. In addition, according to government sources, there will be no talk of a reduction in surpluses, even in the med-term, or a relaxation of the fiscal policy.
According to the same sources, Mitsotakis "does not travel to the German capital to raise issues that can be resolved with European institutions and the Eurogroup, but to discuss with the German Chancellor issues concerning its present and future. Europe, such as security and cooperation in Southeast Europe and of course the role of a strong Greece in itsneighborhood and in the EU. "In this context, the question is whether the recessionary situation in the European economy will be discussed and the possible adjustment of Greek obligations in order for the Greek economy to maintain its growth rates, and why not increase them, as the prime minister promises at every opportunity.
Mitsotakis avoids the phrase recession and speaks of a "development trap" of the European Union, in which Greece can be a pleasant development surprise in the coming years – provided it will be given a hand with a loosening of the fiscal policy.
The agenda of the talks, however, does not include the issue of German reparations, which had been raised by the outgoing government, with the developments in the Balkans and the course of the Prespa Agreement also not on the agenda.
On the contrary, according to government sources, the purpose of the visit is to attract foreign direct investment, present the government's reform plan and discuss with the German chancellor the major development actions for Greece over the next decade (2020-2030), which will extend, inter alia, to the environment and energy sectors.
If at the meeting with President Macron, Kyriakos Mitsotakis "had in his luggage" the tax cuts, in Berlin, he has the development bill and the "PPC salvation plan", in order to improve both his image and his personal relationship with Merkel. Berlin does not eye the Greek government negatively. After all, the neoliberal spirit that pervades it is in line with its own choices for Europe, as long as it does not cause problems.
Mitsotakis' visit to Berlin and the meeting with Merkel, always according to the same sources, "will be the front page of a new chapter, with the prime minister putting specific issues on the table, such as Greek-German finance contacts, immigration and the relationship with Turkey"./ibna