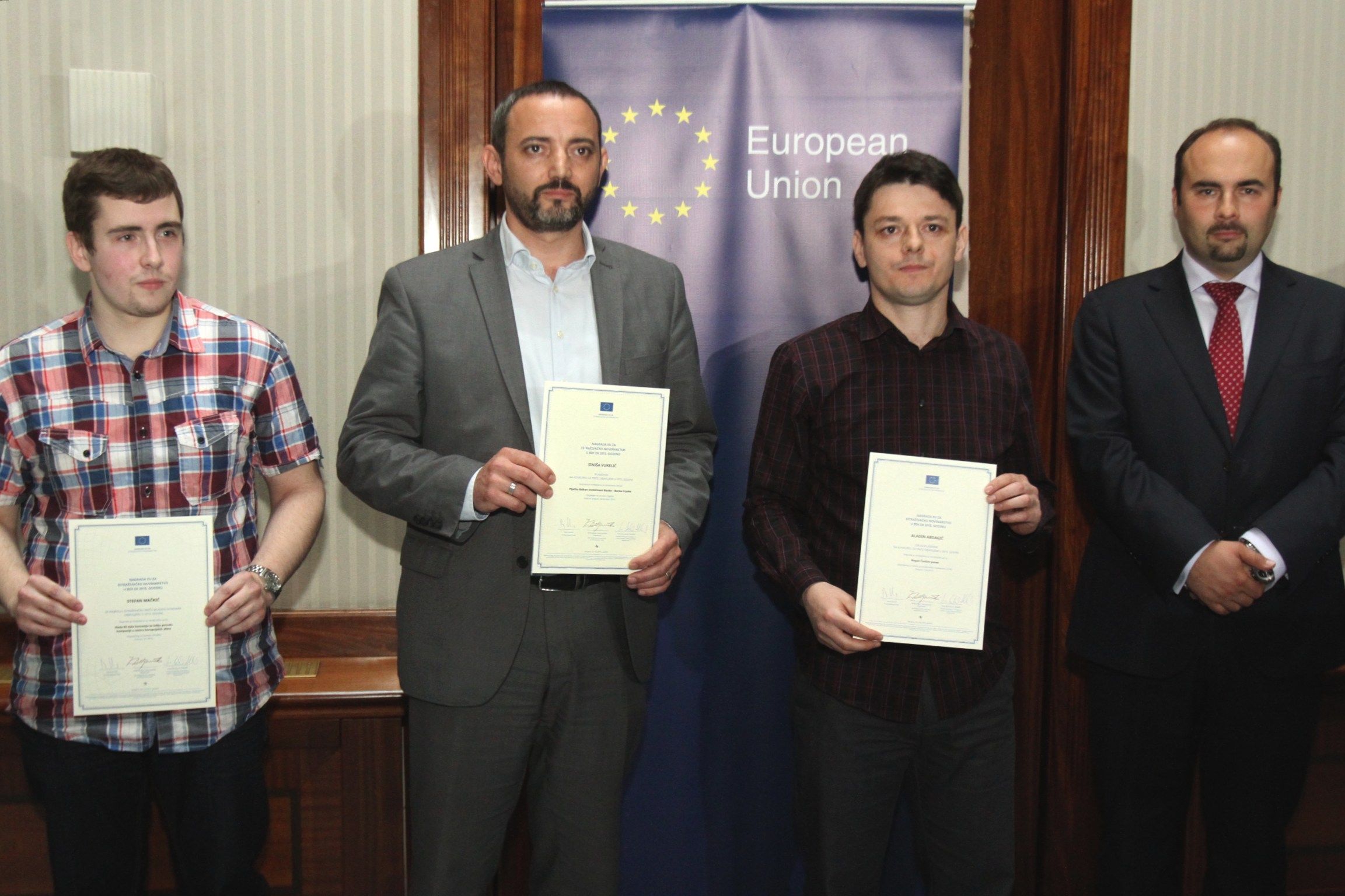 Sarajevo, May 24, 2016/Independent Balkan News Agency
By Mladen Dragojlovic
Several years ago, the EU initiated the support to investigative journalism in the region by the special award with the aim to present the best stories published in one year period. The awards for BiH were presented on Tuesday in Sarajevo and three journalists received this prestigious award.
The journalists who won this prize for stories published in 2015 are Sinisa Vukelic, Aldin Abdagic and Stefan Mackic. They, as it was emphasized on the ceremony, were brave enough to investigate and publish stories which have influence on BiH society.
Head of the Department of Political Affairs and Information at EU Delegation to BiH, Jan Snaidauf, said that freedom of journalists to research is often under pressure and threats, and therefore EU constantly emphasizes the importance of that freedom. He stressed that this is especially true for BiH and that this must be an issue of concern for media community, as well as government institutions.
"The European Commission established this award to promote the results of the work of investigative journalists in the country. I believe that the number of applicants, 56 of this year, indicate the interest of these activities", Snaidauf said.
Director of Media Centre Sarajevo, Boro Kontic, pointed out that this year's call, which in BiH was open from March 11 to April 1, was closed with 56 stories about the abuse of power and violation of fundamental rights, corruption and organized crime. All these stories were published on television, radio, print and online media in BiH during the past year.
"The interest for this award is great and proof of this is that we had seven more stories in competition than year before. If we observe the manner in which these stories were written, we can say that investigative journalism in BiH is still in a crisis. Almost a third of the story last year were documentaries, this year we have not seen a single film. Dominant are the texts with poor analysis, but a few analytical texts show that deep research represents the journalism as a powerful profession", Kontić stressed.
The third prize of 3,000 Euros for the best story of a young investigative journalist received Stefan Mačkić, student of journalism at the Faculty of Political Sciences in Banja Luka.
The second prize, also of 3,000 Euros, went to the Aldin Avdagic, and  a first prize with a value of 4,000 Euros went to Sinisa Vukelic. He won the prize for the serial of stories linked with ruination of banking sector in RS, especially in "Balkan Investment bank", later "Banka Srpske". On the ceremony it was said that his work represents how a journalist with great knowledge can explain the professional economic and banking terms in a language that readers can understand.
"This is a great recognition because it comes from the EU and I think that it is a great incentive for young colleagues to deal with this. It is not difficult to pursue investigative journalism in this country, because there are a lot of stories and journalists just need to be brave enough to investigate and to publish them", Vukelic said.
The European Union Prize for Investigative Journalism is awarded in each of the seven EU candidate countries – Albania, BiH, Kosovo, FYROM, Montenegro, Serbia and Turkey.
Photo: FENA News Agency