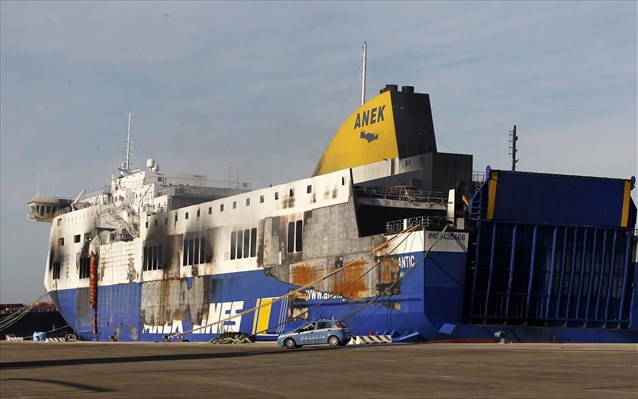 Athens, January 13, 2015/ Independent Balkan News Agency
By Spiros Sideris
On Monday, started the investigations in the garage of the ship «Norman Atlantic» in the port of Brindisi, since all fires have been extinguished and especially smoke absorption systems have been placed. At the same time, the relatives of missing persons are anxiously awaiting the results of the investigations.
Reportedly, two levels (1st and 2nd) have been investigated, in which there were trucks, and in which the flames had not expanded. The same sources say that they have not investigated the inside of the vehicles -this will be done with thermal cameras and after the approval of the prosecutor – but only the hallways, where they did not find any passengers who had lost their lives.
It is estimated that investigations in other levels where there are burnt vehicles, will gradually become the next few days. Firefighters who had entered last week in the areas with trucks saw a blob of iron and were unable to say if there was anyone inside them.
In a recent meeting, it had even decided to proceed with sprays that would significantly drop the temperatures inside the vessel and then seamlessly proceed with the investigations. The company that would have supplied the chemical material had been found, however it is unknown whether investigations will proceed in this way.
Also, unresolved remains in which port will the research of the ship be completed. If the prosecutor of Bari requested in his investigation of the case to empty the garage from the damaged vehicles, then this cannot be done in Brindisi, since it does not have the required infrastructure, while the point where the ship is tied, the catapult of the stern cannot open. As such, if after the investigation of the ship from the relevant expert it is deemed seaworthy, then later in the week the «Norman Atlantic» might be towed to the port of Bari; something the prosecutor handling the case wants, since it is the seat of the prosecution officer.
A group of experts was at the Italian port in the last few days, while in Brindisi, since last week, there was a unit of technical officers of the Coast Guard and the Fire, which returned to Greece pending a new "invitation" by the Italians to assist in the investigations.
Meanwhile, the survivors have resorted to a law firm for the navy accident.