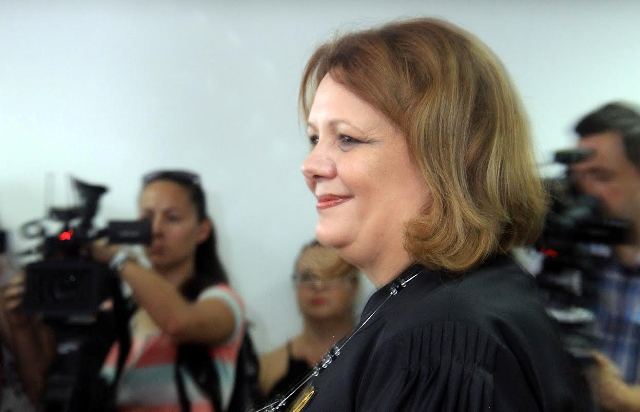 Skopje, 14 October 2015/Independent Balkan News Agency
By Naser Pajaziti
In Skopje, authorities approved the creation of the Special Prosecution, a newly set up institution which will investigate the wiretapping affair in the former Yugoslav Republic of Macedonia.
This prosecution has not yet launched inquiries, as the Judiciary Council has not approved the work and financial plan.
The head of the Special Prosecution, Katica Janeva is asking 1 million euros every three months and a staff of over 100 people, mainly investigators, judiciary experts and technical and professional staff. The annual budget of this prosecution is expected to be around 4 million euros or 8 times more than the budget for the Prosecution of Organized Crime.
The head of the Council of Public Prosecutors, Petar Anevsky says that in spite of the high budget, the plan of the Special Prosecutor must be approved. "We cannot intervene in financial projects, because we cannot intervene in the autonomy of this institution which is guaranteed by the law", Anevski said.
Former member of the Anticorruption Committee, Vanja Mihajlova, says that success in the process of investigations is important. "If we want to have a functional prosecution, then all working conditions must be guaranteed. I don't think prosecutor Janeva has made these projections without professional consultations. This process also includes investigations and travels abroad", Mihajlova said for IBNA.
The Special Prosecution is planning to hire 30 experts on security issues, 28 investigators, consultants, IT experts, secretaries, two drivers and a technical staff.
Starting from mid December of this year, Special Prosecution is expected to open the first cases which need to be investigated. Janeva says that the preliminary results of the investigations will be seen from 15 December to 15 March of next year.
Investigations will target conversations which have been registered and made public by the leader of opposition, Zoran Zaev.
Part of these conversations are senior government officials, including PM Nikola Gruevski, cabinet ministers and other state personalities. The investigation will focus on conversations which indicate cases of the law being broken, abuse in the line of duty and ties to organized crime.
The creation of the Special Prosecution occurred as part of the agreement for the solution of the political crisis in the country, as the opposition demanded an independent institution which would investigate the wiretapping affair. In this affair, current state officials are suspected of criminal acts and decisions. Yesterday, the Special Prosecutor received the support of the EU and USA. /ibna/