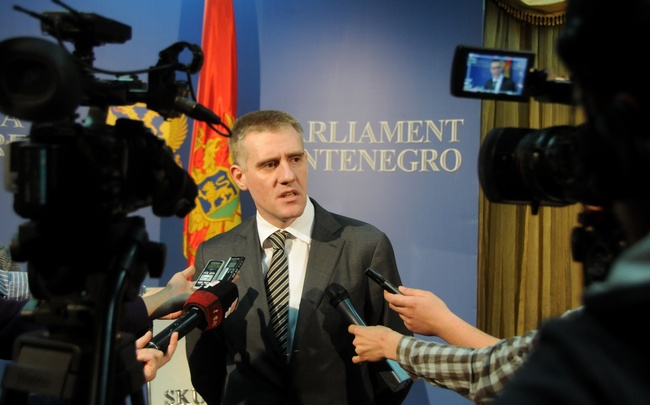 Podgorica, April 27, 2015/ Independent Balkan News Agency
By Adnan Prekic
Six employees of the Ministry of Foreign Affairs and European Integration gave statements regarding the handling of classified material and the circumstances under which they received documents from the archives of the department of Foreign Affairs on the meetings of Foreign Minister Igor Luksic (photo) in Washington and Berlin, and meetings of the National Coordinator for NATO Vesko Garčevića in Brussels, within the internal investigation.
The newspaper "Dan" published dispatches of embassies of Montenegro in Washington and Berlin, in which there are information and details of talks that Igor Luksic done while he was visiting the United States and Germany.
Newspaper "Dan" published a diplomatic dispatch from the Embassy of Montenegro in the United States about Lukšić meetings on March 11 and 12, and then on Lukšić meetings in Berlin on 24 March. It was alleged that in NATO there is no consensus on whether to send an invitation for membership of Montenegro in December this year, but even Senator John McCain believes that Montenegro will have to wait for a membership until the next US president (elections will be held there in the fall of 2016 ). From the meeting in Berlin, it was announced that Lukišić said that "Russian pressure on Montenegro goes through numerous structures starting from the Serbian Orthodox Church, the opposition parties, to the certain non-governmental organizations".
For this case the Minister of Foreign Affairs and European Integration Igor Luksic demanded an urgent session of the National Security Council, chaired by the President of Montenegro Filip Vujanovic and the Bureau for operational coordination of the security sector, led by Deputy Prime Minister Dusko Markovic.
In the investigation are also involved the National Security Agency, and Luksic asked that "in view of the complexity of the topic, it has to be viewd from all valid angles".
Leakage of diplomatic cables can't be called a scandal, because in these documents there is nothing spectacular, said Minister of Foreign Affairs and European Integration Igor Luksic. Luksic said that he does not expect that the leak of diplomatic documents may adversely affect the attitude. According to him, when it comes to the content of dispatches, they fully reflect what the current Government policy wants – creation of conditions for implementing publicly proclaimed national priorities – membership in the European Union (EU) and NATO.