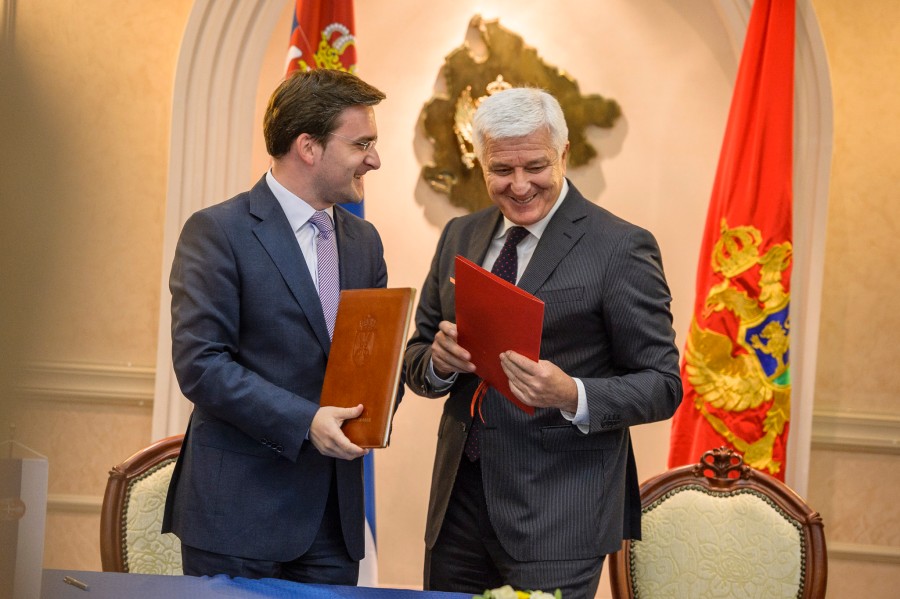 By Adnan Prekic – Podgorica
Montenegro and Serbia in the upcoming period are going to have a direct communication in the Legal Affairs Sector, which will enhance the already good cooperation between the two countries in this field. Ministers of Justice of Montenegro and Serbia announced that the two countries have in the past successfully resolved the Saric case and will in the future explore who has helped Darko Saric hide in the territory of these two countries.
Ministers of Justice of Montenegro and Serbia, Dusko Markovic and Nikola Selaković signed an annex to the Memorandum of Understanding between the two countries in the field of rule of law. The memorandum provides direct communication between the two countries at various levels, primarily in international judicial cooperation in civil and criminal matters. The two ministers said that cooperation between the two countries is very good and it resulted in an improved action plan in the fight against organized crime in the region.
Journalists asked Selaković whether Serbian institutions are undertaking actions against Dragoslav Kosmajac, who was designated as a drug boss, and whether in this sense there is cooperation with Montenegro. Selaković said that Serbian authorities cooperate on a daily basis with the prosecution of Montenegro on police and prosecution issues. He continued saying that there have recently been taken completed and individual action which to some seemed unthinkable.
Asked on whether the investigating authorities of Serbia will investigate who was helping Darko Saric to hide on the territory of the two countries, since allegedly just before he surrendered he was in Pljevlja in 2009, Selaković said that they didn't want to discuss the Darko Saric case.
"In these past years in Serbia someone was creating the illusion that Saric is hiding in Montenegro. For what purpose and why it was done I will not go into speculation. Its surrender and bringing him before the judiciary authorities in Serbia have shown that many of the stories had nothing to do with reality", Selakovic said, to add that that the judicial authorities will finish the job. "If there was a group, in this sense, the result of this investigation will give us an answer. I believe in the investigating authorities of both countries", Selakovic concluded.