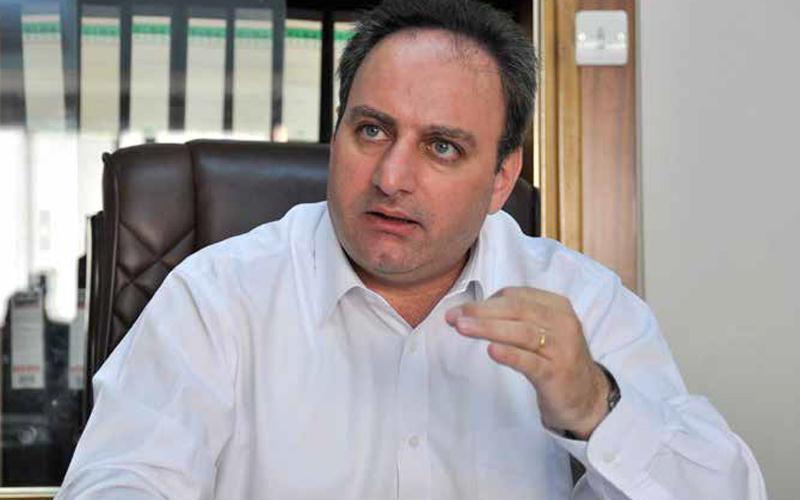 By Spiros Sideris – Nicosia
Stefanos Stefanou is Member of the Politbureau of AKEL, Secretary of the district Committee of AKEL, Nicosia-Kyrenia and former Government Spokesman
Mr Stefanou, Cyprus is facing a new crisis with Turkey. What are the underlying reasons in your opinion for the increased tension on the Turkish side?
I think it is obvious that through the provocations and tension it creates, Turkey aims to make the natural gas issue part of the Cyprus problem, from a sovereignty right of the Cyprus Republic. It wants to make it an issue of contention between the communities so it can have a say speaking on behalf of Turkish Cypriots. This could be translated in two ways: It will either become part of the negotiations therefore Turkey will really have a say on the way the issue will be dealth with, or Turkey will block the Republic of Cyprus, if the Cyprus issue is not solved, to go ahead with the exploitation of its natural resources.
There is a notion that direct negotiations between Cyprus and Turkey would solve the issue as the communities don't really an important role anymore in the process of finding a solution.
There are two issues. The first has to do with whether or not it is right to use the natural gas issue in the negotiations. That would be a mistake because issues relating to the sovereignty of the republic of Cyprus cannot be become part of negotiations as they would subsequently be questioned. The Republic of Cyprus will not be able to exercise its sovereign rights while they are under negotiation. Something similar had happened at the time Cyprus was about to join the European Union. Turkey argued that Cyprus could not join the EU because only Greek Cypriots would join and Turkish Cypriots would be excluded. Therefore it would be a mistake to accept such an idea.
The second issue we should consider is that the issue of exploiting natural resources was discussed as a general issue between Christofias and Talat and partly between Christofias and Eroglu also. Two agreements were reached then. The first between Christofias and Talat and the second between Christofias and Eroglu. The first one was about natural resources; it was decided that when the Cyprus issue is solved they would come under the competence of the central government, the federal state. The second agreement which came in 2011 was on distributing revenue from the exploitation of natural gas. Two things were achieved in this way. Firstly we clearly showed the Republic of Cyprus is keen on Turkish Cypriot gaining from the natural gas reserves upon the solution of the Cyprus issue. Secondly, we kept the natural gas issue apart from negotiations. Something similar must happen now too. Dealing with Turkish efforts to make this part of the Cyprus issue, we must put forth the two agreements reached then. Both will be enforced once Turkey allows a solution to come about with its change of behavior.
Regarding the negotiations, we must look back in history to see why Greek and Turkish Cypriots begun talks as opposed to Cyprus negotiating with Turkey. This was decided in 1974 immediately after the invasion. Since there were problems amongst the two communities it was considered fitting for such a dialogue to begin so problems could be solved and subsequently Turkish Cypriots could decide that Turkey would leave Cyprus as constitutional and territorial issues would be solved. This partly was a continuation of the dialogue that existed before 1974. This effort is recorded in UN resolutions. Since then the international community trusts the Cyprus issue will be solved via talks between the Greek Cypriot and Turkish Cypriot sides. An international conference will solve the international issues once agreement is reached between the two communities, or agreement is close. If we decide not to talk with Turkish Cypriots and negotiate with Turkey instead, the latter will not participate and nobody will pressure them to do so and there will be a standstill which Turkey will use to consolidate its presence in the country.
Therefore, its not in our interests to talk only with Turkey. We need to seek the continuation of talks with Turkish Cypriots while exposing Turkey should the Turkish Cypriot side bring unacceptable posititions to the negotiating table.
Won't the negotiations stopping favor Turkey?
I am not in favor of a permanent stop. What AKEL said is that it supports the President's position to suspend meetings; there was only one scheduled between Anastasiadis and Eroglu. Permanent halting negotiations would harm us and give Turkey tools to blame the Greek Cypriot side of not wanting a solution. On the other hand, the Anastasiadis – Eroglu meeting had to be suspended as the provocation was so big, the biggest on Tukey's behalf since 1983. It did not only have on its vessels roam the Cypriot EEZ, it has marked out a part of the EEZ in the south for research. If Cyprus was a strong country that would be a cause for war. Of course Cyprus cannot compete with Turkey on the military front but it must do so in political, legal and diplomatic terms to fight the Turkish provocations.
Is there scope for this though? For example the Papadopoulos government had, together with Lillikas opened up the country's foreign policy and made it more extrovert. This continued under Christofias. This doesn't seem to be the case anymore. Is this not a negative development? How could Cyprus react having essentially lost its allegiances?
I agree with you that the Anastasidis administration canceled a multi-tiered foreign policy that had extended its scope greatly mainly under the Christofias government. Cyprus is a small and partly occupied country. It cannot choose its allies. It must also strive to find allies and maintain the ones it already has; and it has many in the East and West which it build through the Non-Aligned Movement. Through this policy Cyprus managed to fight Turkey's attempts to have a second state recognized, the so called Turkish Republic of Northern Cyprus. This was thanks to broad international support. The Anastasiadis government falsely believed when it came to power that selling enslavement to the West (the US and its close allies) it could upgrade the importance of Cyprus in the eyes of the US and this would help stop Turkey. This collapsed like a house of cards overnight. Even today the US has not said anything substantial about the Turkish provocations. The US rather monotonously repeats that "Cyprus is within its sovereign rights to have and take advantage of an EEZ and its natural resources and gains should be fairly divided between Greek Cypriots and Turkish Cypriots upon the solution of the Cyprus issue". This does not respond to what the Cyprus Republic demands today; condemnation of violations of international law and the law of the sea and the US using its influence to call Turkey to stop this policy.
Therefore, it is evident how the one dimensional policy of the Anastasiadis government which is based on the old doctrine of "belonging to the West", is a factor that has allowed Turkey to go ahead with such provocative actions.
Is AKEL planning any reaction at European level? The party is member of the Left Group in the European Parliament. As we saw the Union had a lukewarm reactions to Turkey's actions.
It is clear that the EU reacted very softly. In the first two days it was like the computers had vanished from the EU and nobody could make an announcement. To be honest this stance did not shock us. We have been saying for years to those who maintained that Cyprus would gain much from accession to the Union that these things do not occur automatically. Much work is needed along with particular and much targeted actions. Bearing in mind the strong interests linking the EU with Turkey, we expected the Union would be hesitant to clearly condemn Turkish provocation. Of course this doesn't mean we accept it. To the contrary we are critical against the Union for its stance as it should have tried to help its member-state.
As a Left party we tried about ten days ago to bring the issue to the European Parliament in order to get a decision to condemn Turkey. We encountered the reaction of the Parliament's President and the socialists but managed to have the issue discussed last week and managed to agree on an announcement by the Parliament condemning Turkish actions and calling the country into order.
How do you comment on the reaction of Denmark, Sweden and Britain?
For Britain there is no reason to say much. The Cyprus problem was born by British policy and its dogma to "divide and rule" together with the help of the junta in Greece and of course Turkey and the far right in Cyprus which led to the 1974 tragedy and invasion of Cyprus as planned decades before. I remind you that in 1962 Rauf Denktas said "we will not rush the partition of Cyprus, Cypriots will provide us with a cause". These words were indeed telling of Turkey's intentions along with its allies.
Scandinavian countries have changed their stance in recent years on the Cyprus issue. Sweden and Finland used to be supporters of the Cyprus cause and are now friendly to Turkey. It is clear that the economic ties they have developed with Turkey have decisively influenced decision making in these countries making their stance pro-Turkish. Therefore it is evident were their positions at the Council – level talks derive.
Is it true that Hungary has established a consular office in northern Cyprus?
The pseudo-state did in Hungary what it has done in a host of other countries, like Italy for example. A private company opens an office in a country representing the interests of the so-called Republic of Northern Cyprus and in this indirect way Turkey and the pseudo-state attempt to gain recognition from European states. If I am not mistaken, Hungary in this case followed a model we have seen in the past too.
How safe could a cooperation with Egypt be as the country has, unfortunately, a very volatile political landscape?
The volatile landscape is obviously an important factor internally but this must not stop us from seeking cooperation and developing ties that are within our interests. It is good for Cyprus and the wider region for such cooperations to develop. This is why the government should attempt to cooperate with other neighboring countries too.
As for Egypt, the political fluidity was brought up by Dimitris Christofias when he was in office and protests broke out against Mubarak. They remembered human rights and democracy and they wanted to overthrow Mubarak and bring someone else to power. The question was who this would be, considering the strong Muslim character of Egypt. The Arab Spring later turned out to be a very heavy winter for the region. After Mubarak the Muslim Brotherhood won and everyone thought that would be a problem. The same happened in Libya as if nobody knew who Gaddafi was all these years that the West supported him. Suddenly in the name of human rights the entire geopolitical map of the region was turned on its head. Now you see in Libya for example the country has been cut in three parts. The official government doesn't control almost any areas; Islamists control most areas. This is a lesson to Europeans first of all as they usually run behind the US and end up supporting actions that harm peace and security. Ukraine is an example of that.
Israel on the other hand, although it is a very strong US ally, doesn't maintaine the best of neighborly relations. Will cooperation with Israel harm Cypriot relations with other countries in the region?
Up until we were in power this was not a problem at all. The government did not develop any relations against other countries, and particularly Palestine. When president Christofias officialy visited Israel he also visited the Palestine president in Ramala with whom an honest discussion was held as the Palestinians respect and trust Christofias and the party he represents. Relations with Israel did not impact relations with Palestine; we made sure of this. I am not sure if the one dimensional approach of the current government – which is used for internal purposes very heavily – could impact or not. I urge and wish the current government follows the example of the previous government which assured good relations in the region.
Turkey is a country facing chronic issues, for example with Armenians, Kurds (both internal and external); there is also tension with Syria, Cyprus and Greece; then there is Bulgaria which has a Turkish population (not a muslim one as in Greece) and of course there are issues with Bosnia, Kosovo, Skopje and Russia. Isn't this considered a weakness? Why are we so scared of Turkey?
Turkey does have many problems and open fronts. It is not succeeding in the "zero problems" strategy, but this doesn't mean it has lost its strategic character and its role or the idea the US and NATO have for Turkey. In October the NATO Gen. Secretary said something extraordinary and unacceptable in my view: "Turkey is a force of stability in the region and its presence is a prerequisite for the strategic presence of NATO in the region". I believe these statements set the framework for the approach of Turkey by the US and NATO. It would be a mistake to think Turkey has less significance now for NATO and that we could restrict its importance. I would also like to say that we should not be phobic towards Turkey; we should be clear and build the political, legal and diplomatic framework that will apply pressure on Turkey to adhere the principles and procedures of international law to the extent that Turkey can be restricted because unfortunately it is not a country with a conventional way of thinking. This is the role we are called upon to play. Also, politically and diplomatically we should always show our intention to have good relations with Turkey but the full restoration of relations between Turkey and Greece requires the solution of the Cyprus issue; it should be clear that for Cyprus to have good relations with Turkey and for the latter to be able to benefit from it, the Cyprus issue must be solved. This is the tool we ought to use.
Since we refered to NATO. When you were in power did you consider applying for participation in the Partnership for Peace program?
Never. We had reacted by saying we will never submit such an application and this is why all the other parties (with the exception of the president's party, AKEL) moved together and called on the Christofias government to apply. This is NATO program. Cyprus has nothing to gain from NATO and it stands to lose from this story.
And in the EU Safety and Security Amendment program…?
There is a misunderstanding here. Cyprus participates as normal in this but not in the program that provides classified information between the EU and NATO because the Turkish government doesn't accept Cyprus' presence in these meetings. This is why Europeans came up with Berlin Plus, an indirect way for Cyprus to participate and allow for the EU to proceed with its plans and cooperation with NATO. Therefore, it is wrong to suggest Cyprus doesn't participate fully in this aspect. We are a full and equal member. We also participate in political missions abroad but not in the joint military missions with NATO and rightly so. We did not ask to participate in the latter. If we had asked, NATO would have veto power. This is a NATO problem, not one for Cyprus. I characteristically remember, when a European diplomat was discussing this issue with me, he said it would be important for Cyprus to take part in the partnership for peace as this would solve the NATO – EU issues. I replied that our problem is the Cyprus issue and that the EU should help solve that first. Why should we eliminate our bargaining tools in order for the EU to take care of its business?
Moving on to the cost of sustaining the army? Why has Cyprus not developed a professional army instead of keeping in place the outdated and very costly current structure?
We developed a plan to modernize the national Guard which is now dependent largely on conscription. There is a small number of professional soldiers. Important steps were taken (by our government). In our view, this mechanism is a military deterrent. Any Cypriot military mechanism could not defend against the super military power of Turkey for many days.
We had thoroughly discussed the gradual reduction of military service from 25 months to 19 and then 14. In order for this to materialize, professional soldiers needed to be hired. The cost, however, was larger than the one we have now and in a crisis like the one there is today this wouldn't be feasible. The current government also wants to bring down service to 14 months and it too said that professionals would be required. It is evident that it cannot proceed, however, due to financial difficulty. Therefore, it is obligatory to have a deterrent force in place due to part of the island being under occupation. More importantly, we should remain consistent in the standing position of the Greek Cypriot side that is found in UN resolutions too and says that the Cyprus issue solution will lead to demilitarization of the united Republic of Cyprus. We would still have a police force and other security bodies but no army.
The single defence doctrine is non-existent despite announcement made five years ago…
When our government asked to see what the single defense doctrine was, we found nothing in the relevant folder. What was termed a single defense doctrine or dogma of a single defense space, was essentially just a slogan. We saw nothing beyond that. It is obvious that it catered to the rhetoric of the government at the time in order to appease the feeling of insecurity amongst Greek Cypriots as well as please part of the population that wants to feel an added sense of "hellenism".
What did we do as a government? This is what we deem most important. There might be a close military cooperation with Greece, much closer than with other countries, due to historical, cultural, political and other ties. What is the difference with what is being presented as single defense doctrine? It is the independent entity and sovereignty of a state such as the Republic of Cyprus. What is the main argument Turkey has internationally in its attempt to prove there is no Republic of Cyprus as it established in 1960 because Turkish Cypriots departed the state cooperative in 1964 so nothing exists now? They say it does not exist since 1964. However, the 186 (1964) resolution from the UN says what was created in 1960 is still existent even if Greek Cypriots run the country since then. To strengthen the Cypriot Republic as an entity we must act as what we are constitutionally; a bicommunal state of Greek and Turkish Cypriots even if Turkish Cypriots are now not participating in it. In this way the Turkish Cypriot trust in the Republic of Cyprus is upgraded too. We should not use this as an opportunity to make the state more Greek. We are Greeks. Nobody doubts that. But we must respect and showcase our state symbols as it is our obligation because this is the Republic of Cyprus. Nevertheless, nobody can take away from us that we are Greeks.
Why is it so difficult for a Greek to acquire the Cypriot nationality and vice versa?
In the constitution of 1960 restrictions were placed on the analogy of Greeks and Turks in Cyprus. For every four Greeks that became Cypriots, one Turkish citizen could become Cypriot. To preserve the correlation of Greek Cypriots and Turkish Cypriots on the island it is in our interests to keep this intact. This was very important when we talked about citizenship in negotiations. We asked for a list of settlers and they asked for a list of Greeks that were granted Cypriot citizenship from 1960 onwards. They thought they would be many but they were in fact very few. This shows the international community the responsibility with which we approach the issue and that Turkey and the Turkish Cypriots were the ones out of order. We should view these issues more politically especially due to the abnormal conditions in Cyprus as they will count when the time comes for a solution.
The Christofias government has been blamed heavily for leading the country to economic disaster. Do you feel responsible as a party that governed Cyprus and personally as spokesman for the Christofias administration?
Of course the government has its own responsibilities but not the ones the opposition accuses us of. They accuse us of having policies that destroyed the economy. The numbers are there for all to see. They say we implemented a generous social policy that emptied state coffers; surely 400 million euros worth of social policies did not empty state coffers. Our policy was correct because we supported lowly pensions, refugee programs, students and pupils, weaker social groups. We helped those that needed and still need the state for an adequate standard of living. In 5 years the Christofias administration spent 400 million euros towards these ends. Do you know what the deficit left behind by banks is? Nineteen billion euros in total. In an economy that in 2012 had a GDP of 18 billion euros and a 7 billion euro budget. So who is to blame for the current situation? The Christofias administration or the banks that the opposition parties – and particularly today's governing party – covered? What did the then biggest oppositional party say when Christofias called on banks to be prudent and lower interest rates then? He called on the President to have a coffee with banker, who are the best in the world, and determine economic policy. Our government was not determined to carry out a policy in favor of bankers and it never will be.
You are also blamed for motivating all the guilds, something that obstructs the smooth operation of the state economically and in other terms.
Our history and the history of unions has shown that we are responsible enough to know when to demand more and when to achieve compromise in order to support the country. 1974 is an example. The guilds then said, urged by AKEL, that wages should be lowered until the country recovers from the catastrophic invasion and occupation. Similarly now we are in cooperation with the trade unions and social partners that suffered from three adjustment programs that brought 24 measures in December 2012.
AKEL did not and will not act audaciously to become favorable. We must revive the state. We must demand what we must demand and agree on what must be agreed. We do not oppose everything at all times for the sake of it and our presence inside and outside parliament proves this.
However, we do raise objections to the government tactic of deciding alone and then brining legislation to parliament for obligatory approval. The issue of auctions is an example of this. While the government rejected any negotiation, the opposition put proposals forth. The government said we must not hurry and in the end it agreed on legislation with the troika, saying changes could not be made without the troika approval. We didn't even have the chance to negotiate with the troika. We could not agree to something like this.
Are you in talks with the troika?
No.
Were you not asked or is it your own decision?
Nobody invited us. As far as I know no party holds talks with troika officials. The President of the government party was saying he was talking to the troika even before his party came to power and I think I know why. Cyprus government and troika are on the same side. They have the same ideology; they are both neo-liberal. We meet with troika delegations each time they come to Cyprus and hold talks with parties both in parliament and outside. We never turned down talks. We talk with them and boldly express our positions. We don't just disagree with their policies but also make proposals that could provide solutions to a host of problems despite the fact that the anti-popular essence of the memorandum cannot change with fix-ups. We know where our powers extend. There are issues were the negotiation could proceed better and things could be achieved for the economy and society like auctions, privatizations, cooperatives, education, health and other strategic sectors for the present and future of the country and society.
There is a rise of nationalist groups recently as we saw for example in the football match between Serbia and Albania. In Greece and Cyprus we have Golden Dawn which has established its position as the third party and ELAM which is also rising, respectively. Do you consider this dangerous? Is there any way this danger could be eliminated?
Of course it is dangerous phenomenon and should not be underestimated. Some right-wing parties here told us we were seeing ghosts when we pointed out that the fascist egg was being bred. That was until they saw ELAM take part in the elections and attempt to enter parliament with a percentage that brought it very close to achieving its goal. Also, we strongly reacted to the attempts of MPs and parties to blame immigrants or Turkish Cypriots for part of Cyprus' economic woes. This is a fascist and racist approach that as well know, movements like ELAM and Golden Dawn thrive on in Europe and elsewhere. Therefore there is a need for the government to cooperate with political parties in forming a social alliance that will face these very dangerous movements for society before it is too late. It is not just social reasons that fuel the rise of such movements such as poverty and marginalization but also the obsolescence of politics. When the political system tolerates them, they become stronger. This should be dealt with.
Is AKEL ready to accept an invitation should the President call the party for assistance in a difficult period?
We are always present. Let me give a characteristic example. When the President negotiated a joint Communique, even though we disagreed with him and had our own views, we supported the negotiated process; despite the fact that the two previous Communiques agreed by the Christofias administration were better. It would be much easier for us to join the other parties in the bashing of Anastasiadis exactly as it happened when Christofias was President. We did not follow this tactic out of responsibility for the country. In matters of principle, no matter who is in power, we will be supportive.