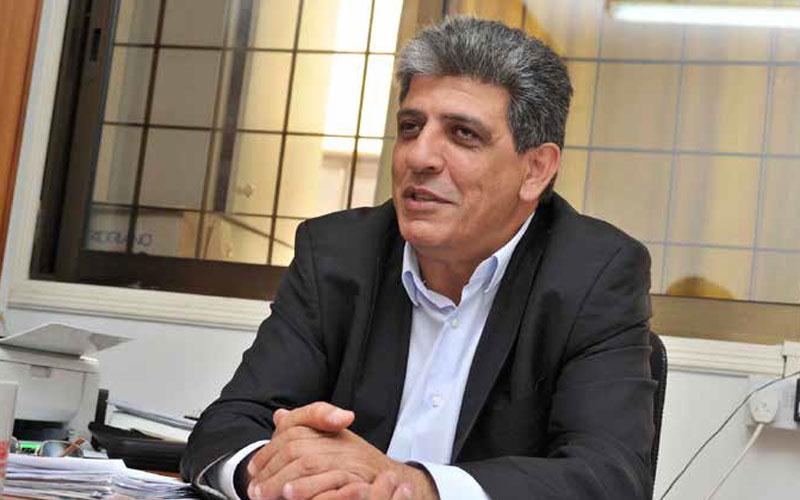 By Spiros Sideris – Nicosia
Neoklis Sylikiotis is Member of the Political Bureau of AKEL and AKEL MEP. He served as Minister of Interior and Minister of Commerce, Industry, Tourism and Energy of the Republic of Cyprus
Mr. Sylikiotis, Cyprus is yet again facing a crisis with Turkey. What the underlying reasons for the rise of tensions of behalf of Turkey?
Firstly I should point out that we face a new situation. We don't just have threats but provocative and illegal actions. I say this in order to point out the difference with previous years. Turkish threats against the Republic of Cyprus (in order to restrict the exercise of its sovereign rights and dispute rights dictated by the law of the sea), and against companies operating in the EEZ of Cyprus (even in the form of the Barbaros conducting research in our EEZ) were provocative actions but not to the same extent as today. Today we are witnessing aggression because Turkey has committed part of our EEZ; it is let's say an invasion of the Cypriot EEZ.
We consider Turkey has this aggressive and arrogant behavior because there is not pressure from the international community, namely the US, NATO, Britain and the EU even. As we can see their approach and reaction ranged from soft to sluggish.
Turkey is also taking advantage of the situation in the wider region.
But isn't this a problem for Turkey as it is opening fresh fronts; with Syria, Kurdistan, Armenia, Cyprus, Greece and not to mention relations with Israel. Doesn't this weaken Turkey? Why don't the Cypriot and Greek governments capitalize oh this?
Turkey has the support of the circles I mentioned before. As for Cyprus' weaknesses, abandoning the multi dimensional foreign policy and adopting a one dimensional policy instead (President Anastasiadis spoke about participation in the Partnership for Peace from early on) tied to the US and NATO creates problems as it reduces the foundations we have to rely on internationally. I am referring of course to Russia which has supported Cypriot positions in the UN and all the international forums, because of its own interests in the region if you like. Now problems are created in our relations.
Isn't AKEL at fault for the deterioration of relations between Russia and Cyprus? The Christofias government essentially froze relations…
To the contrary. Many deals were signed, economic and other. Take a look at what is happening around us in the region. Today we ask "where are Cyprus' relations with Israel"? We are adopting an approach that lead Israel possible to abandon efforts for synergies to occur. In fact, it was us that accepted Isreal's request to take part in plot 12, amongst other agreements we reached. We upgraded relations with all the countries in the area. President Christofias visited Lebanon, Jordan and I too visited Egypt as Energy minister when the islamists were strong, in a difficult situation; nevertheless we built on relations without delay. What I am saying is that even within the EU the Republic of Cyprus can voice its national interests. This is what we should have done with Russia.
The AKEL government expanded economic relations very much. Our efforts then keep attracting Russian investors to Cyprus even today and tourist arrivals are rapidly rising. I actively participated in taking measures that would make the processes simpler (i.e. with visas, etc). Today we witness unprecedented phenomena. You cannot ban entry to Cyprus to Gheorgi Muratov, one of the country's best friends who was Ambassador to Cyprus and Foreign Minister of the autonomous region of Moscow and president of the Cyprus-Russia Friendship Association. Today we don't allow him entry to the country because he is on the sanctions list. We could have mentioned our national interests and not agreed with sanctions against Russia. In the past we took this stance in two seperate occasions. The first was when we recognized the Palestinian state and its accession to UNESCO where we differentiated along with other states from the official position of the EU. The other was to do with Serbia, together with Greece and other countries we took a different position based on our national interests and international law, with relation to problems in Kosovo. I believe this is what we could have done now too.
We know very well that when you base your policy on principles, our geographical position and natural resources are the tools we should use to build alliances as a strong player in the region. These strengths could be used as a catalyst for the solution of the Cyprus issue.
Was the interruption of talks with the Turkish Cypriot side a correct decision in your view? Did it have the desired result or did it make relations with Turkey worse leading to the rise of tension on the part of Turkey?
I spoke earlier of an act of aggression. This is the difference. In 2011 we had threats when we granted concessions to companies but there was a stronger reaction from the EU and even from the US.
Today, because we have aggression, the interruption of talks was correct. However, we believe that negotiations shouldn't be permanently stopped because it is the only process – under the auspices of the UN – that could lead to a solution. Secondly, we must avoid actions that cause greater tension. I refer to what is happening in recent days. For example what was written in the press about Russian military excercises as a response to Turkish aggression. The truth is they were planned a long time ago as part of what is going on in the wider Middle East. Even talk about a Greek frigate and submarine sent to the area when they've been there all along participating in exercises. We correctly call on the international community to pressure Ankara to stop illegal action in order for negotiations to begin as their actions are to blame for the halt. But we cannot follow policies that create tensions.
It is also correct to promote the argument that upon solution of the Cyprus issue, part of gains from the natural gas exploitation will go to Turkish Cypriots. There was agreement on this between Christofias and Tallat that we must refer to. The exploitation of natural gas will be under the competence of the federal government. It was also decided that there will be revenue apportionment between Greek Cypriots and Turkish Cypriots. This is a message to the Turkish Cypriots that natural gas revenues won't go to Greek Cypriots only but to all legal citizens of the island. It is also a message on an international level that we don't neglect the Turkish Cypriot interests; we do however expose the policy of Ankara that uses Turkish Cypriot interests as an alibi not only on this issue but to proceed with expansionist aspirations in general.
The Christofias government has raised hopes that a solution to the Cyprus issue would come about. Wouldn't direct negotiations between Cyprus and Turkey potentially help this cause? Why was this not attempted by the government? Or was it attempted and…
An effort was made. We always try to talk with the Turkish side. The Cyprus issue, however, as we have repeatedly said had two sides. An international aspect and an internal side. Negotiations cannot solve issues to do with the international aspect such as safety and guarantees. These issues will be put to an international conference under the auspices of the UN. There have been many proposals from time to time for 4 or 5 parties participating, as Turkey wants. It would be wrong to be dragged into the logic of guarantor powers. How could and EU member-state have guarantors, especially non-member states in particular?
As for the internal aspect, a large distance was covered in the Christofias – Tallat talks. Consensus was achieved on a series of issues.
The best reply to Turkish intransigence is to maintain that there is progress being made and negotiations could continue.
Turkish policy on the Cyprus issue is not disconnected from development in the wider region and what its priorities are in Foreign Policy. While there was progress made, that came to a halt at some point. Tallat was not re-elected as leader of the Turkish Cypriots, Eroglu came along and this caused a setback in the Cyprus issue. However, this was not independent back in 2010 to the Davutoglu dogma being expressed at the time and Turkey's attempt to use developments in the region with the Arab Spring that resulted in winter for the people (this was a result of failed policy by the US and its allies also). Turkey's policy failed in Libya too where nobody knows who is in power as in Egypt and Syria also where it actively sought the fall of Assad.
What is your opinion regarding the management of energy issues on behalf of the Cyprus Government?
Unfortunately today we see inertia and shilly-shally. Geo-strategically the timing of decision making is always important. We faced Turkish provocation and defended our interests without fanfare. Exploratory drilling in plot 12 and the signing of agreements with large companies (Total, Eni Kogas) despite the Turkish threats occurred along with the arrival of Israel in plot 12. All these developments create well intended fait accompli. For a year and a half now, no specific action is taken. What is happening today stems from these past agreements. Of course there are positive actions like the cooperation between Greece,Cyprus and Egypt. However, questions are being raised on progress being achieved in exploiting deposits. It is still not clear how natural gas will reach global markets. Actions the previous government begun were stopped. The state company was scrapped and replaced by another company which was limited to being the trading arm of the state. Substantial steps are not taken for the creation of an LNG terminal which is the only solution for the transfer of natural gas to global markets making Cyprus an energy hub in the region.
Are you implying that some may be planning the transfer of natural gas via Turkey?
This is not something new. When I was a minister I had publicly exposed what was described in troika documents as research made by the IMF which contained many inaccuracies with regards to the energy data of Cyprus. That report mentioned three choices. One was an LNG terminal which was deemed unfeasible and unfortunately some share this view in Cyprus. The second was a pipeline through Greece which has many technical difficulties. The third was via pipeline through Turkey. The political problem was mentioned here. However, we know that even in the EU there are those who want this solution to come to fruition. The Turks themselves promote this. Nihat Rende said in a speech that natural gas passing from the east Mediterranean through Turkey is the only safe and viable solution. Therefore,  the Cyprus government must act with more determination. It is wrong to say that the LNG requires adequate reserves. To build a terminal needs two years of preparation which begun early 2013 and was halted by the current government. We have the deposits in plot 12 and there are the Aphrodite deposits and research by ENI is ongoing. Based on the contractual agreement, ENI should proceed with drilling through to the end of 2015 in plot 9, 2 and 3. Already 3D research shows plot 9 has significant quantities of natural gas. Doing all this groundwork leads to a final decision in early 2016 and attract buyers. The more you delay, the more you lose the markets as there are deposits in other countries too (Australia, Mozambique, etc).
Bringing large companies and large countries to the Cyprus EEC and showing more determination guards us against Turkish provocation. We should not allow ourselves to be held hostage over the sale of natural gas. We know the problems that occur with pipelines; We mustn't put all our eggs in one basket. For this to occur we must first build the main infrastructure which is the LNG terminal.
 In 2015 there are elections in the Turkish Cypriot side. Do you think stopping talks has made Eroglu stronger?
The suspension of negotiations creates problems indeed. However, I should say that the right messages should be sent to the Turkish Cypriots. Over the years Greek Cypriot side despite the pressures from AKEL underestimate the Turkish Cypriot factor in the solution process. Of course Turkey imposes its policy but we could have sent out the right messages. AKEL has always held this position, as you know very well. The Greek Cypriots have participated along with Turkish Cypriots in many proceedings at EU and European parliament level and elsewhere. What we want to show is that uniting the island again will serve the interests of the entire island. There are voices in the Turkish Cypriot side that understand this and say that ties to Turkey harms their interests too. They know that a solution will mean they will participate in the EU and have a series of other benefits I mentioned earlier too. Lets hope progressive forces manage to win the elections so that the process towards a solution could move faster as it did in the 2008-2010 period. Should one examine the process closely, he will notice that during that period Tallat and Christofias made great strides.
 Is there cooperation with parties on the Turkish Cypriot side?
Of course. AKEL has fine relations throughout the years with many parties and mainly with the Republican party, the main party of the Left. We have also decided to form a joint commission to discuss the Cyprus issue. A while ago AKEL and the Republican party held a leaders summit. This doesn't mean there aren't differences on specific issues but both parties use their influence for talks to continue. Both parties speak of the need to make the most of consensus achieved between Christofias and Tallat as a good basis for the solution of the Cyprus issue to proceed. Cooperation, I must point out, is on every level, not just between leaders. I recently took part in a big event organized by the Larnaca branch of AKEL together with the Republican party of the Trikomo area. I addressed the event – which was attended by 400 people from both sides – on behalf of the partys' leadership. This happens on many levels, at regional, union and local levels too. Many meetings, events and common activities occur. This helps the coming together of people from both communities. In another meeting in my father's village I remember more than 200 people from the Turkish Cypriot side attended with high ranking figures of the Republic party also present. I mention these meetings as examples. There are many more.
 London is also a good example where relations are superb between the two communities.
Yes, of course. Away from the problems on the island of Cyprus relations are even better. I also want to point out that we had to been doing these decades ago. We were pioneers in this effort. Confidence must be restored. I am glad to see that in the new generation there are less problems and more curiosity on both communities to meet one another. One understands that Cyprus is a very small island to survive alone with what is happening around it, should we continue to be divided. We must also understand that although EU membership provides security, we cannot feel safe for as long as the occupation continues. That goes for both communities. There is a great danger for the Turkish Cypriot side which they mention to us many times. The community is shrinking and is already a minority in the occupied part due to the large number of settlers. They express a cry of despair many times over this development. In a few years, they tell us, there might not be Turkish Cypriots for you to negotiate with. Therefore we are all urged to move towards a solution.
An AKEL delegation is visited Greece. There were meetings with the SYRIZA, DIMAR and ANEL leaders. Was the visit planned or did it occur as a result of tensions with Turkey rising? What is the reason for these meetings?
AKEL visits Greece very often. It is a chance to inform the Greek political leadership not only of recent developments but also for talks for the solution of the Cyprus issue. It is an opportunity to make the AKEL positions known. Greek political leadership has always listened to AKEL carefully because it knows it is a big party but also because it has a deep knowledge of the Cyprus issue and all its aspects and always maintains a responsible attitude in dealing with these issues. In Athens, along with the Sec. General, Toumazos Tselepis has gone too, a member of the political office who is well know here, in Greece and at the UN. He has advised Cypriot governments (of Christofias, Papadopoulos and Vasiliou) for decades. He is an expert on these issues. He is also a member of the legal team President Anastasiadis has formed.
It is reasonable that many times the Greek side is not fully informed of what is happening on the Cyprus issue and now that talks are entering the closing stages. This is why I believe this visit was very important. We must not forget that regardless of who is in office, Greece is our most stable ally and supporter of Cyprus and its people.
 Moving on to the economic crisis. Does AKEL feel responsible for the economic collapse of Cyprus or does it believe politics from the outside were to blame?
I am not sure if we can talk of a collapse of the economy, first of all. What I wish to say is that – regardless of our mistakes that many point out – the economy never had serious structural or other problems. What most people now understand is that the crisis was clearly a banking crisis. Since we operate in a capitalist system and banks are the pillar of the economy, their crisis expands to the economy as a whole. It is true however that Cyprus never faced fiscal problem despite what various people may say. Deficits never went above 6 pct, which is high but nevertheless manageable. Take a look what is happening in other member – states with higher deficits all over Europe. And even though sovereign debt reached 80 pct of GDP it is manageable. What created the huge problems was the banks, firstly from their big exposure to risks. They stretched their hands too far and ongoing legal investigations will show if criminal responsibilities exist; we believe these investigations should proceed because perhaps some may have even received bonuses for the decisions they made. Banks expanded then so much 5 times over GDP.
The problem however was created by certain decisions. First and foremost the haircut of Greek debt. This cost the Cypriot banking system 4.5 billion euros. Then came the sell off of branches in Greece. This cost more than 3 billion euros. The eurozone may have wanted to avoid the systemic problem, but the cost was passed on to the Cypriot people to the tune of 8 billion euros.
Cyprus had debt it must repay. This is why we took the 10 billion rescue loan. Our exclusion from markets meant loans that were to expire had to be renewed. This does not mean that we are not at all responsible. I remember in our five year review we were very self-critical and publicly said many of these things; that we did not calculate the extent of the banking crisis.
Allow me to clear something else up too because there is some confusion still amongst the Cypriot people today. From the moment we joined the Eurozone, the Cyprus Central Bank (and then the ECB) is responsible for overseeing the banking system. Then of course there were the problems we had with the former Governor, Mr. Orfanidis.
So, despite the fact we have our own responsibilities it was the banking crisis that led to the memorandum and all the problems that came later in the economy and continue to this day. We know full well that economy cannot recover if the banking system is not stabilized.
 What about the obstructiveness when it comes to accountability?
We have been critical of this from the very beginning. At the end of the day, we hear of various scandals (which we don't underestimate) and corruption amongst officials (some have gone to prison), but we hear nothing about the most important aspect, those who are responsible for the economic crisis.
 If political responsibilities are found, some of your party officials may find themselves in trouble…
There is a misunderstanding in Cyprus about this too, unfortunately. How are political responsibilities attributed? One assumed political responsibility when resigns a post. There were resignations when we were in power. It is not the case today. Even if a minister for example is not responsible for something, he resigns for being linked to wrongdoing. This happens all over the world. This is what political responsibility is. If there are criminal responsibilities, legal action is taken. Sometimes we confuse political with criminal accountability. However, as we all know that the problems were created by the banking crisis, some decision – makers are responsible. They made decisions to buy bonds, to sell branches in Greece etc. We want investigations to keep going, for some to be held accountable in court for their huge criminal responsibilities. Especially with reference to bonds that were sold and bought back as bonuses were handed out, there are acts that need to be examined. I don't wish to incriminate anyone but the people await this procedure to proceed and for them to be held accountable for mistakes.
Finally, if the crisis with Turkey escalates or another problem occurs that creates the need for a coalition government to be formed, is AKEL ready to cooperate?
First of all let me say how Cyprus differs (from other countries) because this has been raised many times in the past and also became a disorienting slogan at some point. The government is responsible for negotiating the Cyprus issue and national matters in general. I do believe however that the leaders council and the national council that already exist as bodies are capable of producing unanimous decisions on measures that need to be taken. We believe unity and support passes through these bodies. AKEL has proved this from the very first moment the Cyprus issue was opened, we never hesitated despite our disagreements as an opposition party to support President Anastasiadis. As I have always maintained, however, the responsibility always lies with the government through the initiatives it takes, the information it provides and the effort for unity to exist and most importantly the avoidance of provocation. I say this because during the crisis the government honored people that actively took part in the coup. It is different to hold a memorial and to honor some people as if they were heroes on behalf of the state. This was a government decision, not merely a presidential action. This was a provocation in this difficult period which could have been avoided. Unity must prevail over anything else right now. This is our call. The government and all of us must avoid actions that place much the needed unity of the country and its people in danger.
How do you assess the tripartite meeting of the leaders of Cyprus, Greece and Egypt in Cairo?
The trilateral meeting is a positive development that follows other important steps, which were made by the previous government, and which resulted in the delimitation of the EEZ with the neighboring countries and the promotion of cooperation with countries of our region in the energy sector. AKEL has always underlined the need for cooperation with countries in the region, at a time when others seemed to underestimate these possibilities, to say the least. We hope that the cooperation that has been built over the years will result in the energy cooperation and the enhancement of Cyprus as a key factor for stability and energy development in Southeastern Mediterranean, as well as for the creation of a regional energy hub.
As such, the positive development of the tripartite meeting, must not lead to wrong assumptions, illusions and unrealistic expectations. For example, the definition of the EEZ between Greece and Egypt requires great preparation and will take time. What's more, the unacceptable policy of the Anastasiades-DISY government, which has abandoned its plans to create a terminal in Cyprus, plays down significantly the perspective of Cyprus to become a regional center of energy and a major player in the gas market.