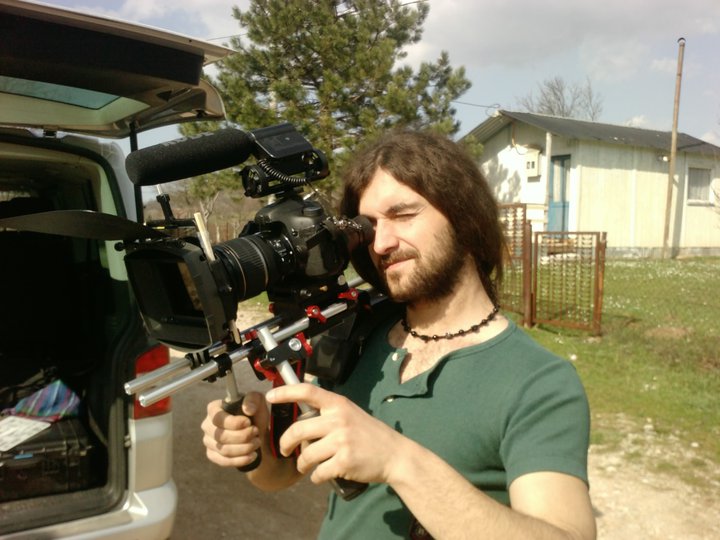 Ado Hasanović is a young and talented filmmaker from BiH who realized early that filmmaking was something he wanted to devote himself to. Throughout the years, he has directed his energy to honing his craft as a filmmaker and continues to demonstrate that he is not afraid to take risks and experiment with various forms and styles. Over the years, he has collaborated with fellow filmmakers from all over the world on various projects. He says that while we can only learn from our mistakes, he chooses to not be burdened with it and instead, decides to redirect his strengths and skills towards new and better projects.
How did you get involved in filmmaking? Do you remember the moment when you decided, or when you knew that this is something that you wanted to pursue, something that would be a part of your life? 

My love for film arose from the opportunity to film various events and a number of television shows that we worked on in the Association "Prijatelji Srebrenice" (Friends of Srebrenica), and I was most fascinated by the short film festival "Srebrena Traka" (Silver Bar) in Srebrenica. I think that when I won the award for the best student film, my first film called "Ja Sam Iz Srebrenice" (I am from Srebrenica) at the short film festival in Mostar, that this gave me the biggest moral support to continue to be involved in film.
What are some of the attributes that make for a good filmmaker? 

Fear towards film is the most important attribute for a filmmaker to have.
What do you aspire to convey through your films? Are there any themes that you particularly like to focus on, i.e. what makes your work original and unique? 

Until now, I have worked on short fiction, documentary and experimental films. IN the next few years, I plan to work on my first documentary film. I like to explore and work on various themes and different genres. What I love most of all is to make a film that has a metaphorical meaning, some details, symbols, of which people will reflect on and experience it in their own way. I am still learning, and with time I will develop my own style.
What has your experience been like so far in Sarajevo in terms of collaborating with fellow filmmakers on projects? 

In Sarajevo I had numerous collaborations in film. I collaborated mostly with people from Sarajevo, and then with friends from Italy, Austria, Iran, Mexico, the US and several other countries. Something is always being done, whether a scenario, shooting of a film, a film workshop or a film festival.
We all learn from our failures, and it is an inevitable part of anything we do, especially in the arts. What have you learned from past failures and/or mistakes, and how has it helped you improve your craft? 

We can only learn from our mistakes. I know that every one of my films has something that could be revised or changed, but I do not burden myself with that. Rather, I direct my strength and energy on new projects that I want to be better than the last one.
How do you strike a compromise between what you want to convey through your movies and what your audience wants to see? Is this something that you find difficult, and in what ways do you try to reach out to your audience?
I am happy that the audience understands my films and experiences them in a way in which I wish to communicate them. It is also interesting that the audience sometimes sees more than what is seen in the film. Every detail is important, because it could change the entire context of the film. In my first films I did not pay attention to details, how an actor spoke or what type of outfit he/she wore. However, that is very important, because in a film you are communicating with each picture that appears on the screen. I was concerned more with where the camera was and that it was technically well done.
(Ado's films can be viewed on his website at www.adohasanovic.com)