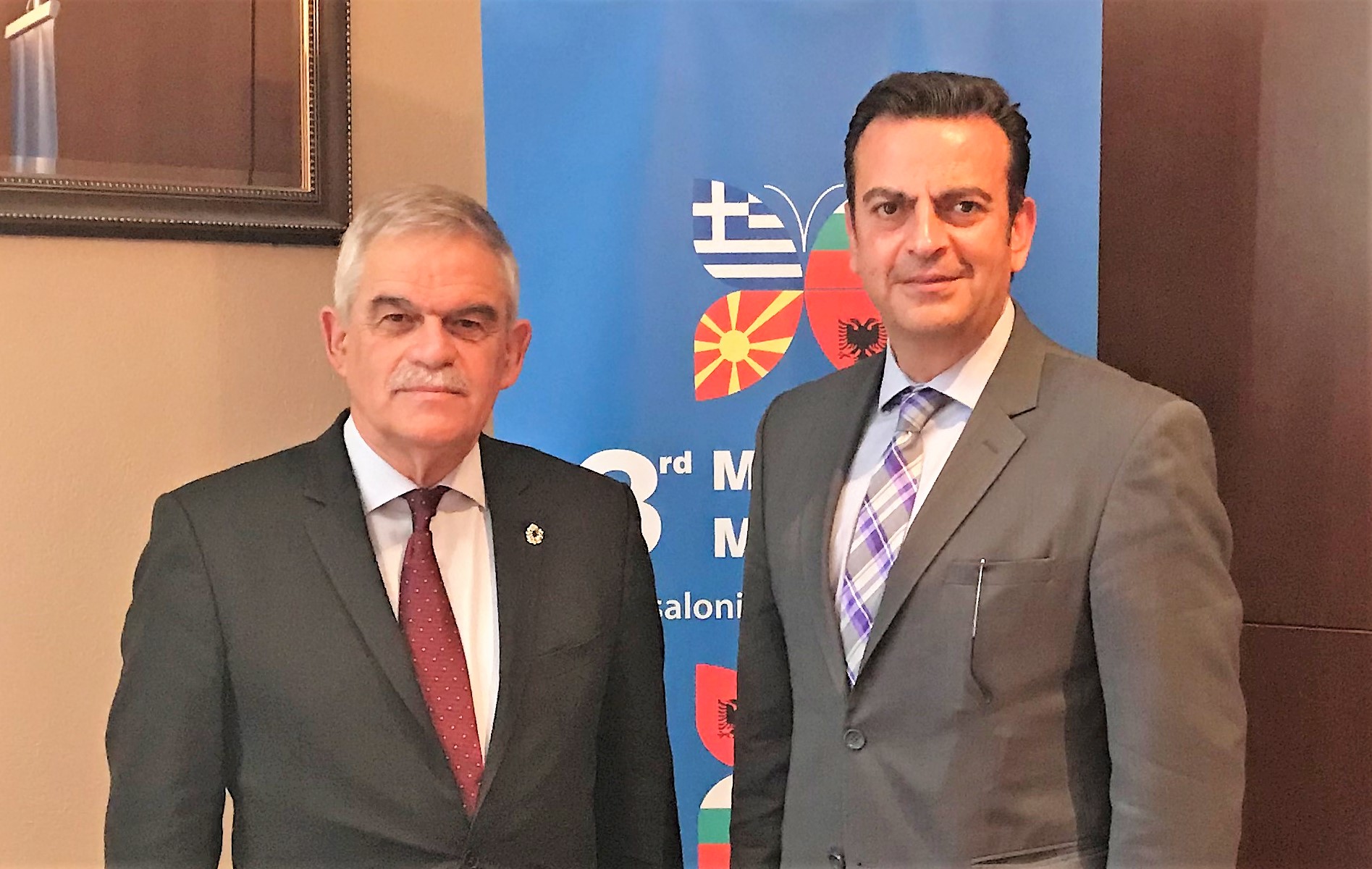 Deputy Minister of Citizen Protection, Nikos Toskas, spoke exclusively to IBNA on the margins of the 3rd Ministerial Cross Border Cooperation Meeting between Greece, Bulgaria, fYRO Macedonia and Albania, on the results of the cross-border cooperation in the fields of civil protection, refugee problem and crime.
Minister, the third cross-border cooperation is taking place in Thessaloniki. Has it proved tangibly fruitful in reality?
Yes, this symposium of sorts is a good opportunity for dialogue between the neighboring Balkan states, which is taking place on the initiative of the Foreign Ministry for the third time. It really isn't just a simple meeting to keep contact going, it delivers results. As far as the Citizens Protection Ministry is concerned, what was decided has been implemented 100 percent. The heads of police of the four countries held meetings, as did the heads of the fire brigades. Last week there was a common exercise, with Greek means but also with observers present from other countries, in Ptolemaida. Canadair planes, helicopters, firefighting and other forces all participated in showing their capabilities. Our neighbors know too that in the Balkans, Greece has great power in firefighting means as well as police. Neighbors want to cooperate with us, they want to be trained, and they acknowledge we can significantly help the region.
It has been reported, and even announced, that there are fears refugee flows could increase, possibly even jihadists coming to Europe after the Syrian war. Does this concern you, have you made plans?
We should separate the two issues. First, regarding the possible increase of refugee flows, you are well aware it is not dependent on us. Refugee flows are influenced by events themselves, the wars happening in these regions, as well as the stance of Turkey which is generally respecting the EU-Turkey agreement, albeit with some breaks and increases, such as the one we saw this year compared to last, which isn't at the level of 2015-16, but it is significant. So, there is an issue with the increases and decreases of migration flows and problems are caused which our country cannot solve alone. This issue concerns the whole of Europe and the entire world I would say.
On the second issue you mentioned concerning jihadists, our country has so far not been impacted by it, for various reasons. First of all, our country is recognized as a country in favor of peace and stability, and we don't engage in expansionist wars. Secondly, there is great control by the police and intelligence services, so as to make it hard for anyone to carry out any action. I believe that this will continue to be so. In any case though, we are cautious because "lone wolves" exist, there are people in future may wish to harm our country too, and this is why special police and intelligence services are at work day and night. We also cooperate with the services of other countries in Europe and elsewhere; we have no qualms about such cooperation, in order to make sure our country remains peaceful.
A spike of violence has recently been observed at refugee camps on islands, along with reaction from permanent residents of islands hosting a large number of refugees. How does the government and the ministry plan to safeguard the rule of law, as well as the safety of citizens and refugees alike?
Due to the increased flows we mentioned earlier, many refugees have gathered at hotspots on the islands. A bad climate has formed because of this. Unavoidably, tensions among refugees of different nationalities are caused and there are problems. This has not externally been expressed as a wave of violence, but there are cases of illegal acts. There are some isolated incidents. The situation is under control but incidents do exist. The Immigration Policy ministry, with which we closely cooperate, is trying to defuse the situation by moving some refugees from the islands to other locations. It is no easy task. As you know, the Balkan and other routes to Europe have closed. These are issues that must be discussed at European level and our country must not be allowed to tackle such a huge problem alone.
It is well known that drug trafficking in the Balkans is rife and some countries move large quantities to Europe and eastwards. You've been very successful in dismantling rings and seizing large quantities of narcotics. Does cooperation in this area continue?
The main issue my counterparts and I discussed was narcotics. The refugee issue has fluctuations, there are currently no flows to central Europe nor Balkan states. The issue of criminality though is one that crosses borders very quickly because roads are now opened and the facilitation of the movement of people and goods also allows for the movement of crime.
Ways must be found to build a better understanding with all European countries and our neighboring countries too, in order to tackle crime. Others agree too on the need for information to be shared quickly and for the need to jointly tackle crime. If neighboring and European countries don't cooperate, crime will find ways to move. It is a challenge we must be up to.
Are there thoughts to create a similar organization to FRONTEX for example, to promote trans-Balkan cooperation?
We discussed the creation of a telecoms system providing real time information on various situations, which will also help avoid addressing issues every few months we get together at these high-level meetings. We also agreed to allow for contact at the lowest possible levels too, so that immediate information can be shared at cross-border level. We want to make information times shorter.
On civil protection issues, there is an ongoing effort to safeguard our country as best as possible, but also to help neighboring countries with smaller mechanisms for civil protection and firefighting than us. We are willing to train neighbors or help them, when we can, because we too don't have many available means. This already happened last year with Albania and most recently with floods in Skopje. Our country may not be the richest in the world, but it helps neighbors and cooperates well because we believe problems are common./IBNA