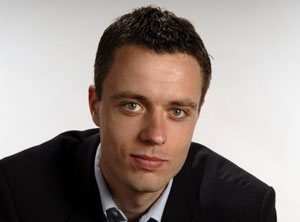 By Medina Malagić – Sarajevo
Labor market expert and former program manager of the YERP program Erol Mujanović speaks about the state of the job market in B&H, achievements of the B&H Youth Employability and Retention program and the problem of the massive brain drain in B&H and its implications. The YERP program, which ended this year, was successful because it led to improvements in areas such as education, migration and employment and provided young people in B&H with much-needed working experience to prepare them for their future professional careers. He notes that the problem of high youth unemployment in the country can be attributed to the very ineffective state and entity level institutions in job creation, and this is also the cause of an unfriendly business environment. In B&H, it is difficult to start a business. Even though there are examples of successful start-up in B&H, this is not the norm.
Can you tell us about the achievements made so far for the B&H Youth Employability and Retention Program, as well as some of the biggest obstacles that were faced during the implementation of the project?
YERP finished a couple of months ago and an extremely successful 3 years implementation was over by the end of 2012. During that period, among various achievements in the field of education, migration and employment, more than 4000 young persons in BiH were provided with the very much needed first work experience and more than 130 employers were assisted in their recruitment and other business processes.
Furthermore, a very precious and highly efficient network of 17 CISO centers was created all over the country (Centers for information, counseling and career orientation for unemployed youth). This model of putting together institutions, unemployed youth and employers, was replicated in 2013 by Croatia that opened several CISOK centers to tackle high youth unemployment rate. This is one of rare best practice examples that was transferred from BiH to the EU and not the other way around. The credit for this should go to the extremely dedicated YERP team and all stakeholders and partners that were involved in the project.
Are the problems in youth employment primarily the cause of the protracted precarious economic situation in B&H, or are there other factors that contribute to the high level of youth unemployment in the country?
To reach such a high youth unemployment rate it means that, institutionally speaking, nothing or almost nothing works at the State and entity level both on the side of job creation and investment friendly business environment as well as on the side of skills development on the labor market. This is a completely logical consequence of accumulated wrong choices in terms of economic policy and of favoring individual short-term benefits through political choices rather than collective long-term benefits through sound economic policy.
So on the one hand the country is performing poorly at net job creation and it is very difficult with such an unfriendly business environment to create new jobs in order to absorb a growing workforce.
On the other hand, despite such high youth unemployment rate employers are very often complaining that they cannot find the right set of skills for various more or less important positions. It simply means that the education system is not producing what the labor market needs in terms of skills and competencies ("new skills" for new jobs focused on high IT literacy, mastery of foreign languages and other competencies such as negotiations, and communication or team work skills, that bring clear added value to the company).
The term 'brain drain' has become a popular phrase that is often used in countries that are in a similar situation as B&H. How would you rate the level of 'brain drain' in B&H? Is it on the rise?
Once again BiH is among countries with the highest brain drain rate in the world and highly skilled persons or persons with high potential keep leaving the country.  BiH is exporting talents in all fields and skilled IT or other engineers are just one example of human capital leaving the country because of the lack of appropriate opportunities or because of the very negative climate in the country.
I also noticed in my circle of friends and business acquaintances that many of them left the country, especially in the last 2 years, mainly because they found a job or a learning opportunity in Germany, the Middle East or in North America in fields of medicine, management, marketing, IT or sales, for example.
There are a couple of positive sides as well. Firstly, remittances that BiH citizens are receiving from their relatives from abroad are among highest in the world as percentage of GDP (13%) and although it is not spread equally it still contributes to reducing the poverty rate and it helps many people. Secondly, with highly skilled or educated diaspora returning to BiH an important knowledge transfer can occur when these persons are able to settle down and find an appropriate job in BiH that would allow them to stay for a longer period of time.
Does the project particularly focus on tackling the problem of youth unemployment among more socially vulnerable groups?
Υes. The project particularly focused on tackling the problem of youth unemployment among various vulnerable groups and the biggest amount of available resources was spent in many relatively small municipalities that needed help more than Sarajevo, Banja Luka or Mostar, for example. For example YERP helped brain gain in Gorazde by assisting investors in recruitment processes for several hundred new jobs, transforming it from a city where not so many persons wanted to live to a city where almost everyone who wants to work has a job now. There are various examples of that type.
How difficult is it for someone to start a business in B&H?
It is a very challenging process, especially in the current period where authorities are trying by all means to squeeze even more money from the citizens and from companies in order to feed the huge, unproductive and inefficient public sector rather than to deeply reform it. So in that respect if you are a company in such a context then your customers are having difficulties with their purchase power and have less money to buy your products. At the same time the business environment, financial and political stability are not at a sufficient level. However, and luckily, there are many success startup stories not only in BiH but also in more difficult environments, but they are rather the exception than the rule.
Are there any examples of successful youth entrepreneurship in B&H?
Believe it or not, last year the BiH startup scene has been booming with various initiatives all over the country and projects like Startup weekends, that are not only putting young people together to launch startup business but they are also helping young entrepreneurs to find investors or experts for different critical areas of their business. To start with the most famous examples that are today absolute market leaders, web portals such as Posao.ba or Klix.ba are examples of youth entrepreneurship characterized in these cases by extreme dedication and strong customer focus. You can also take more recent examples, and in other industries, to see that organic food production and delivery is booming, with Krompir.ba as a trendsetter in this field. There are many other companies across BiH but they are never promoted enough.
What efforts, if any, have been made in order to encourage young people in B&H to start their own businesses?
Although it would be unfair to say that no efforts were made by authorities we have to admit that existing efforts are very far from being sufficient. But they exist. Combined efforts of international organizations, of public employment services, of municipalities and very often of investors themselves and from other actors, result in business start up competitions, in skills development or in making different needed resources available for young entrepreneurs. There are many more initiatives now than from a couple of years ago and this is great and it should be continued together with the modernization of the BiH education system and with an improvement of the business environment.
But with discussing with all successful entrepreneurs one element is particularly important in their attitude: they are not counting on the system to encourage them to hire or to develop their business. They count on their own skills, talent or more often only extremely hard work to succeed.