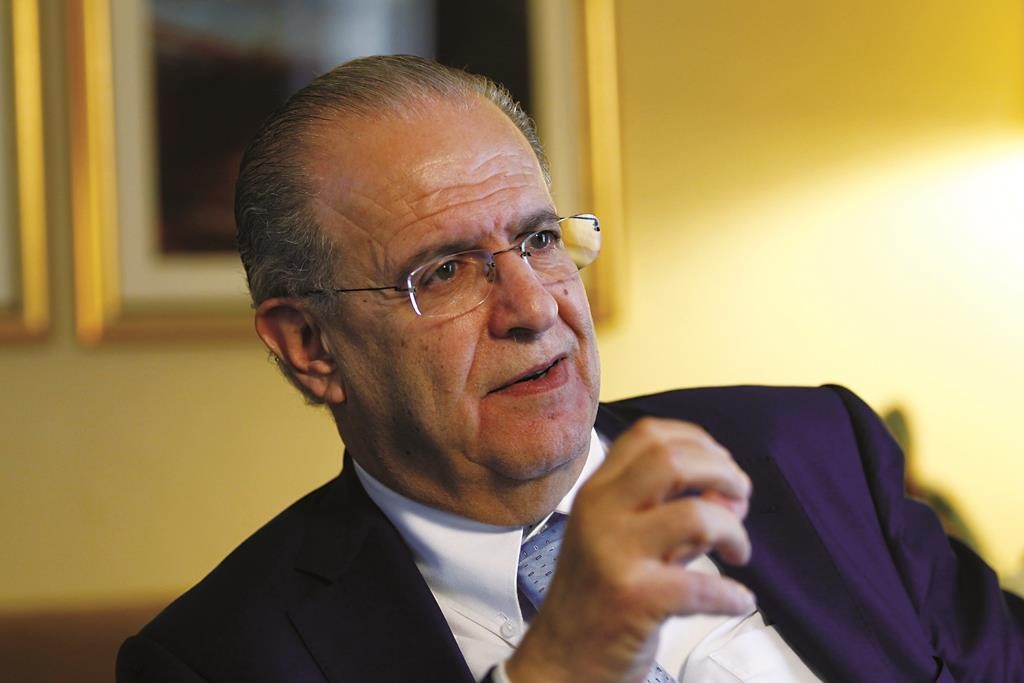 Ioannis Kasoulides, the aristocratic politician who linked his 27-year long political journey with the Republic of Cyprus as an MP and an MEP, a Government Spokesperson and Foreign minister, gave an exclusive interview to IBNA. Kasoulides shares his acquired knowledge over and his experience with matters such as the Cyprus issue, Turkey, the European Union, the Cyprus Foreign Policy; also, for the first time, he talks about the efforts of his friend and Greece's Foreign minister Nikos Kotzias to resolve long standing problems between Greece and its neighbouring countries.
What does it feel like to no longer be part of the central political scene after 27 consecutive years of involvement in top level politics?
I don't know if I was psychologically prepared for this moment, nevertheless, I feel very comfortable, pleased, and I believe this is the maximum one should be in office. Politics needs renewal. The younger generations should be given space. Therefore, I think I did my duty once more. Many people accuse politicians of being stuck to their chairs. In my case, I was asked not to leave, and still, I left.
I know your retirement from politics did not happen long ago. However, in retrospect, what does one get when involved with politics? Is it worth one's time?
I believe so. I believe individualism and indifference are the two biggest threats to democracy. In the final chapter of a book I am currently writing, I will refer to the threats to democracy, which is the most valuable asset of the EU. These are not limited to populism, the far right and the various movements we see in power, or coming closer to power, in a host of countries. The greatest danger is individualism and indifference, in which such movements thrive.
Either positive or negative, what will you remember the most of your long political career?
There are many things that are known to most; and other things that are unknown because they aren't worth mentioning in the day to day life, some of which were important. Of the things that are known, surely the role of the Cypriot Foreign Policy during the effort to join the EU is the most significant achievement of the Republic of Cyprus since the Turkish invasion. The second is the amendment of the Cypriot Foreign Policy, so that the country can be significant despite its small size, its division and the problems it has with Turkey.
You've seen many Turkish governments in your lifetime. How do you see the course of its policy? Does it have continuity? Was there a shift following Erdogan's rise to power?      
The main core is the same. Its policy has not changed. Even though, I am certain that many observers of the upcoming elections in Turkey are pleased to see the opposition unite or the prospect being shaped of Erdogan losing – which I personally don't believe. I want to warn that the Kemalists are much worse than the Islamists – even those who lean towards fascism – because their ideology is not good for Greece or Cyprus. The Kemalists invaded Cyprus, Ecevit was the one who had said there is nothing to solve in Cyprus because he solved it in 1974. And even today, we hear Kilicdaroglu speak of 100 or so islands, etc. Despite the fact that he has become uncontrollable, Erdogan doesn't say such things.
The election of Tallat and Akinci alike, led to some optimism that the Cyprus issue could be solved. This what later disproved. What makes a bi-communal negotiation difficult and how strong could an agreement between the two communities be? 
If the two communities reach an agreement, the position of Turkey as a regulator is weakened. The reason the two communities have not managed to arrive at a resolution so far – even though we came very close at Crans Montana – is that Turkey managed, via various maneuvers, to install Akinci's opponents as a pseudo-government, allowing for bottom-up pressure so that Turkey can apply top-bottom pressure. Much will is required from both sides in order to reach a solution. I believe the solution will come about if the issue of security is genuinely resolved; by abolishing guarantees and unilateral rights and with the army leaving, Turkey would have left Cyprus.
Do you mean that Turkey was the one that blocked a resolution during the efforts you made when you held office?
I believe that it was very resolute at the end of the day, despite the pledges Cavusoglu appears to have made to Guterres, blocking the small step that was required at the dinner to arrive at a solution. If Guterres had made his proposal again to everyone at the beginning of the dinner, he would ask if anyone disagreed. But it happened the other way around. He wanted to reach a solution during the talks at the dinner. It proved unsuccessful.
Was it only the Turkish side that made mistakes and caused problem? Can there ever be a one-man quarrel?
I'm not saying we were infallible, but I think Anastasiades made significant steps with the proposals he put in writing, and he was ready to accept [a deal] providing that Turkey agreed – even orally – to withdraw its troops, abolish guarantees and invasion rights. Such an agreement would then only have had to be agreed at Prime Ministerial level.  
The opposition and a large part of the people accuse president Anastasiades of succumbing to every demand.
He did not succumb to everything. When he had not had to do so, he didn't; namely, he demanded that Turkey has a clear position on the issues of security.
There have been attempts lately to restart talks. How optimistic are you?
I've never liked to measure the issue using optimism or pessimism. I know that an effort is necessary. You must try to succeed where Crans Montana failed; namely, accepting the Guterres plan, without all the nonsense over dates (i.e. 30 June, 4 July) because it's trivial. It is important that the Guterres plan is accepted and if Turkey was honest, it should accept it too. The Turkish-Cypriot community should also say it accepts it. Akinci says does. It remains to be seen.
You said earlier that it would be preferable if Erdogan wins the election as opposed to the Kemalists winning…
I'm not saying it's preferable. I am simply saying that the Kemalists aren't better…
Could the election affect the talks to resolve the Cyprus issue?
We know that very little could happen before the election. After the election, we ought to try to reach a strategic agreement soon, as outlined by Guterres, and leave only talks for the implementation of this strategic agreement. This may or may not happen, but our duty is to try.
How much did accession to the EU – to which you greatly contributed – help Cyprus? Did it live up to the expectations of the people of Cyprus?
It depends on what the expectations were. If one expected the EU to help us in military terms against Turkey, this is something that will never happen. In any case, the EU is not a military union and it never uses hard power to promote its policies. The EU's soft power, through its political positions and resolutions, is positive. It is supportive. But you must know what it has to offer. I am aware that, right now, neither the U.S. nor Russia – even tough they are competing over who will keep Erdogan close – can influence him. Unfortunately, Erdogan is playing the game very skilfully, siding with one or the other and attacking one or the other. Only the EU has some power of Erdogan due to the fact that 90% of Turkey's trade depends on the Union. At the same time, Turkey is also a "customer" of the EU member-states; therefore, how far can the EU go vis a vis Turkey? At the moment, I believe the answer is, not very far. However, if Erdogan crosses a line, for example by causing tension in Greece or Cyprus, the EU will not be able to avoid imposing sanctions on trade with Turkey.
As a Foreign Minister in the Anastasiades administration, you reached many agreements with neighbouring countries and others. How did this affect Cyprus' position in the international scene?
Again, I want to make this clear, because some people asked where our friends were during the crisis in plot 3 of our EEZ. Our "alliance" with Israel, Egypt, Jordan, etc. is not of a military nature. We said from the very first moment that these trilateral co-operation schemes aren't geared against any third party. It is therefore a mistake to believe that they should have rushed [to help]; Israel has its own problems with its fleet, Egypt has its own. Therefore, politically and for many reasons, Cyprus was upgraded in the eyes of partners in Europe and the West, everywhere, because of the importance attached to the tripartite co-operation. And these schemes are progressing. Initially they were about security and stability, then energy, and now they extend to relations between peoples. Many benefits will arise from this, of an economic, cultural and social nature, some of which are already progressing. However, we shouldn't expect this co-operation to block the uncontrollable policies of Turkey.
A report in a Greek newspaper suggests Turkey has submitted plans to the European Council concerning the EEZ. Are you aware of this?
Why would such a plan be submitted to the European Council? These are normally submitted to the UN based on the provisions of the Law of the Sea. Unless they are to be used for propaganda. For the EEZ to be recognized, an agreement between neighbouring states in question is necessary. This is why agreements with Egypt and Israel – as well as a pending agreement with Lebanon – safeguard the EEZ of Cyprus with regard to international law.
Let us move on to the Balkans. Even though you are far from the region, you are aware of developments there due to Greece and the excellent and very close relations you have with Greek Foreign Minister Nikos Kotzias. How do you see the moves being made to resolve the fYROMacedonian name dispute, as well as developments concerning Albania?
We follow Greece's foreign policy in the Balkans and we support it; Greece, meanwhile, supports Cyprus in the policy followed in the eastern Med, via initiatives for tripartite schemes, etc. I do not hesitate to say that I support the efforts of the Greek government – which will decide alone on the issue – and those of my friend Nikos Kotzias who is making a huge effort to resolve Greece's problems with Skopje and Tirana. As a Greek, I also see something I consider to be reasonable: if Greece is rid of the various problems concerning name issues, irredentism of neighbours (fYROMacedonia and Albania) it will be able to focus on the more real danger of Turkey's troublemaking in the Aegean, Thrace and Cyprus. The faster the other issues are resolved, the faster Greece will be able to focus on the East.
You are experienced in negotiations on naming issues, even though the situations are different. Greek opposition parties are almost entirely raising objections to the effort to resolve the fYROMacedonian name dispute. Conversely, in Cyprus, parties were much more in agreement when necessary, most recently with the economic crisis, as well as in talks to resolve the Cyprus issue. I'd like to comment on this.
I will be very cautious because I don't want to meddle in the interior affairs of Greece. I don't see it this way. I told you what I believe. I think Hellenism is in a period of crisis, facing real dangers this time, improbable but serious ones, due to the actions of Turkey which has adopted an aggressive policy. I don't believe Turkish policy will change after the election. Aggressiveness will remain and it is potentially dangerous, even if these are in the form of an accident. Therefore, it is in the national interest to resolve differences with fYROMacedonia and Albania.
My next question is on the EU. You've participated in the talks concerning the various changes the EU is in need of. Do you think the EU is moving towards a Union of the People and a Union of Nations, as opposed to it just being an Economic Union based on specific interests?
Britain was the country leading the calls for an economic union, a union of free trade. It has now decided to leave the Union. The EU is now at risk, however, with regards to democracy. Such risks are global of course, with Trump and the U.S., Russia and developing nations growing without democracy which boost the argument that democracy and economic prosperity do not necessarily go hand in hand. The EU, however – which was established on the values of democracy, freedom, gender equality, support of minorities, diversity, the fact that economic prosperity requires the inclusion of women, the disabled and many more in the production process – must safeguard democracy because it is the continuer of the idea it inherited from ancient Greece, Rome, etc.
We see populist movements, some of which win large majorities in their countries; we also see far-right and populist movements that know how to be destructive but propose nothing constructive, moving closer to power even in France; there are also problems in Germany, and so on. In the talks to be held now for the future of Europe, I believe the EU must examine how it will make citizens better realise the usefulness of the Union, because, the generation that experienced the catastrophic world wars has gone. Current generations take peace and stability in Europe as a given fact. Care must be taken for the policies each member-state cannot achieve alone. These transnational policies – such as environmental protection, energy and climate safety, health, food safety, internal security, tackling the problems of terrorism and illegal migration, threats related to external safety – can be tackled by the EU working together. President Macron recently listed a number of policies that need to be adopted at EU level, in fact, he named them European Sovereignty. So far, we knew that member-states gave up part of their national sovereignty to the Union. Now, the discussion must shift. It won't be about how much sovereignty nation states hand over to the Union, but how much additional and complementary sovereignty the Union itself will have through these policies.
Before finishing our talk, I would like to ask what your latest book is about?
It is full of ideas and thoughts, I don't tell any stories. Some events, however, do support these thoughts and ideas. I have so far written down some ideas on the Cyprus issue that are somewhat revolutionary. I am on the chapter about Cyprus' foreign  affairs, which must counterbalance the fact that we are a small state. A chapter on the European Union will follow, based on the comments I have made. And the final chapter will be about democracy in Cyprus.
After all, does democracy exist in Europe?
At Brussels level?
Yes.
A representative democracy exists, the rules are democratic, but there is also a lot of bureaucracy which does not affect citizens…. / IBNA