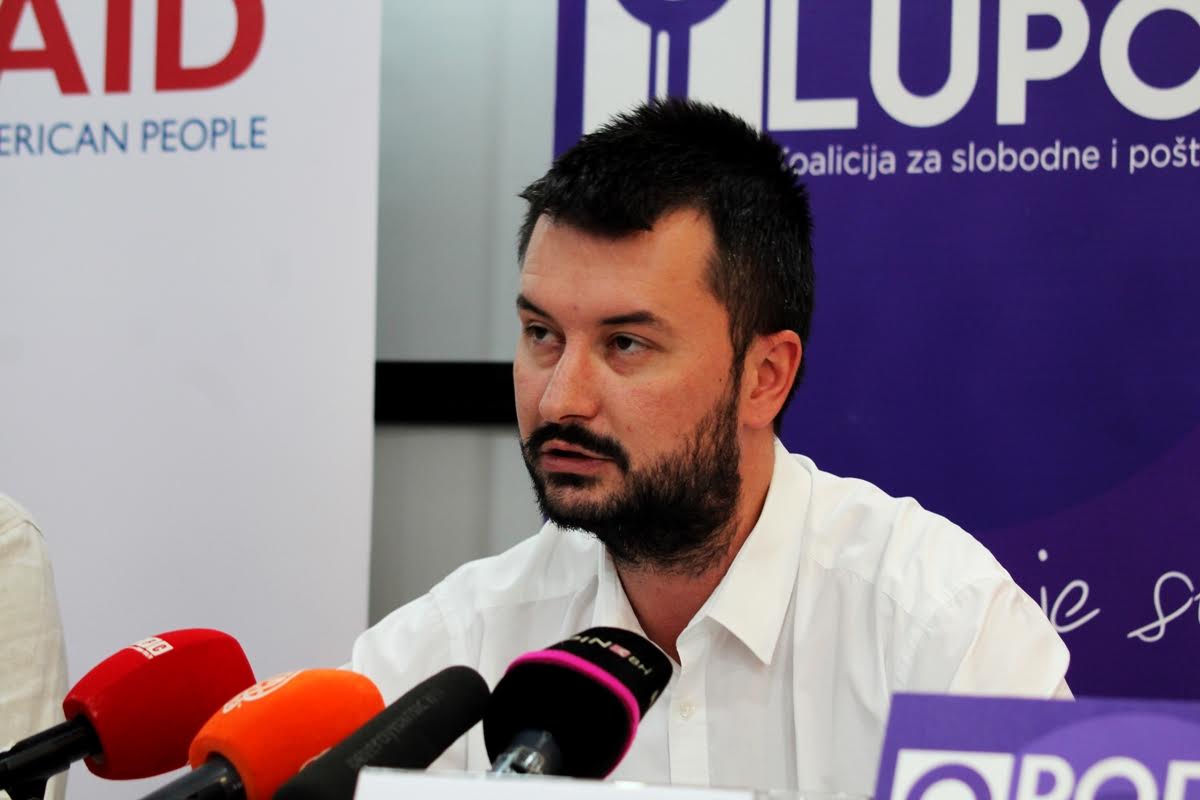 Dario Jovanović, Project Manager of the "Pod lupom" Coalition for Fair and Free Elections speaks to IBNA's Mladen Dragojlović ahead of the October polls in Bosnia and Herzegovina. He said that "Pod lupom" deals with non-partisan observation of the elections, including a period of three months before the Election Day and on the very day when voters go to the polls. He adds that during this three-month period, over 60 people are working on monitoring (the situation), and that over 75 % of polling stations in BiH will have more than 4 000 observers of the Coalition for the elections.
"Pod lupom" ("Under the Magnifier") is a coalition of six civil society organisations from across BiH, which was established in 2014 with the aim of civic and non-party observation of general elections that year. To date, the Coalition has observed 13 different electoral processes, including regular elections, early elections for mayors, first elections in the newly formed Stanari municipality and a referendum on the recall of the mayor of the Lukavac municipality. Approximately 12 000 BiH citizens have so far applied to be election observers with the Coalition and 5 500 of them had the chance to be part of the election process.
Based on previous experience, how do you evaluate the elections in BiH? Are they democratic or not?
"Generally speaking, in numerous polling stations in BiH, about 96% of the electoral irregularities that might have had an impact on election results have never occurred. However, this remaining 4% entails procedural failures and more irregularities that are serious.
We are trying to send a message to BiH citizens that the elections are not only on the election day. Some will say that an election victory can be achieved before the polls and not only on election day. That is where we come to the problem of elections in BiH and irregularities before the polls. These are mainly unlawful trade about positions on polling boards at polling stations, pressure on voters, offering party employment, threats to public sector employees, misuse of personal data, irregular voters' list with deceased people still casting their ballot, premature campaign, misuse of public resources, especially those who come from the position of government at various levels through the increase in salaries for public sector employees, increase in pensions, abuse of official cars' use, and more. So this is a wide spectrum of electoral frauds that has long been a "public secret". If four year ago somebody spoke of it, it would have been considered as speculation, and the institutions that conduct the elections would have ignored it. Today, at least, we talk about it openly, solutions are proposed and that is progress. Local election commissions work much more professionally than before."
You have submitted ten recommendations for the election to the Central Election Commission of BiH. How many have there been accepted?
"There are some improvements in procedural acts so that three out of ten recommendations will be implemented at the October General Election. So, for the first time, we will have a public list of all members of the polling boards, which should prevent trafficking in these places. We will have shorter voting booths, which will prevent ballot papers theft and taking photographs in order to prove to the political party that has paid for the vote that the citizen really voted for them. We were told that transparent ballot boxes might also be introduced. Thus, some progress is taking place, but apart from it, politicians are being benefitted from this present situation. It is well known that election results are being manipulated by parties and election candidates."
How would you evaluate the situation in BiH in relation to other countries of the former Yugoslavia?
"We do not have our branches outside BiH, but we have partner organisations we co-operate with. The situation regarding trends in skilful handling ahead of the polls, such as abuse of public resources, the purchase of votes and everything I mentioned before, is quite similar. However, BiH has other issues that make it difficult for the country to conduct elections and (have an overall normal) political life, which other countries have managed to avoid. First of all, BiH and the politicians who lead it live in a permanent election campaign characterised by ethnic division, which is based on artificially challenged fears aimed at separating and controlling the population in BiH."
Does BiH move towards some fully democratic elections, or is the situation such that the level of democracy in elections is constantly decreasing?
"The tradition of democratic elections in BiH, which lasts for more than 20 years, requires that some things move forward, which would be logical. There is a certain progress in an organisational sense, namely the improvement in the work of institutions that conduct elections in this legislative framework. However, when we talk about electoral irregularities, managed by political parties, it seems to me that every time we have a worse situation. The reason is that, although the law defines the framework in which the election campaign and the entire election process are conducted, no one is sanctioned if (he/she) violates these rules. There is a high level of political corruption that includes all people who are employed or paid in any way through party links. Consequently, independent institutions only act independently without imposing punishments in case of misconduct which they could do since the law dictates so. To be clear, 200 000 people are employed in the public sector in BiH. I do not want to say that all of them are employed by the parties, however, a large number of them is. When multiplying this number by the average number of family members, and by extending that circle of people to those who will vote for a particular party, we get a number of more than 800 000 people who represent a stable voting body and are "bought off", most often, with our tax money.
Unfortunately, there are a lot of "bought off" things in this country, including the so called 'independent institutions'."… / ΙΒΝΑ