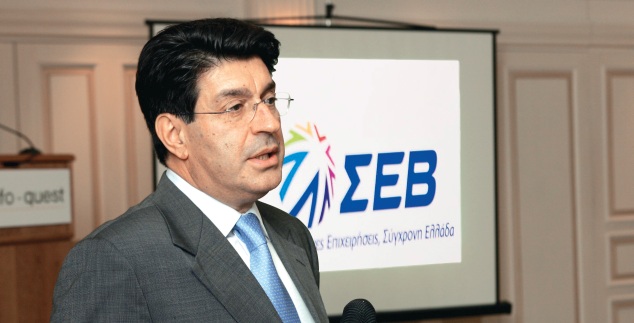 Athens, March 27, 2015/ Independent Balkan News Agency
By Spiros Sideris
The access of the greek private sector to European funding and the use of the so-called Juncker package, namely the European Fund for Strategic Investments / EFSI, were the focal points of the Hellenic Federation of Enterprises (SEV) intervention in Brussels as part of the delegation's visit during the weekend of March 25 and 26.
As the president of the Federation Theodoros Fessas (photo) said, in the meeting with the Vice President of the European Commission, Jyrki Katainen, responsible for Employment, Growth, Investment and Competitiveness, we discussed the need for the creation of "special conditions" for the Greek case, since the so-called  country risk makes Greece ineligible by private capital, regardless of the attractiveness of the project proposed for funding, resulting in Greece being in danger to not being able to benefit from the Juncker package.
The president and the administration of SEV in a very constructive meeting with Commissioner Katainen, argued that we should put more emphasis on supporting private investment.
As it was noted, in order for the greek investment proposal for funding from the EFSI to succeed there must be a shift from the "known recipe" of funding of only infrastructure projects of public sector towards strengthening the overall production base in the country so as to have a substantial impact to entrepreneurship and growth. As Fessas stressed to his interlocutors, SEV in collaboration with its members has worked on an investments catalog, including proposals to support large-scale industrial investments, investments in networks and infrastructure, energy investments, such as the electrical connections between islands, works in the field of logistics, investment in broadband networks, such as fiber optic network, etc.
The SEV delegation also participated in the works of VUSINESSEUROPE Day: «Invest in Europe», where among other things what made an impression was the statement of President of the European Parliament, Martin Schulz, who called European economic forces to thicken their investments in Greece in the coming period.