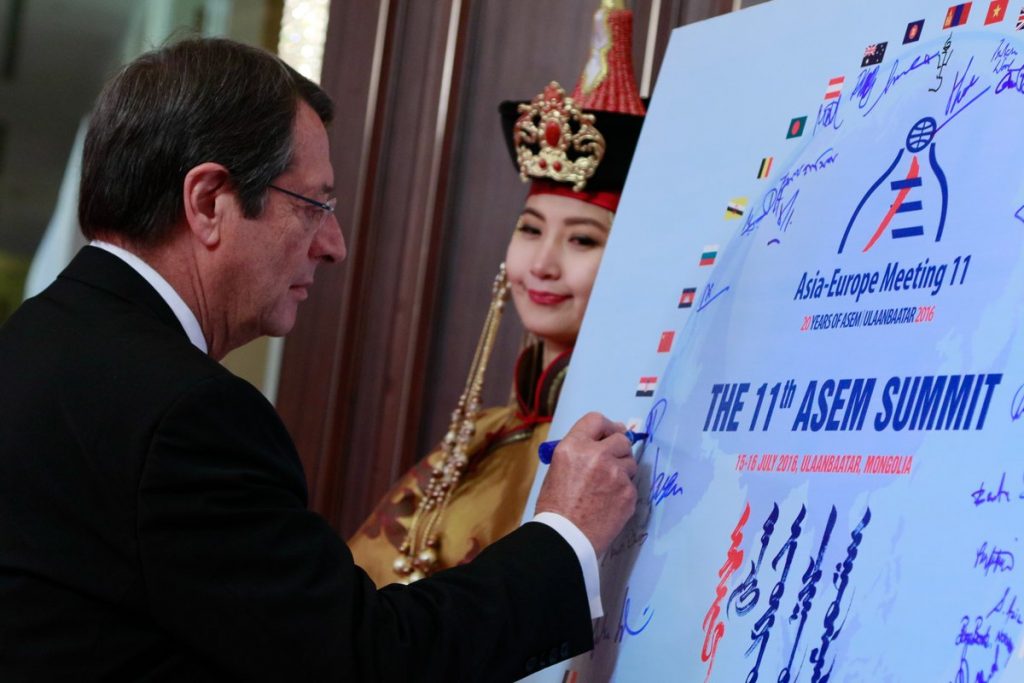 Ulaanbaatar, July 15, 2016/ Independent Balkan News Agency
By Spiros Sideris
President of Cyprus, Mr. Nicos Anastasiades, said in his intervention at the  II Plenary Session "Promoting ASEM Partnership, 11th ASEM:
For centuries the historical Silk Road has connected Asia and Europe by land and sea. The vision to connect the two continents has remained alive all these years, and in today's inter-dependent and globalised world connectivity within and between the two regions has come again to reclaim its rightful place in ASEM's agenda in order to promote peace, stability and economic prosperity.
During the last few years, we have made leaps of progress in connecting our societies, our institutions, and our economies. Connectivity in the ASEM framework addresses not only infrastructure links between Asia and Europe but also with trade, digital connectivity and digital economy, people-to-people contacts as well as cultural and educational interaction. After all, the spread of people, education, business and entrepreneurial ideas has and will continue to offer potentials for poverty alleviation and economic development.
During these challenging times, during which many of our countries are trying to find their way out of the economic crisis, which has had a major impact on our citizens' lives, to turn our backs on connectivity between the two continents would not only be a historical mistake but would also severely undermine economic growth, poverty eradication and intra-regional cooperation.
The European Union and ASEAN, though their initiatives, together with other counties, such as China with its "One Belt, One Road" initiative, are currently putting forth remarkable effort in creating connectivity through intra-regional networks, projects and policies in an array of sectors, as well as promoting and exploring practical ways of cooperation to this end.
Cyprus is a fervent supporter of the strengthening of Asia-Europe connectivity in all its forms. In fact, we believe that there are areas of cooperation in the context of ASEM where a better collaborative approach would reap mutual benefits.
The first area is maritime security and transport. Cyprus, as a leading maritime nation and flag-state, attributes particular importance to the sustainability and connectivity of critical maritime routes, and to this effect we do see the added-value of exploring synergies such as between the Maritime Silk Route and the Trans-European Network projects.
The second area is air transport, an area where we still have work to do on equitable market access to routes and destinations, including on direct air-links.
A third area is security in all of its dimensions, including energy security. Today our countries face a different mix of security threats, and I am a strong proponent of joint actions that foster a collective security culture in an enhanced Europe-Asia context.
A focus on connectivity will help further transform ASEM into a more dynamic forum. I truly hope, and I am committed to working with all of you towards this end, that the 11th ASEM Summit will contribute its own share to strengthening Asia-Europe connectivity and making the ASEM process more relevant in meeting the expectations of the people of Europe and Asia.