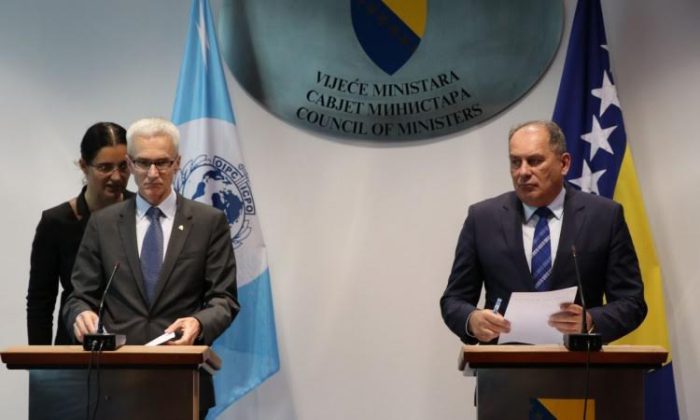 Interpol Secretary General Jurgen Stock met on Wednesday with BiH Security Minister, Dragan Mektic, in Sarajevo, to discuss security issues in the region and in the domain of security regarding the situation in the country.
What Stock stated after the meeting is that his visit to BiH took place in the context of changes in the international situation, which demands all countries to cooperate in a better way and to exchange information on potential security challenges.
"From international terrorism through organised criminal groups to cybercrime, our communities are facing a number of threats that we all have to deal with together. These threats are transferred at the international level more than before, they are very complex and no country is in a situation to fight with these threats on its own," Stock has warned.
He pointed out that, due to terrorist threats and attacks that are taking place all over the world, the law enforcement units and police agencies are really in the position of using established police agency networks.
"From this perspective, I would like to commend BiH and the central role that the police forces in this country had in joint operations, especially when it comes to illegal trade in firearms, in which 7,800 police officers from 23 countries participated and which resulted in the arrest of 149 persons, weapons smugglers," said Stock.
He welcomed the fact that, today, all border crossings in BiH are connected to the Interpol system, which enables them to access Interpol's databases to efficiently combat terrorism and all forms of crime.
BiH Security Minister, Dragan Mektic, stated at the press conference after the meeting that he explained to Stock that now, after the defeat of the Islamic State, a certain number of its warriors will return to Europe and BiH, thus he expects the Interpol to provide BiH with concrete analyses and data on radical extremists potentially dangerous for BiH and its citizens.
Mektic welcomed the timely Interpol's reactions "towards certain developments and in some institutions," especially with regards to the fight against radicalism and terrorism. He also emphasised that Interpol is developing capacities for the fight against cybercrime, and in the future, BiH will have to take more care of this, bearing in mind that it did not pay enough attention to it, neither in an institutional nor in an educational sense.
Mektic announced that BiH would soon send its liaison officer in the headquarters of Interpol in Lyon -as all countries in the region had already done so- where about 300 officers from different countries gathered.
"We also discussed cooperation with Interpol in monitoring and interrupting financial crimes, i.e. money laundering. BiH also faces such problems, since there are channels, through which laundered money flows", Mektic said.
He and the Interpol secretary general have noted that BiH is topping the list of countries that intensively and efficiently cooperate with Interpol…/IBNA