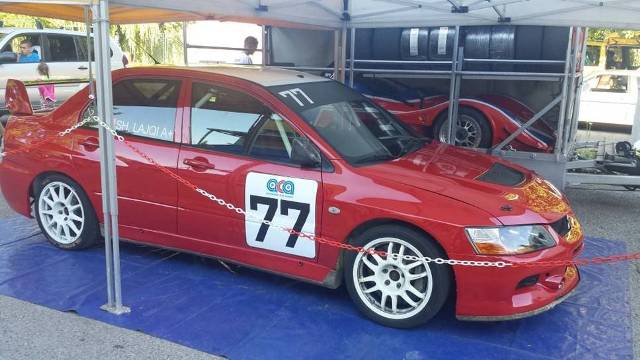 Tirana, 14 July 2015/Independent Balkan News Agency
An Albanian licensed racer has participated for the first time in the international "Lovcen" 2015-Cetinje, Montenegro, which is held according to the FIA-CEZ (Central European Championship) calendar in the mountain races, in the Hillclimb discipline.
Shkelzen Lajci represents Albania in this sport and achieves maximum success-the first place.
The 32nd edition of one of the most prestigious races in the region has been held in the past two days with many participants from Montenegro and the region. This year, "Lovcen" race has been dedicated to the legendary Montenegrin racer, Franjo Kuncer, who passed away a week ago.
The mountain terrain to the Lovcen mount, 12,8 km long, is one of the most preferred one in the region and beyond, because it offers a special challenge for all racers. The course has a total of 165 turns and height above sea level changes by about 600 meters. The record for the fastest climb was reached by the late Franjo Kuncerm with 7 minutes, 40 seconds and 504 milliseconds.
The Lovcen race has returned in the international calendar of motor racing, being a tradition and having a long history in the former Yugoslav countries.
Besides this, the Albanian racer, Shkelzen Lajci with his Lancer, modified for mountain racing, EVO IX Grupa N3000, has been issued this year an international license by Albanian Car Association-ACA. He has taken advantage of the fact that Albania is given permission to be an official racer in this championship for the first time.
In spite of the challenging race in both the technical-sportive aspect and also in the emotional aspect, the Albanian racer managed to be placed first after climbing 12,8 km in 8 minutes, 22 seconds and 93 milliseconds.
The racer from Kosovo, Shkelzen Lajci, has been two times champion in Montenegro and runner up in the FIA-CEZ cup in 2008, with his Honda, Type-R, Grupa N2000 ccm car.
After the race, Lajci said that he was speechless when he saw that he was first in the final list of the first Division. "I cannot find the words to describe such a strong emotion and when you race against a Mitsubishi EVO, which holds the European title in mountain racing". /ibna/