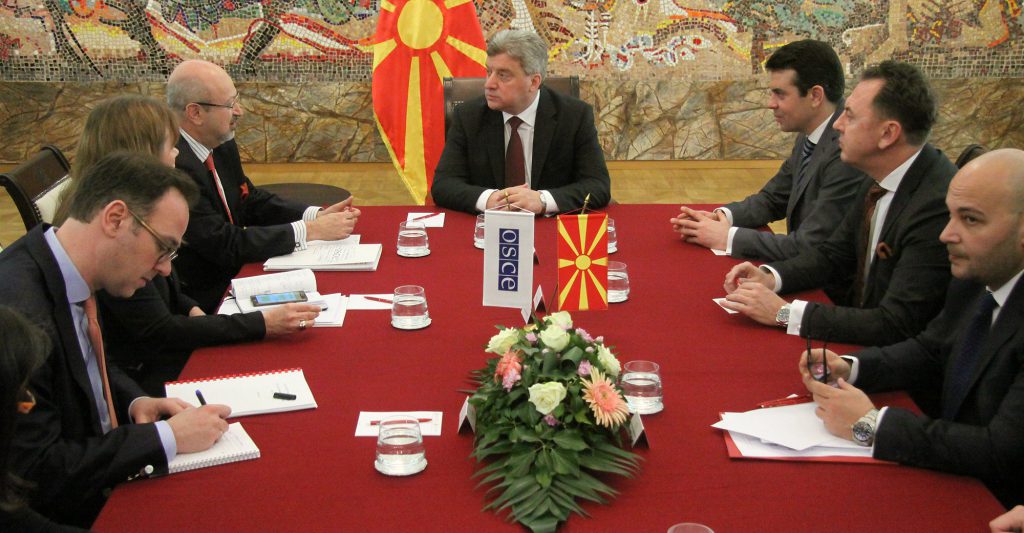 The letter of president of FYROM, George Ivanov addressed to the president of the European Council, Donald Tusk has not been deliberated on the first day of the EU Summit. Through this letter, Ivanov has explained his decision not to mandate the social democrat leader, Zoran Zaev to form a government, while demanding for the platform of the Albanian parties to be condemned.
The European Commission's spokeswoman, Maja Kocijancic has avoided Ivanov's letter and said that the messages sent a week ago by Mogherini were clear and that it's the president who should revise his decision.
"We are aware of the letter sent by president Ivanov. We call on all political players, including the president, to respect the result of the elections, to act in accordance with the Constitution, respect the parliamentary majority and allow democratic processes to take place. Thus, we call on the president to revise his current position and enable the creation of the new government", Kocijancic said.
Experts of political developments in Skopje say that great pressure must be made on president Ivanov to mandate Zaev, who has secured the 67 votes in parliament to form a government.
Albert Musliu of the Association for Democratic Incentives told IBNA that the EU and US have a wide range of mechanisms through which they can help find ways to overcome the crisis.
"A solution can be found, because the Constitution allows this. However, there must also be support from the international community in this process", Musliu said. According to him, the solution of the political crisis may be solved in parliament, where all political parties are represented.
The leader of SDSM (Macedonian Social Democratic Union), Zoran Zaev, declared in a televised interview that the representatives of the international community who have arrived in Skopje in the recent days, are surprised as to why Ivanov is not issuing the mandate for the creation of the government.
"They're surprised why Ivanov is not issuing the mandate. They ask me if I have the numbers and I have responded that I have a majority of 67 votes. They're surprised about the way democracy is violated", Zaev said.
A clear message for the crisis in FYROM and president Ivanov is also expected to come from the EU summit. The EU high representative for foreign policy and security, Federica Mogherini asked from president Ivanov to enable the formation of the government.
"Our main concern is for this crisis not to turn into an ethnic crisis and this has been our main message, which I have conveyed to political leaders in the country", Mogherini has said.
To help in overcoming the political crisis in the country, the Secretary General of OSCE, Lamberto Zannier and the German Foreign Minister, Christian Helbach were in Skopje yesterday, where they met political leaders. /balkaneu.com/