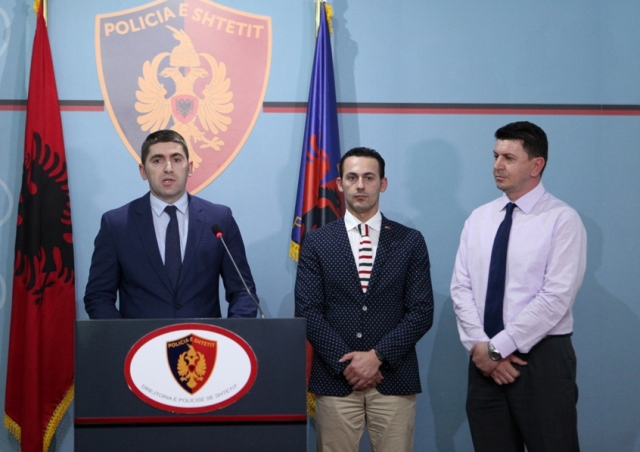 Tirana, 7 July 2016/Independent Balkan News Agency
By Edison Kurani
Police authorities in several Balkan countries have carried out an operation in several countries of the region and in Italy, by cracking down criminal groups that trafficked different narcotic substances.
The operation name coded "Balkan" has spread in Kosovo, FYROM, Serbia, Bulgaria, Greece, Turkey and Italy and it was held in cooperation with American DEA.
During the operation in Albania, FYROM, Greece and Bulgaria, authorities arrested 30 people and 23 others were declared wanted, IBNA reports.
Deputy police Commissioner of Albania, Ardian Cipa declared today (07.07) that the inquiries had started last year and went on for 15 months "by exchanging information with law enforcement agencies of the countries involved in the investigation".
In Albania, authorities arrested 14 people and launched a manhunt against two others; in Greece, authorities have arrested 10 people and 10 others were declared wanted. In FYOM, 5 people were arrested and 7 others were declared wanted, while in Bulgaria, 1 person was arrested and in Kosovo, 4 people have been declared wanted.
Meanwhile, in the recent hours in Albania, seven prominent entrepreneurs in the domain of construction have been arrested. They are owners of construction firms who have made important investments in apartment blocks, business centers and other constructions throughout the country.
Among the arrested is also the owner of a luxury hotel in Vlora. Meanwhile, earlier, another 7 people have been arrested in Albania, while 2 members of a criminal group have been declared wanted.
Mr. Cipa offers other details on this operation: "The investigations were focused on a criminal structured group which had been spread in several countries of the region and which was involved in the traffic of narcotic substances such as heroin, cocaine and marijuana. It resulted that suppliers of heroin from Turkey, through Turkish and Kosovar middlemen, used to send packages of narcotic substance from Turkey to Kosovo, Albania and then to Greece or other EU countries"
Also, segments of this group used to send packages of marijuana from Albania to FYROM, Greece or Turkey. Members of this network are suspected to have communicated and met in Albania, Kosovo and Greece by agreeing on the narcotic substance and their routes", said the senior Albanian police official.
During this operation, authorities seized 27 kg of heroin, of which 16 kg in Albania and in Greece around 2 kg of cocaine and 183 kg of marijuana.
Authorities have also seized over 250 thousand euros in Albania and 4 fire guns in Greece.
Meanwhile, the role of the entrepreneurs of construction is also clarified. They were playing the role of funding and organizing the traffic of narcotic substances from Turkey to Albania, for the interest of criminal groups that operate in Albania and abroad, especially in EU member countries. /balkaneu.com/