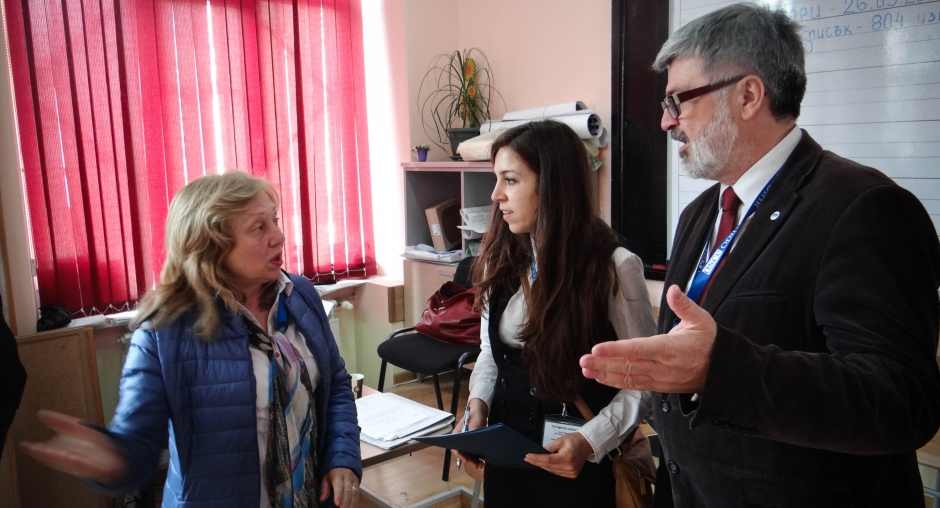 In a preliminary report the day after Bulgaria's March 26 parliamentary elections, international observers have criticised Bulgarian media coverage of the campaigns.
The media provided contestants with a platform to present their views through debates, talk shows and paid advertisement, the report, by monitors from the OSCE Office for Democratic Institutions and Human Rights (OSCE/ODIHR) and the Parliamentary Assembly of the Council of Europe (PACE) said.
While contestants actively used the free time provided on public broadcasters, "sparse broadcast news coverage and limited editorial content in the print media, along with a lack of political investigative and analytical reporting, significantly limited the information available to voters".
"Paid advertisement in print and, to a lesser extent, broadcast media were often almost indistinguishable from editorial coverage, thus misleading voters about their nature," according to the preliminary report.
In line with the Electoral Code, Bulgarian National Television (BNT) and Bulgarian National Radio (BNR) provided the contestants with a platform to present their views and opinions through free advertisements, debates and talk shows. However, BNT and BNR refrained from the editorial coverage of the campaign.
The OSCE/ODIHR LEOM media monitoring results indicate that during the campaign period, the prime time news of BNT devoted a total of four minutes to all contestants combined.
Instead, the BNT created a current affairs programme "Bulgaria Votes 2017" focused on elections and campaign where reporting was through material paid for by contestants.
The private bTV, Nova and Channel 3 displayed a similar approach by devoting only between three and five per cent of their prime time news to the election campaign, thus significantly limiting the opportunity for voters to make an informed choice, the preliminary report said.
In the limited political and election-related coverage, bTV and Nova devoted most of the time to GERB (20 and 26 per cent), BSP (17 and 23 per cent), DOST (12 and 11 per cent) and, to a lesser extent, the Movement for Rights and Freedoms, United Patriots and Reformist Bloc (between 8 and 11 per cent each).
While most parties were covered in a neutral manner, the coverage of DOST was more negative.
Channel 3 devoted most of its election related news coverage to the Reformist Bloc (22 per cent), GERB (20 per cent), BSP (19 per cent) and United Patriots (15 per cent). While largely positive or neutral, this coverage was more critical of BSP, RB and Yes, Bulgaria.
The report noted that the Central Election Commission initiated administrative penalty procedures against Channel 3 and Bulgaria 24 and newspapers Trud and 24 Chasa for not properly identifying paid content; in reaction, they improved such identification. The OSCE/ODIHR LEOM noted that 6 national and 18 regional media outlets did not clearly identify paid content throughout the campaign.
On 13 and 20 March, editions of the Telegraph were distributed together with free books alleging connections between the New Republic coalition and Yes, Bulgaria candidates and organized crime. Responding to a complaint, the CEC concluded that the books may not be considered as campaigning as they do not call to support or not a candidate or a party.
However, the CEC prohibited further distribution of these two books concluding that they damage the 'good name of the candidates'.
The Electoral Code requires that media indicate who ordered, financed and conducted the polls they publish. However, there is no requirement to describe its methodology (i.e. sample, margin of error, and polling period), as recommended by the Council of Europe, the report said.
"The CEC displayed a lack of consistency when reacting to violations of this provision. It acknowledged a number of violations from alerts filed by the citizen observer group Civil Initiative for Free and Democratic Elections (GISDI), but did not issue any sanction.
"At the same time it initiated administrative penalty procedures against TV Nova and Alfa Television based on a CEM alert," the report said.
Contestants in Bulgaria's early parliamentary elections could reach out to voters freely, while the low-key campaign was generally characterized by public disillusionment with politics and election weariness, the international observers said in the March 27 preliminary statement.
(Photo: Roman Jakic, right, head of the ODIHR limited election observation mission for the early parliamentary elections in Bulgaria, speaking with the chairperson of a precinct election commission at a polling station in Sofia, March 26 2017. OSCE/Thomas Rymer)./IBNA