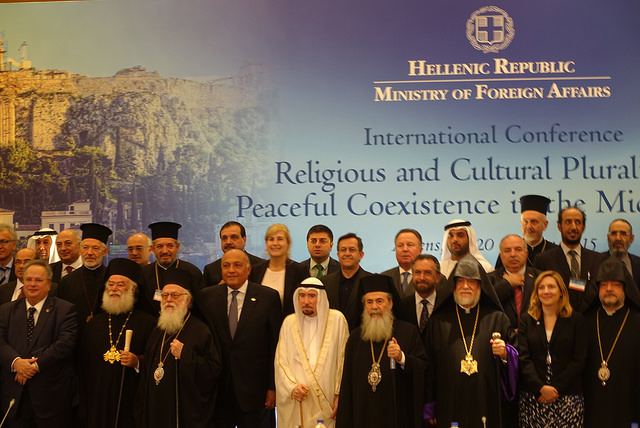 Athens, October 21, 2015/Independent Balkan News Agency
By Spiros Sideris
With a Greek initiative is set up the International Observatory "for effective dialogue on the communities in the region, the recording of crimes against humanity and memory in order to prevent new ones". The initiative was presented by Foreign Minister Nikos Kotzias after the opening of the international operations Conference on "Religious and cultural pluralism and peaceful coexistence in the Middle East" by Greek President Prokopis Pavlopoulos.
In the conference, which brought to the Greek capital leaders of the Orthodox Churches, representatives of the Vatican, other Christian doctrines, of Islam, and Judaism along with politicians and scholars, was heard the "sorry" of Jerome Archbishop for the lives that have been lost, and that "in the name of God terrible crimes are being committed" by the Ecumenical Patriarch Bartholomew. Never before have speakers of this caliber gathered around the same table for such an important issue.
As cycles of the FM noted, Greece is traditionally respected in the region and Athens is prepared to make the most of its very good name, by mediating where and when it can for peace and prosperity on its wider neighborhood, serving both the national and wider international interest.
In this context, Foreign Minister Nikos Kotzias announced the promotion of the creation of an "international observatory" with the contribution of the participants who wish to participate, towards an "effective dialogue on communities". The proposal was welcomed by a large number of speakers. Such a center will further strengthen its geopolitical position of Greece in the wider region.