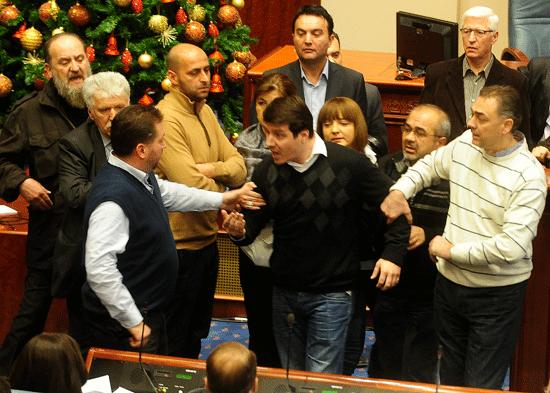 Skopje, June 6, 2013
An international expert will lead the enquiry commission which will shed light upon the events of December 24 last year taken place in FYR Macedonia.
These events relate to the violence seen inside and outside Parliament of FYROM, when opposition MPs were taken out by force by security services, after which majority in parliament voted the draft budget for 2013. Meanwhile, that day, thousands of opposition protesters were in front of the parliament building and opposite them were supporters of the government. These events led to clashes between protestors and police.
Opposition has accused the government of using violence against opposition MPs and for ousting them from the plenary session. They claimed that with the current power, the country is sinking toward totalitarianism, where democracy and parliament is not taken under consideration.
The international expert who is expected to lead the commission on this issue is expected to shed light upon these events. The two large parties, VMRO-DPMNE of Prime Minister Nikola Gruevski and opposition party LSDM, didn't agree two weeks ago on a domestic expert to chair the commission, but afterwards, they agreed on bringing in an international expert from an EU member country.
The EU office in Skopje has prepared a list of names of international experts, one of which will be chosen by the two FYR Macedonian parties. The list contains renowned names with experience in the domain of law and the solution of problems in the EU and other countries. But, so far the EU office and president of the country, George Ivanov have not yet come out with a name.
Through the latest recommendations, the EU has demanded the events of December 24 to be unraveled as a condition for the country to make progress in the process of EU accession. /ibna/