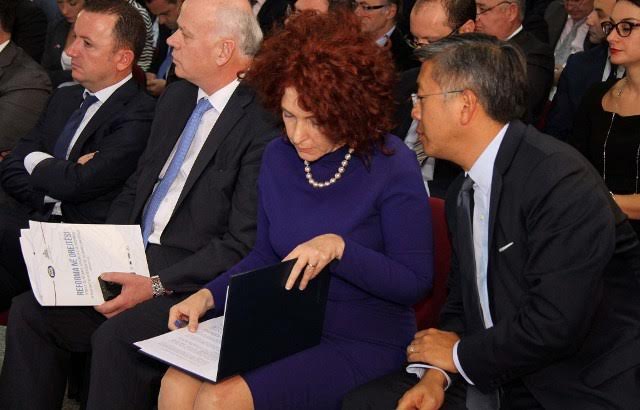 Tirana, 14 December 2015/Independent Balkan News Agency
In Tirana, representatives of the international community are mounting pressure for reforms in the judiciary system, especially in the Albanian courts.
In the National Judiciary Conference in Tirana, US ambassador, Donald Lu spoke without reservations. He initially seemed to address to corrupt judges.
"My proof for corruption is very simple. If you have ever accepted money or favors in exchange of court decisions, you're a corrupt judge. Even if you have done this only once, you have broken the law and you are not suitable of serving as a judge", ambassador Lu addressed to the participants, where the majority of them were judges. "This is a very simple criteria", ambassador Lu said.
"If your watch costs more than my car, then you're likely to be a corrupt judge", ambassador Lu said. "If this is the case, I encourage you to leave this profession at once, as you may soon end up in prison", he added.
But ambassador Lu has also issued a message for honest judges. "Rest assured that the change is coming. I believe that the majority of judges are professionals who must be proud of what they do. I know that it's difficult to be an honest judge in Albania. The salary is very low and there's pressure from all sides. Honest judges like you deserve to work in a system that rewards integrity, you deserve to be promoted based on merit and experience and to become symbol of merit and fairness in Albania instead of the current image of corrupt judges who wear Cartier watches", Mr. Lu said in his declaration, which seemed to refer to concrete names.
The EU ambassador to Tirana, Romana Vlahutin also addressed the National Judiciary Conference. She said that this reforms aims at fighting corrupt and corporation like behaviors of that part of judges who are destroying the reputation of honest judges and foundations of democracy in the country.
"This is not a reform against judges, on the contrary, it's a reform projected in order to restore faith and dignity for all of those who are committed and honest", Mrs. Vlahutin said.
"If I were a judge in Albania, I would be the first one to demand a reform, including the reevaluation of judges, because I would defend y work and my profession", Mrs. Vlahutin said in declaration that sounded like an appeal for Albanian judges. /ibna/