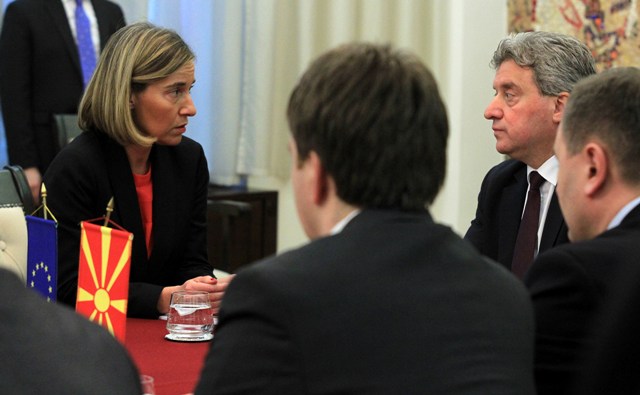 The international community has demanded from president of FYROM, George Ivanov to revise his decision and to give the mandate to the social democrat leader, Zoran Zaev, in order for a government to be formed. This was the request articulated last night in Skopje by the EU chief of diplomacy, Federica Mogherini.
Ivanov's cabinet informed that in the meeting held with Mogherini, the president has explained his reasons why he hasn't mandated Zaev, relating this to the platforms coming from other countries, alluding to Albania.
US ambassador Jess Baily said that the USA is not happy with Ivanov's decision and that he has been asked to revise his decision.
"I must stress that the USA was not happy with Ivanov's decision not to mandate the new majority to form a government. We believe that this is against democratic processes and the rule of law", Baily said.
OSCE Secretary General, Lamberto Zannier has also reached on the latest development, by saying that the election results of last December, act as a strong basis to form a government, which will serve to the interests of all the citizens.
"Rule of law must prevail. I shall visit Skopje next week and I shall meet with officials, politicians and civil society", Zannier said.
Meanwhile, the rapporteur on FYROM in the European Parliament, Ivo Vajgl said that Ivanov had taken a wrong decision against the country's interests.  He hopes that Ivanov will revise his decision and will come up with another one that serves the state's interests.
Political analyst, Mitko Gadzovski said that Ivanov has made the wrong decision by going against the will of the parliamentary majority, which represents the majority of people.
"I think that the more this crisis lasts, the more consequences there will be for the citizens of the country. An urgent solution must be found to form a government and take the country back into a normal path", Gadzovski said.
After yesterday's meeting with the EU official, parliamentary political parties have demanded her help to overcome the deep crisis after the decision of the president, George Ivanov not to mandate the opposition leader, Zoran Zaev to form a new government. /balkaneu.com/