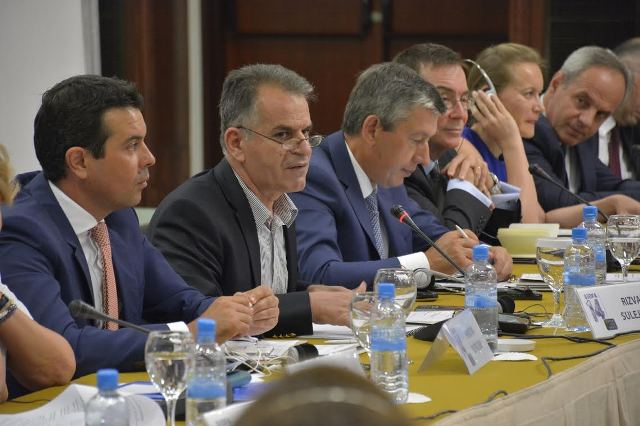 Skopje, 14 August 2015/ Independent Balkan News Agency
By Naser Pajaziti
International community has called for the Ohrid Agreement, the document which has been incorporated in the Constitution of the country, but which has not yet found full application, to be implemented. This agreement was signed 14 years ago and it prevented the 2001 conflict between Macedonian security forces and National Liberation Army.
This agreement was also part of the political accord reached between four political parties a month ago for the solution of the political crisis.
Western European diplomats in Skopje demand from the government of this country, but also from all political protagonists, to meet their obligations of this agreement of peace which improves the rights of Albanians.
Albanian community is not happy with its application in practice. Some of the aspects of the agreement relate to the use of the Albanian language as an official language, equal division of the state budget for Albanian inhabited areas, the increase of the representation of Albanians in several state institutions, reforms in the judicial system which do not enable orchestrated processes and other demands.
On the 14th anniversary of the agreement, US ambassador, Jess Baily said that the agreement may not be perfect, but it required political courage for its full implementation.
"In 2001, USA and the EU prevented a Balkan war and prevented this country to go extinct 10 years after its independence. The Ohrid Agrement may not be perfect, but it's unchangeable", US ambassador to Skopje declared.
However, Baily admitted that there has been progress in terms of the implementation of the agreement, bud demanded courage and political readiness for its full implementation.
Baily also demanded from political leaders to implement the latest agreement between the four main political parties for the solution of the political crisis.
Representative of the EU delegation to Skopje, Petra Anderson, praised the importance of the Ohrid Agreement. "You must look into the future. Do not fear to admit weaknesses and reach compromises. In the Balkans alone this is seen as a weakness", declared the senior EU official, who appealed for the full implementation of the Ohrid Agreement.
Meanwhile, OSCE ambassador, Marianne Berecz said that the government must analyze this agreement to see what has been done and what hasn't been done in particular domains. "The government must make an analysis as to what extent has the Ohrid Agreement been implemented. This agreement must not only be a model to prevent conflicts, but also a model of reconciliation and strengthening of cohesion between communities", declared OSCE ambassador to Skopje.
The Ohrid Agreement was signed on 13 August 2001 following two month negotiations, thus preventing an armed conflict between the two largest communities in the country, Macedonians and Albanians.
The agreement was signed by he head of the Macedonian Social Democratic Union (SDSM), Branko Crvnenkovski, leader of the Albanian Democratic Party (PDSH), Arben Xhaferri, leader of VMRO-DPMNE, Lupco Georgievski and leader of the Democratic Prosperity Party (PPD), Imer Imeri.
The agreement was signed in the presence of François Leotard, special envoy of the European Union and James Perdue, special envoy of the United States. /ibna/