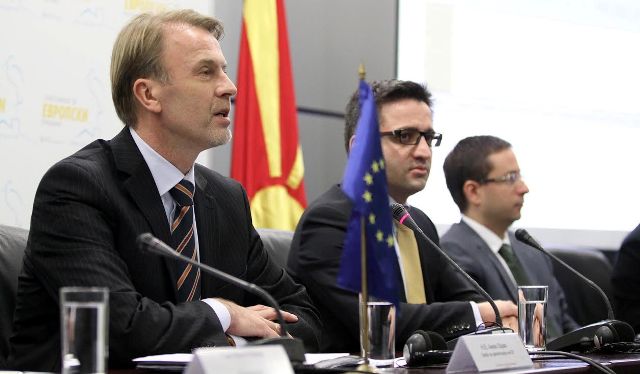 Skopje, 11 December 2015/Independent Balkan News Agency
By Naser Pajaziti
The international community has expressed its concerns about the delays in the implementation of the agreement for the solution of the political crisis and the preparations for the 24 April 2016 elections. The four main political parties are yet to find compromise for the new composition of the State Election Commission, namely the appointment of three independent experts, who will also occupy the posts of chairman and vice chairman of SEC, while political parties will have 6 representatives.
EU ambassador to Skopje, Aivo Orav said that political parties must be clear about the fact that the country has been given a conditional recommendation by the EU and that all obligations stemming from the June 2 agreement must be met.
"I'd like to remind you that there's no more time left. The work group is working even today and I encourage all sides to finalize this process as soon as possible. I'd also like to remind you about the fact that the recommendation that the EU has given a recommendation for your country conditioned with the full implementation of the agreement of Przino and the Urgent Priority Reforms", said EU ambassador Orav.
The European intermediary Peter Van Haute said that the problem preventing the election of the members of SEC relates to political will.
"The situation is improving, but it won't be easy to reach a good agreement. We want to choose good experts, independent and professionals. The agreement is only a matter of political will", said Van Haute.
International representatives have also expressed their concerns about the delays in the approval of the package of electoral reforms in the media.
While there is no agreement on these two issues, there are only 148 days remaining from the holding of fresh general elections. /ibna/