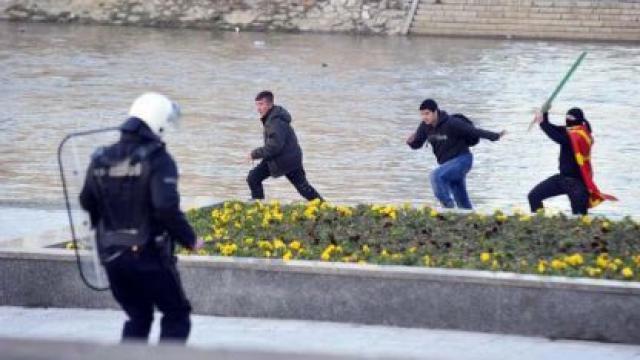 Skopje, March 12, 2014/Independent Balkan News Agency
By Naser Pajaziti
Organization for Security and Cooperation in Europe (OSCE) has launched a campaign in Skopje against cross ethnic violence among youth, mainly in the schools of the country.
OSCE ambassador in Skopje, Ralph Bret says that the promotion of positive values and violent behaviors between students is the scope of the "Say no to violence" campaign, which will be distributed to all media in the country.
Two TV spots have been prepared for the campaign of OSCE and these spots must offer messages against violence.
According to the head of OSCE mission in Skopje, ambassador Bret, violence in schools is a serious risk for the safety of teachers and students, but also other members of the community.
"This kind of violence is a complicated phenomenon and it's clear that individual efforts of school teachers will not be sufficient in order to respond to this unacceptable trend. Instead of this, there must be a general institutional approach, which will help for an efficient solution of the problem", says Bret.
"No to violence" campaign is part of the "Safe schools-harmonious environment" project.
109 students have been registered as victims of violence during the past 10 months in FYR Macedonia three of which have sustained serious body injuries. Out of these 109 students, 69 attend high schools and 40 attend elementary schools.
Minister of Interior, Gordana Jankulovska says that the institution that she leads is systematically working to reduce criminality among youth, violence in schools and during sport matches.
Jankulovska didn't publish the nationality of beaten students. "Criminal charges have been pressed against 21 people suspected of committing different offenses such as murder attempts, serious body injuries and violence.
119 people have been charged for participating in these incidents and for causing physical attacks, beating and for disrupting public order in schools or public spaces", declared Gordana Jankulovska, Minister of Interior. /ibna/