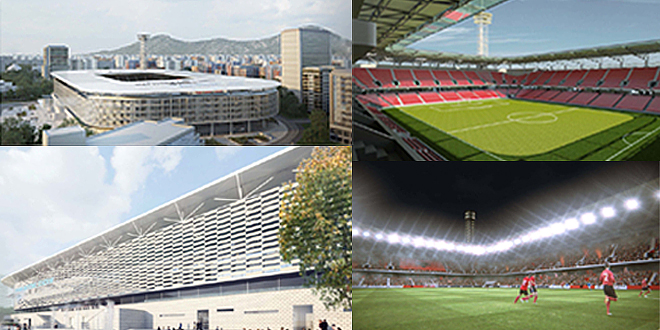 Tirana, 3 November 2015/Independent Balkan News Agency
The new National Stadium "Qemal Stafa" will be the Phoenix of Albanian football. It will be revived under the name "International Arena" This stadium, which started to be built in August 1939 and was inaugurated on 7 October 1946, has been for many years an arena of national and international sportive emotions.
The member of the Executive Committee of the Albanian Federation of Football, Arben Dervishaj, says that in January 2016, the old stadium will be demolished and construction for the new stadium will start.
Dervishaj also gave the cost of the construction of the stadium and revealed several details about its construction. "The stadium is expected to be ready for a period of two years and it will have a cost of 50 million euros. Currently, we are negotiating to find a concessionary company which will manage the stadium. Its demolition is expected to last around six months", Dervishaj said.
According to Dervishaj, the construction of the new stadium must start before France 2016.
The International Arena has a capacity of 22 thousand seats and will be built based on a project presented by the Italian group Serenissiima Construzioni S.p.A.
The tribunes of the stadium will be covered. The new complex has an area of 43.000 square meters, 25 thousand of which will serve for the stadium, 10 thousand for the offices and 8 thousand for shops. This complex has been perceived as a composite structure.
The new stadium is expected to end in 2018.
The only Albanian national stadium started to be built in August 1939 and was inaugurated on 7 October 1946 at the center of Tirana.
In 2010, the government led by former PM Sali Berisha announced the reconstruction of the stadium, but this didn't happen. "The last match" has been announced in several occasions in this stadium, but even to this day, this stadium remains open. /ibna/