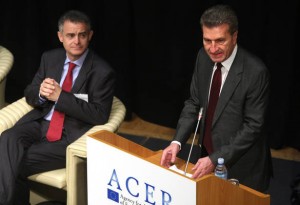 Functioning internal markets for natural gas and electricity, which the EU aims to establish by 2014, are crucial for competitiveness of the European Union, European Energy Commissioner Günther Oettinger told a conference in Ljubljana on Friday.
Speaking at the annual conference organised by the Ljubljana-based European Agency for Cooperation of Energy Regulators (ACER), Oettinger said that EU members must seek solutions for the implementation of the common energy policy.
The commissioner said that energy policy was still overly dictated by national interests, although he assessed that members more or less understood that a common market will benefit everyone.
"When markets integrate, we gain in efficiency, in economies of scale and in security of supply," he said.