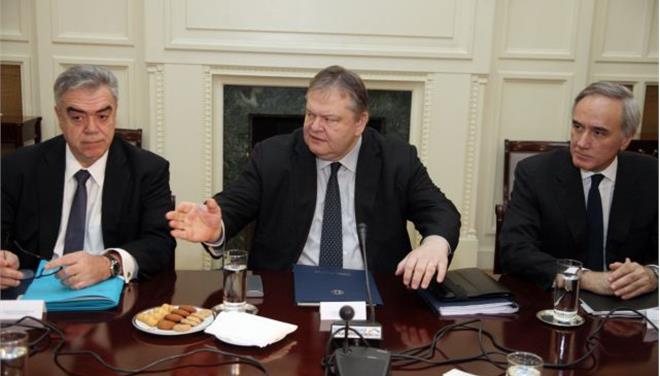 By Spiros Sideris – Athens
The order to send up to next Monday their ideas for ways to strengthen bilateral cooperation was given by the Deputy Prime Minister and Foreign Minister Evangelos Venizelos to ministers who participated in the broad meeting held at noon on Wednesday, in order to prepare the 3rd Supreme Council of Greece – Turkey Cooperation that will take place in Athens ( December 5-6).
In the ministerial meeting participated the ministers of Culture Kostas Tasoulas, Tourism Olga Kefalogianni, Public Order Vassilis Kikilias, Justice Charalampos Athanasiou Development Kostas Skrekas, Maritime Miltiadis Varvitsiotis, Transport Michalis Chryssochoidis. In addition, to the Board Cooperation will also take place the ministers of Energy, Environment, Climate Change (pp. Giannis Maniatis was not present at the ministerial because he is abroad) and the ministry of Rural Development.
While the aim of the arrival of Prime Minister of Turkey Ahmet Davutoglu in Athens and his meeting with Antonis Samaras will be put on the table from Greek side the critical political dossiers of Greek-Turkish relations, due to the ongoing challenges of the research vessel «Barbaros» within Cyprus' Exclusive Economic Zone (EEZ), the secondary aim is to review the agreements and protocols that have been signed in the previous two SRT (May 2010 in Athens, in March 2013 in Istanbul).
The immigration issues at a time when the issue is of great concern to the Greek Government (and Turkish) because of the war in Syria and Iraq, cooperation on information issues, tourism (where increasing numbers are impressive and Greece is seeking ways to enhance the pilot visa visa acquisition programs on the same day on the islands and other areas, while there are also plans to open an office of the Turkish Tourist Organisation in Athens and the densification of the air routes), the financial sector, shipping and food industry are areas in which the existing cooperation can be enhanced.
Under the SRT it will be also organized a Greek-Turkish business forum. Furthermore, on December 5, the Turkish Prime Minister is expected to have a meeting with the President of the Greek Republic Karolos Papoulias.