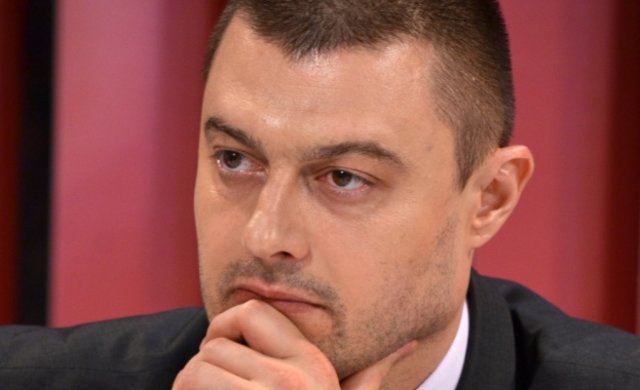 By Clive Leviev-Sawyer of the Sofia Globe
Bulgarian populist politician Nikolai Barekov, amid the crumbling of his Bulgaria Without Censorship party, sought to claw back the initiative by levelling allegations against GERB chief Boiko Borissov that the former prime minister was a drug trafficker and creature of communist era State Security – but officials have dismissed these claims as untrue.
The Dossier Commission, the body in charge of identifying agents and collaborators of State Security, said that a succession of checks on Borissov over the years had found no evidence linking him to State Security.
The head of the Interior Ministry said that a purported document on Borissov's alleged connections to drug trafficking had been faked.
Barekov, when still a television talk show host, used to conduct fawning interviews with Borissov in the days of the rise to power of the former Interior Ministry chief secretary, who was prime minister from 2009 to 2013 and who has led his GERB party to winning the most votes in all elections from 2006 onwards.
But in early 2013, like several other media outlets formerly supportive of Borissov, Barekov on launching his "Bulgaria Without Censorship" project – first a broadcast roadshow and later a political party – went on the attack against GERB and its leader.
In May 2014, Barekov's BWC spent the most of any party or coalition competing in Bulgaria's May 2014 European Parliament elections, in return winning two out of the 17 MEP seats.
Since then, BWC has been in reverse. A deputy leader quit, alleging – in a claim that Barekov denies – that the BWC leader was a marionette of controversial figure Delyan Peevski. Nationalist VMRO left its coalition with BWC to go elsewhere. And on July 28, it emerged that some of the "Euro Mothers" structures set up within the BWC framework also had quit Barekov's party.
On July 27, Barekov told Nova Televizia that Borissov was connected with the former State Security and other services.
"He had been prepared for more than 30 years to occupy high-ranking posts in the country and fulfil a certain mission. I have documents about that, I will hand them to court but there are other key figures of the transition period involved, so I will hand them to the Prosecutor's Office," Barekov said.
Borissov, who already has lodged a number of court actions against Barekov for slander, said that he would sue him over his July 27 statements too.
Dossier Commission member Ekaterina Boncheva said that if Barekov had documents disclosing the fact someone had belonged to State Security, he needed to hand them to the Dossier Commission.
"The big problem is whether there are documents out of the archive. We have everything under control and how come Barekov has these documents as he says some of them are original. I am asking another thing – how long has he had these documents and who handed them to him? Only one source could have handed them to him – the officers with the former Committee for State Security. Did he receive these documents from them?"Boncheva said.
"What is worse is that speculations on the topic with personal files, lists [containing names] begin, which is something that is to the benefit of no one, but make us make steps back. One of the tasks before our law and the commission was to stop blackmailing through personal files, using personal files in an election campaign and I think, we achieved a success," Boncheva said.
On July 29, Interior Ministry chief secretary Svetozar Lazarov said that the contents of a document purporting to link Borissov to a drug trafficking investigation were faked.
Lazarov was speaking a day after Tsvetlin Yovchev, interior minister in the Bulgarian Socialist Party government that has about a week left in office, ordered an investigation into whether classified information had been leaked.
Lazarov said of the document that had been circulated about Borissov, "I would hardly call this a document".
There was such a document created with a number from the relevant date, on the basis of a meeting with an informant on that date, but passages had been added to it, he said. Information in the relevant file did not correspond with what had been made public, Lazarov said.
He complained that instead of doing their normal work, Interior Ministry staff had been "up all night" investigating the case.