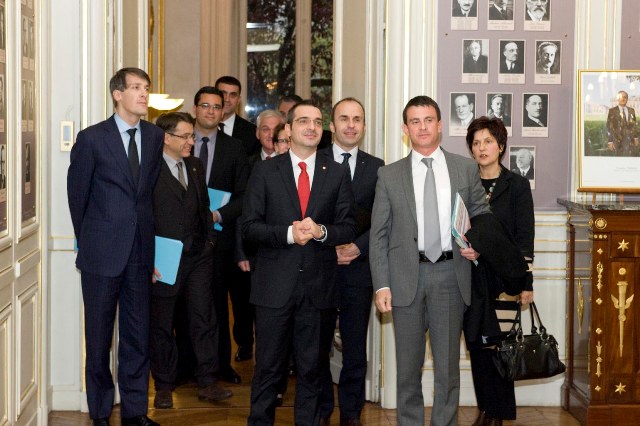 Paris, November 19, 2013
Albanian Minister of Interior, Sajmir Tahiri had a visit in France where he met with his French counterpart, Manuel Valls.
European integration of Albania, fight against organized crime and corruption, the issue of asylum seekers and fight against criminality and strengthening of police cooperation have been some of the main topics of the meeting between the two ministers.
Minister Tahiri has insured his French counterpart that European integration is a major priority for the Albanian government by giving him assurances that the country will move forward in the process of reforms.
Tahiri said that Albanian police is ready to strengthen cooperation with French police.
Minister Valls backed the process of reforms undertaken by the Albanian government in the framework of European integration and has offered the support of his government to boost up cooperation, especially on domains of mutual interest, such as the fight against drug trafficking, human trafficking or to stop asylum seekers from Albania to France.
"We want Albania in the European family, therefore we're ready to help.
The French government is satisfied and is closely following the work of the Albanian Interior Ministry and Albania government", said the French minister.
Minister Tahiri and minister Valls agreed upon signing a bilateral agreement in the joint fight against traffic of human beings and abuses with the asylum seeking regime.
On his part, minister Tahiri said that the Albanian Interior Ministry has drafted an integral plan to stop asylum seekers, by defining concrete tasks for police structures, but also tougher measures against police officers who are linked to this phenomenon or the traffic of humans.
Minister Valls also expressed his readiness to help in strengthening professional capacities of Albanian police by offering the chance to Albanian officers to study in the FrenchPoliceAcademy.
During his visit to France, minister Tahiri has also met with the general director for foreigners in the French Interior Ministry, Luc Derepas, with which he shared detailed information about the integral plan in tackling the issue of asylum seekers in both countries. On his part, Derepas said that he was satisfied with the way that Albanian Ministry of Interior is dealing with this issue. /ibna/