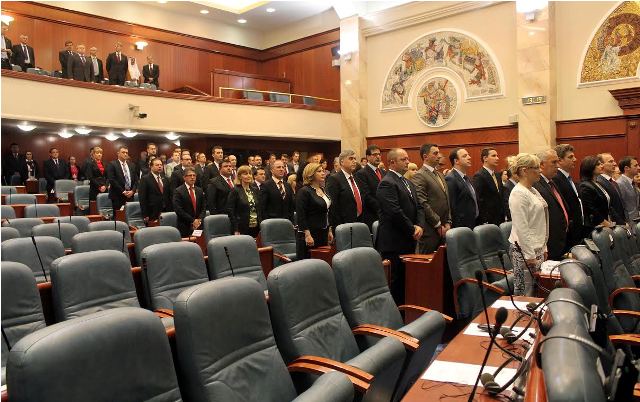 IBNA Special Report
Skopje, April 17, 2015/Independent Balkan News Agency
By Naser Pajaziti
The interim government is seen as one of the best options to solve the political crisis in FYR Macedonia. Almost the majority of political parties and political analysts see this option as a decisive step which gives way to the solution of the crisis.
However, the interim government must receive the confidence of the parliament of the country, which is being boycotted by Macedonian opposition. This option has not been contested so far by the largest party in power, VMRO-DPMNE of PM Nikola Gruevski.
University professor, Jove Kekenovski, who is one of the founders of VMRO-DPMNE, is currently against the policies of this party and says that an interim government would be the only solution to the crisis.
"The interim government must be formed by personalities with high intellectual and political credibility. Its mandate must be 6 months to a year in order to adjust problems in the judicial system and the removal of political influences on institutions such as police, public radio and television and election commissions. In case this doesn't happens, then the country will be damaged", declared for IBNA, Jove Kekenovski.
According to him, this is the last chance for the current government to step down after the wiretapping scandal.
But, political analyst and diplomat, Risto Nikovski underlines that there's no need to form an interim government.
"The current government has its mandate and it has a convincing majority not to be contested. Those who have secured private registered conversations, must go to court. The only solution of the crisis would be in parliament", Nikovski declared.
According to him, the political conflict is culminating and so far, there's no room for reconciliation between political opponent subjects.
Fatos Rushiti, who is a university professor, sees the solution on an interim government, which according to him, should include the relevant parliamentary parties. "This is the solution to take the country out of the crisis, but by launching an agenda with concrete topics and by including in it the constitutional changes. I say this because this is a key moment to solve pending issues for Albanians in Macedonia, such as a wider use of the Albanian language, national symbols, the advancement of the representation of Albanians in institutions and other issues", declared for IBNA professor Fatos Rushiti.
The public opinion is also in favor of an interim government which would take the country out of the political crisis and would have clear objectives for the future, such as the full independence of institutions, the advancement of issues that relate to Albanians, as the second largest community in the country and the integration of the country in Euro Atlantic structures. /ibna/