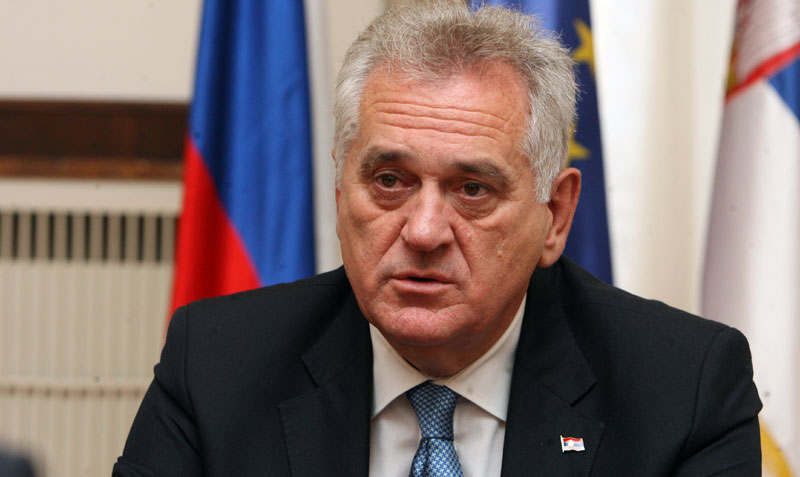 Belgrade, October 12, 2016/Independent Balkan News Agency
Serbian President Tomislav Nikolić said in Saint Petersburg that the relations between Belgrade and Priština were at "the lowest possible point" at present.
He said that it was obvious that EU representatives intended to help the Albanians secure independence.
"We are currently at the lowest possible point of relations because the Priština administration launched an attack on our property in Kosovo and Metohija. This indeed can end with an agreement, but it can also end very badly because we are ready to respond in any way necessary. We'll monitor the Albanians' actions in the future so that we can respond adequately, and they shouldn't think that they can play with us or that we'll suffer another bombing," Nikolić said.
He said that "the Albanians have an obvious intention to secure independence and EU representatives have an obvious intention to help them do so."
The Serbian president said that the UN "are our only shield and only protection," adding that "the UN Security Council will never entertain the idea of independence of Kosovo and Metohija."
"We have this big problem with Kosovo and Metohija, and it's spilling over to our relationship with the European Union. The EU knows that we will never recognize the independence (of Kosovo)," Nikolić added.
According to him, not a single EU official has ever said that Serbia would have to recognize the independence of Kosovo, but the European Parliament, which also decides on Serbia's membership, has its own representatives who constantly talk about not making a decision on membership until Serbia signs some kind of a generally accepted interstate agreement with Kosovo and Metohija.
Nikolić said that the EU itself had five member states that did not recognize Kosovo and Metohija's independence, adding that their decision not to recognize Kosovo "has nothing to do with some big feelings of friendship toward Serbia, but instead they feel they themselves could potentially face the same problem, and then they would have nothing to rely on" in fighting to protect their sovereignty and territorial integrity.
He reminded that under UNSC Resolution 1244, Serbia was a sovereign country that includes Kosovo and Metohija, which has substantial autonomy.
"However, every high representative of the UN backed by NATO forces promoted the independence of Kosovo and Metohija, and handed over Serbia's powers one by one – despite its unwillingness and lack of consent – into the hands of the provisional administration in Priština," Nikolić said.
He said that Belgrade had begun serious talks with the Albanians, hoping to enable a normal life for all citizens of Kosovo and Metohija.
The Serbian president will today officially open the Republic of Srpska's consulate in St. Petersburg. Honorary Consul of Serbia, businessman Gennady Timchenko (64), is mentioned in the media as a good friend of Russian President Vladimir Putin. Three agreements have been announced to be signed, and an exhibition will be held dedicated to the 140th anniversary of the Serbian-Turkish war, in which the commander in chief of the Serbian Army was Russian general Mikhail Chernyayev.
Source: Β92