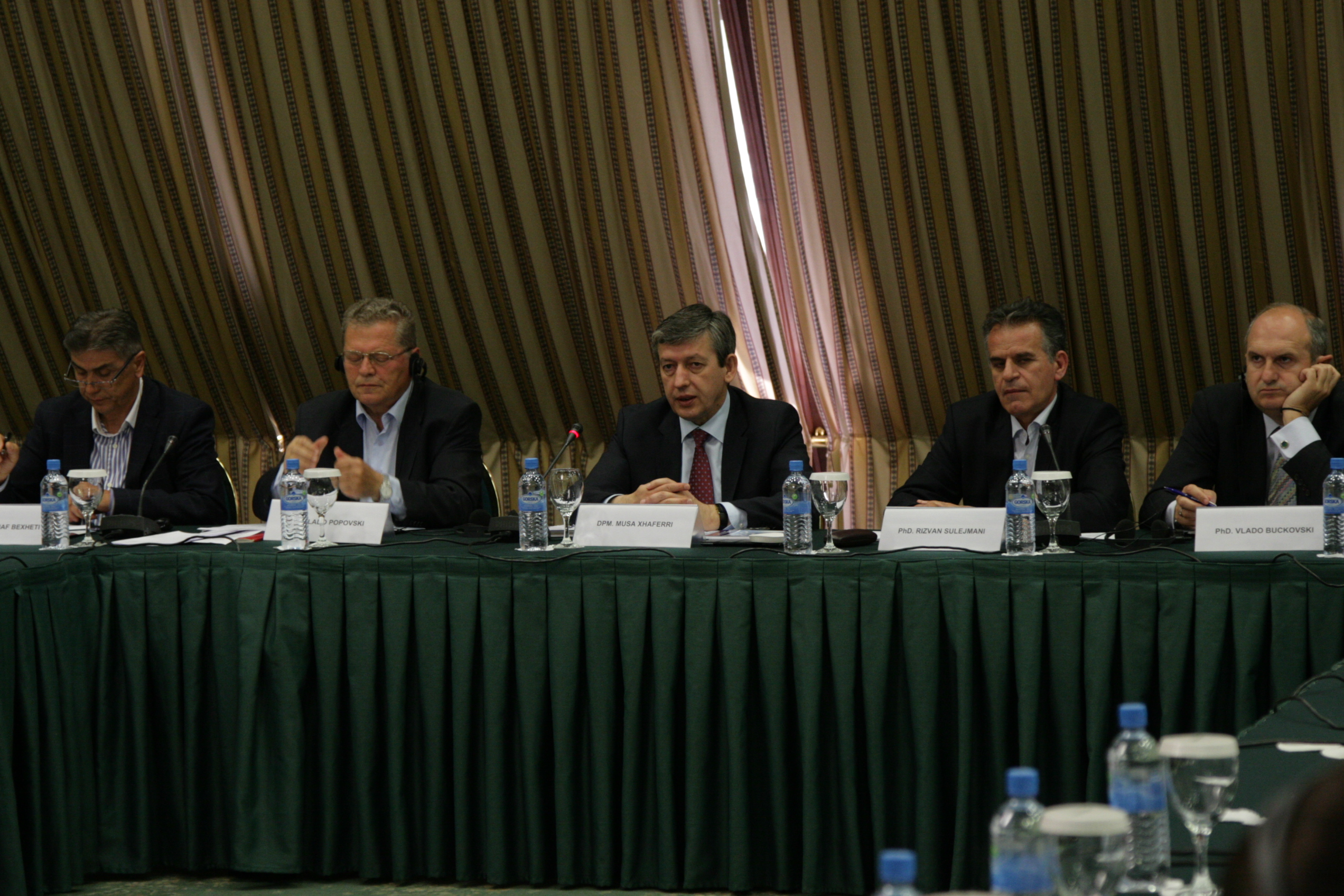 Skopje, June 10, 2013
The issue of the use of the Albanian language as an official language in FYR Macedonia is a key issue as far as the implementation of the Ohrid Agreement is concerned, which sparked the 2001 conflict. This was stressed during the debate taken place today called "A discussion on the implementation of the OA policies", by the Secretariat for the Implementation of the Ohrid Agreement and Institute for Political and International Studies in Skopje.
The Minister for the Implementation of the Ohrid Agreement, Musa Xhaferri said that this agreement has helped in social changes an in the democratization process in FYROM and also as far as the position of Albanians is concerned, but he has also mentioned other challenges that must be tackled.
"Besides the fair representation in administration and implementation of decentralization, the use of the Albanian language is also an open issue. Further debates must take place in order to find an answer as to whether the Albanian language is being implemented as an official language along with the Macedonian language and how much is it being implemented.
We believe that in the future, this issue will be a sensitive one, which will lead to misunderstandings for the simple fact that all the citizens of this country are entitled to be equal", said minister Xhaferri.
Rizvan Sulejmani from the Institute for International and Political studies said that reintegration is an open issue, including the aspect of Euro Atlantic integrations.
"Have we fully reconciled and does this reconciliation contain all the necessary components of integration, compensation of damages, compensation of people, which are part of the Ohrid Agreement", said Sulejmani, adding that these debates must be a proof of the activities which must be undertaken in the second decade of the implementation of the Ohrid Agreement.
Former deputy Prime Minister of FYR Macedonia, Vllado Bucovski said that the gridlock in the implementation of the Ohrid Agreement relates to the character of the action of the government coalition, because according to him, during the past 7 years, this government is using the Agreement to improve its positioning in the international aspect.
"The debate about the use of language and the manner of the budget projection of the Ohrid Agreement are legitimate, but on the other hand, it's clear that the Albanian colleagues, especially the deputy Prime Minister, who is responsible for the implementation of the Agreement have had a negative impact on the process of implementation. A clear example for this is the Albanian public administration employees who stay at home and accept to be paid. This irritates Macedonians who are unemployed", said Bucovski.
Professor Abulmenaf Bexheti said that one of the key issues which must be addressed in the future is the projection of the budget in the aspect of a wider representation and according to him, an economic committee must be formed in order to act according to the principle of consensus. Present in this debate were also other public, academic and scientific personalities, 12 years from the endorsement of the Ohrid Agreement. /ibna/