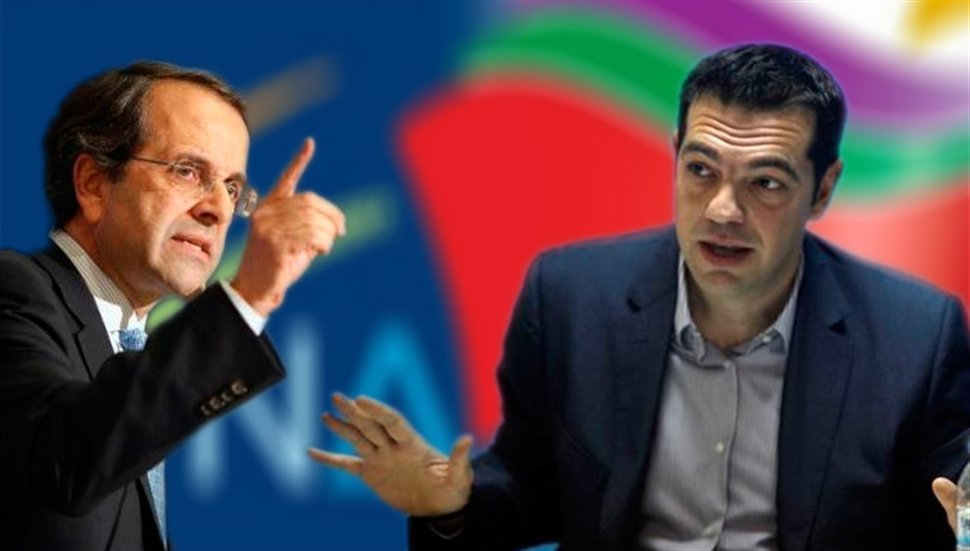 By Spiros Sideris – Athens
In an informal memorandum, in which they analyse the latest political developments, SYRIZA are accusing Prime minister Antonis Samaras for the adoption of a "strategy of tension and alarmism by the government in order to terrorize the citizens".
The main political conclusion of SYRIZA is that from the elections to the present day, the government after constant errors and the pressure exerted by SYRIZA, has been driven to isolation. Thus, the government "panicked by these developments do not hesitate to resort to the last weapon they have left: the strategy of tension and alarmism in order to terrorize the citizens", reports the analysis of the main opposition.
It also accuses the Prime minister that he restores in Parliament the theory of the two ends, linking SYRIZA with terrorism, while his associates speak of empty ATMs and other disasters if SYRIZA comes to power. The panicked coalition, underlines the note, "does not even hesitate to gamble with the deposits of citizens in order to prolong their term in office a few more months. They do not hesitate to put Greece in adventures just to stay a few more months in power".
SYRIZA asserts that "thy do not intent going to follow the coalition down the slope of tensions and scaremongering". Conversely, they add: "we stick to our political practices, focusing on the acute problems of the citizens, the public presentation and consultation of our alternative government policy, and creating the necessary alliances to the great democratic change that the country needs".
Towards this direction will move the planning of the party, and in the coming period within this framework is included the organisation of 13 regional conferences, in which there will be a broad discussion on aspects of the government program presented by Alexis Tsipras in TIF, as well as other aspects that refer to the reconstruction of production and regional specialisation.
SYRIZA reiterates that "instead of the four-month extension of the tension and alarmism, instead of destabilisation by undermining the main opposition and first party today, we need to resort, smoothly and orderly, to the popular verdict so that the Greek people decide their future".
"By now everyone has seen them for who they are", said in a statement the government spokesman Vooltepsis Sophia, answering to SYRIZA's non-paper.
"At a time when Europe openly supports Greece and recognizes the achievements of Greek government, SYRIZA is the one who actually plays even with the deposits of the Greek people and at the same time are essentially asking not to get out of the memorandum", said the government representative.