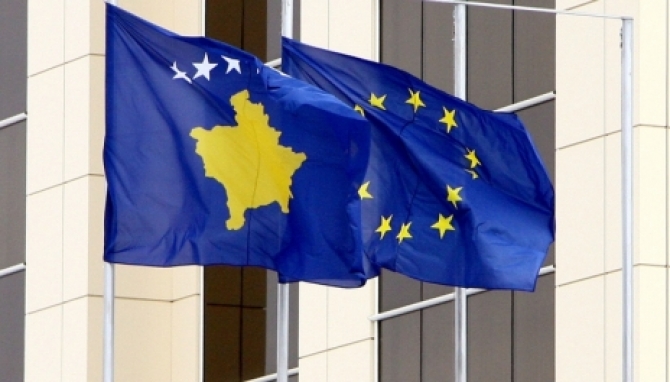 IBNA Special Report
Pristina, July 16, 2014/Independent Balkan News Agency
By Elton Tota
Kosovo may sign the Stabilization and Association Agreement with the EU in autumn, as it was announced, but the problem with this agreement will consist on its ratification.
Experts of European integration processes say that the problem with the ratification of this agreement consists on the fact that Kosovo has not been recognized by five EU member countries.
Avni Mazreku told IBNA that the signature of SAA will only be "political marketing", because Kosovo doesn't have a legal subjectivity to carry out its ratification.
"First of all, Kosovo doesn't have legal capacities to sign SAA, because Kosovo is lacking the status of a contractual party. This due to the fact that the five EU member countries have not recognized Kosovo and that the positioning of the EU in relation to Kosovo is neutral. Kosovo has finalized the SAA agreement, but in the legal aspect, Kosovo doesn't yet have the legal subjectivity to ratify SAA. In the case of Kosovo, only initials can be used in order to condition Kosovo in meeting the conditions that stem as a result of negotiations for SAA", says he.
Professor of European Law, Llokman Mirtezani says that the refusal of the five member countries to recognize Kosovo will block the integration of the country in the EU.
"The talks for the SAA have been finalized, but in September, this agreement must be signed by Prime Minister Thaci, acting president of the Council of Foreign Ministers, Commissioner for Enlargement, Stefan Fule and the foreign ministers of EU member countries. Then, the agreement must be ratified by 28 EU member countries and obstacles may be caused in this aspect by the five countries which haven't yet recognized Kosovo", says Mirtezani.
Meanwhile, professor of European Law at the University of Pristina, Bardhyl Hasanpapaj believes that there are chances for SAA to be ratified by the five countries which haven't yet recognized Kosovo.
Hasanpapaj told IBNA that he doesn't expect the five countries to play a negative role.
"Serious challenges will emerge in the final stage, when Kosovo is near its accession in the EU. SAA will be ratified by all EU member countries. In two or three years time, Kosovo will also be granted the EU membership candidate status. At the moment when accession negotiations are launched, any of the five EU member states may use its veto", says Hasapapaj.
In October 2012, the European Commission approved a positive feasibility study giving way to the start of negotiations for the Stability and Association Agreement between the EU and Kosovo.
SAA reflects the main aspects of the "Copenhagen Criteria" for the accession of an aspiring country in the EU. They consist on democracy and rule of law, creation of a functional market economy, able to endure competing pressure and the adaption of a acquis commautaire. /ibna/