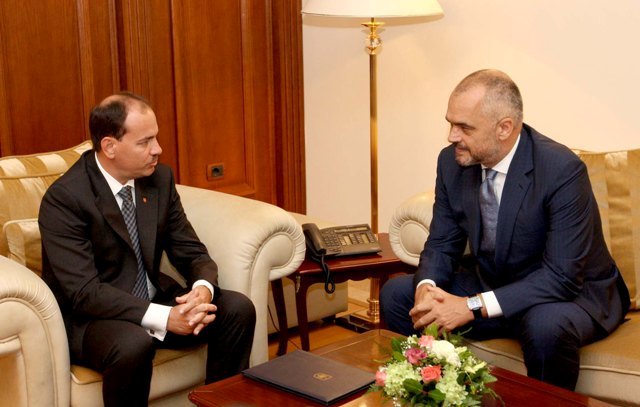 Tirana, 22 February 2016/Independent Balkan News Agency
By Edison Kurani
The discharge of two ministers, part of Prime Minister Rama's government and the appointment of two new ones, has put the highest institutions of the state in crisis.
The ministers in question are that of Finance, Shkelqim Cani, minister of Economy, Arben Ahmetaj who have been discharged and then the Arben Ahmetaj who was appointed minister of Finance and Milva Ikonomi as minister of Economy.
The prime minister submitted his decisions to the president by demanding decrees for the discharges and appointments.
The President only decreed Rama's discharges and sent them to parliament for the final approval, by not decreeing the new ministers at the same time, as it has happened before.
This led to the start of the crisis. Parliament did not envisage the decrees of President Bujar Nishani, waiting for him to send the decrees of the nomination.
The president officially declared that he addressed to the Constitutional Court to interpret section 1 of article 98 of the Constitution of Albania, in relation to the procedures that must be followed for the decreeing of the new ministers.
In essence, the reasoning used by the president is this: The Constitution doesn't have provision for cases when the prime minister can propose to the president at the same time the discharge and the nomination of another minister.
According to Mr. Nishani, the prime minister and majority should have first approved the discharge decrees in parliament. Then, Mr. Nishani would send for approval the decrees for the nomination of the two new ministers.
"For as long as the President's Decrees for the discharge of the two ministers have not been envisaged by Parliament, this means that they are in force. It would be meaningless if the Decrees for the Discharge of Ministers would be voted down by the Parliament, while the President appoints two other ministers referring to the proposal of the Prime Minister", writes President Nishani as part of his argument.
The behavior of the head of the state has not been welcomed by the left wing majority.
Ermonela Felaj, minister for Relations with Parliament, says that the President must not act this way. "It is not the President of Republic who has the power to evaluate the nomination of a minister who is proposed by the prime minister".
Mrs. Felaj goes even further when she says that: "If the President of Republic doesn't exert his formal powers for the decreeing of the new ministers, then he can be discharged".
Meanwhile, leader of opposition, Basha read this as a threat that PM Rama is making to the president.
Following these developments, the changes in Rama's cabinet have been postponed indefinitely. Nishani's "surrender" alone could give way to the solution of this artificial crisis, because it seems that the majority doesn't intend on voting in Parliament only the discharge decrees, without the ones for the nominations. /ibna/