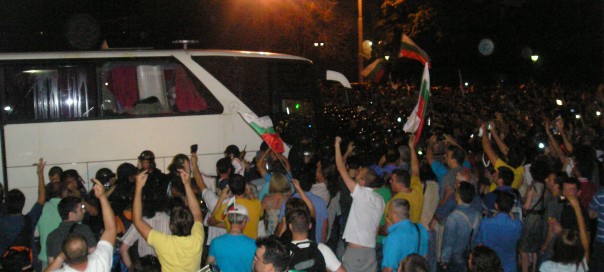 Relentless determination by Bulgaria's embattled governing parties to push through their controversial measures on a "business as usual" basis resulted in a night of drama in which thousands of anti-government protesters blockaded a bus of MPs, escorted by large phalanxes of police, leading to clashes in which several people were injured.
The night marked a turning point after 40 days of peaceful anti-government protests, as tensions soared during and after the clashes, in which police knocked protesters to the ground in a failed bid to clear the way for the bus through the throng. Journalists covering the event were among those injured.
The bus, targeted by missiles that came to hand – pieces of paving and empty bottles – had a window broken, with a riot shield put in place amid the jagged glass to protect the MPs inside.