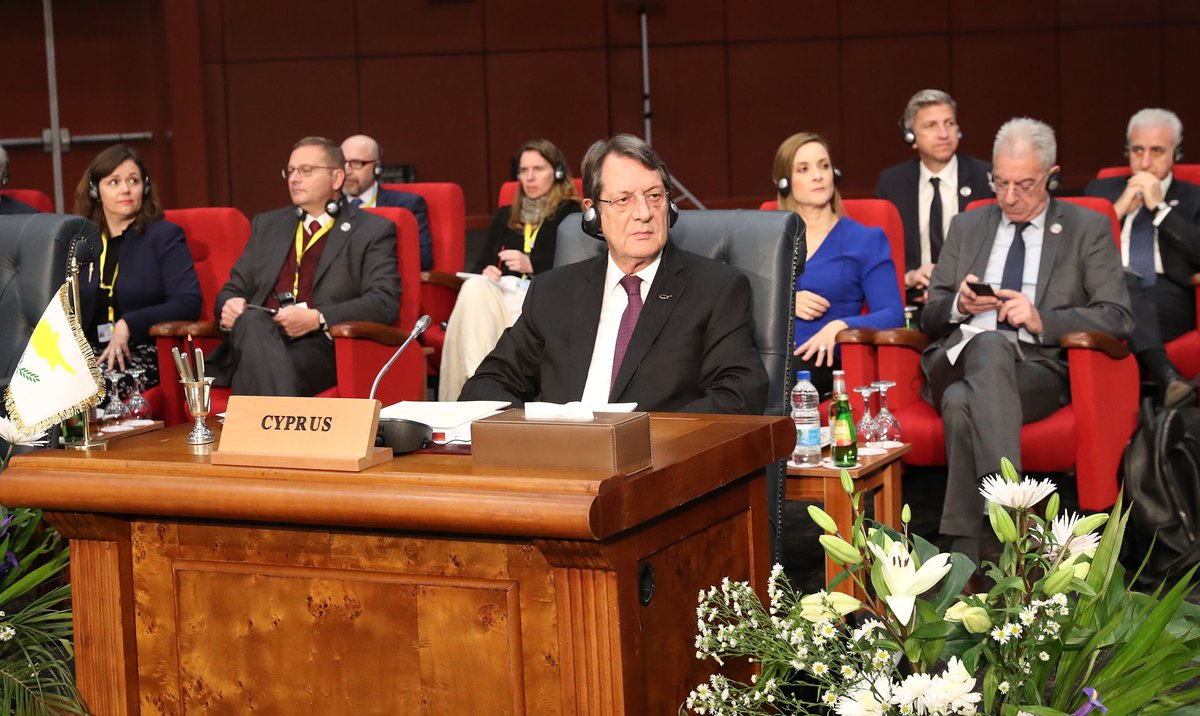 Sharm El-Sheikh correspondence Spiros Sideris
The Cypriot President Nicos Anastasiades, speaking at the EU-Arab League Summit held in Sharm El-Sheikh, Egypt, referred to Cyprus' initiative on the drafting of an Action Plan to address the impact of climate change.
In his intervention in the proceedings of the Summit, the President of the Republic said, inter alia, that "actively advocating for stronger Euro-Arab cooperation, I regard this meeting as an important milestone", underlining the willingness to contribute to the strategic cooperation of the countries participating in the Summit in the efforts to address the multifaceted challenges in the region and to promote peace, stability and economic development.
He added that terrorism, regional conflicts, humanitarian crises, migration, climate change are global sources of instability. Unfortunately, the President said, instability and conflicts are the main features of our wider region, and he referred to the Syrian issue, as well as its impact on neighboring countries such as Jordan, Egypt, Lebanon, countries that, he said, need constant support.
He also pointed out that one can't speak of prosperity and stability in the region, as long as the Palestinian issue is unresolved, expressing the view that, among other things, the de-escalation of the situation in Gaza will be a decisive step in this direction.
President Anastasiades added that the basic principles of international law, the respect and promotion of human rights, respect for the sovereignty, territorial integrity and independence of states and good neighborly relations are those that dictate a collective effort to address common challenges. Our efforts, he stressed, must be distinguished by trust, solidarity and shared responsibility.
Referring to regional co-operation, President Anastasiades said that "Cyprus firmly believes that in such efforts it is active in creating synergies in our immediate and wider region, including cooperation with partners present today, Greece, Egypt, Jordan, Lebanon and Palestine.
Our vision is a more stable and prosperous region, and in this direction we have a positive agenda for various issues of common interest, including security, energy and climate change.
It is well known that the countries in the eastern Mediterranean and the Middle East region are considered extremely vulnerable to climate change.
I take this opportunity to present a regional initiative that is being formulated by Cyprus. Some of you will remember that last year, at the International Conference on Climate Change in the Mediterranean and the Middle East, Cyprus first analyzed its vision of taking an international initiative and coordinating the efforts of the Eastern Mediterranean and Middle East to mitigate climate change and its effects.
We are ready to advance this vision by creating a Regional Action Plan to be adopted at an International Summit to record and reduce climate change in areas such as Environment, Agriculture, Tourism and Health.
This initiative will be supported by ongoing research and will develop a forum for dialogue – a platform where international and regional interested parties will be able to discuss practical research-based solutions for challenges related to climate change.
Essentially, this effort will act as a major and innovative regional contribution to the implementation of the Sustainable Development Agenda and the Paris Agreement".
Finally, the President of the Republic pointed out that "this Summit is a signal to the world that the leaders of the Euro-Arab region are determined to work together and achieve tangible results on the various intricate issues that affect us both individually and collectively . This Session and the Declaration to be adopted constitute a Declaration on the need for even stronger cooperation and our determination to achieve this"./IBNA